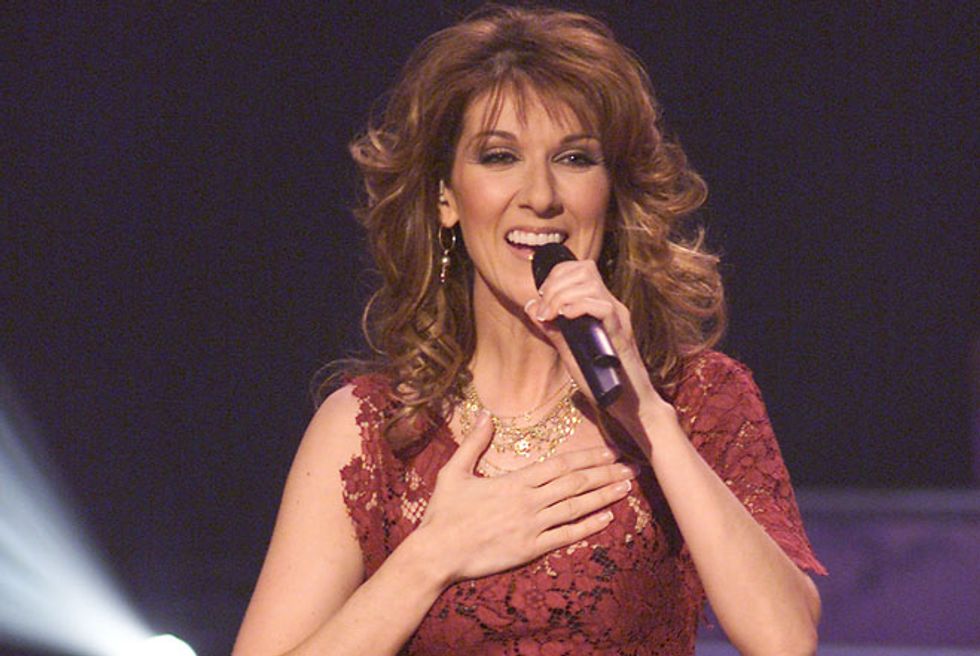 Now here's something to pound our chests about!
Everyone's favorite hugely talented and delightfully insane French Canadian chanteuse Celine Dion's career will apparently go on in the form of upcoming album Loved Me Back to Life. Listen to the song's lovely title track:
The very modern-sounding song starts off like a Rihanna power ballad, which is unsurprising considering "Loved Me Back to Life" was penned by "Diamonds" songwriter Sia. Dion dips her toes in the dubstep pool in this powerful tune which Huffington Post accurately notes is begging for an overlying Eminem verse or two.
Peep the full Loved Me Back To Life tracklist:
1. Loved Me Back To Life
2. Somebody Loves Somebody
3. Incredible (Duet with Ne-Yo)
4. Water And A Flame
5. Breakaway
6. Save Your Soul
7. Didn't Know Love
8. Thank You
9. Overjoyed (Duet with Stevie Wonder)
10. Thankful
11. At Seventeen
12. Always Be Your Girl
13. Unfinished Songs
14. How Do You Keep the Music Playing?
15. Lullaby (Goodnight, My Angel)
Personally, we're most excited for her cover of Janis Ian's beautiful "At Seventeen" and her Ne-Yo duet. Heck, we're excited for the whole thing. She did teach us the power of love and such.
[Idolator]