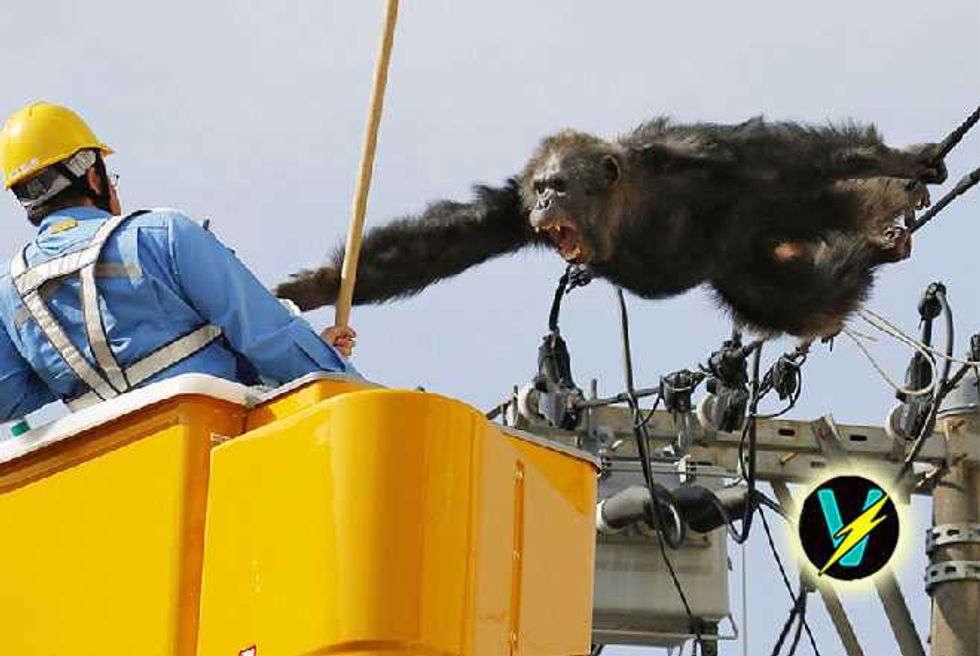 chacha chimp escapes zoo japan
ChaCha is sick of being locked-up behind bars, serving a life sentence, with no release date in sight.
So, like many lifers before him, when he saw a chance to escape and gain his freedom, he took it.
Sadly however, unlike many of those other lifers, ChaCha has committed no crime—he's locked up forever in a Japanese zoo—just for being a chimp.
The New York Times reports, the chimpanzee managed to achieve his dream of freedom, for two whole hours, avoiding capture by climbing on to an electric pole.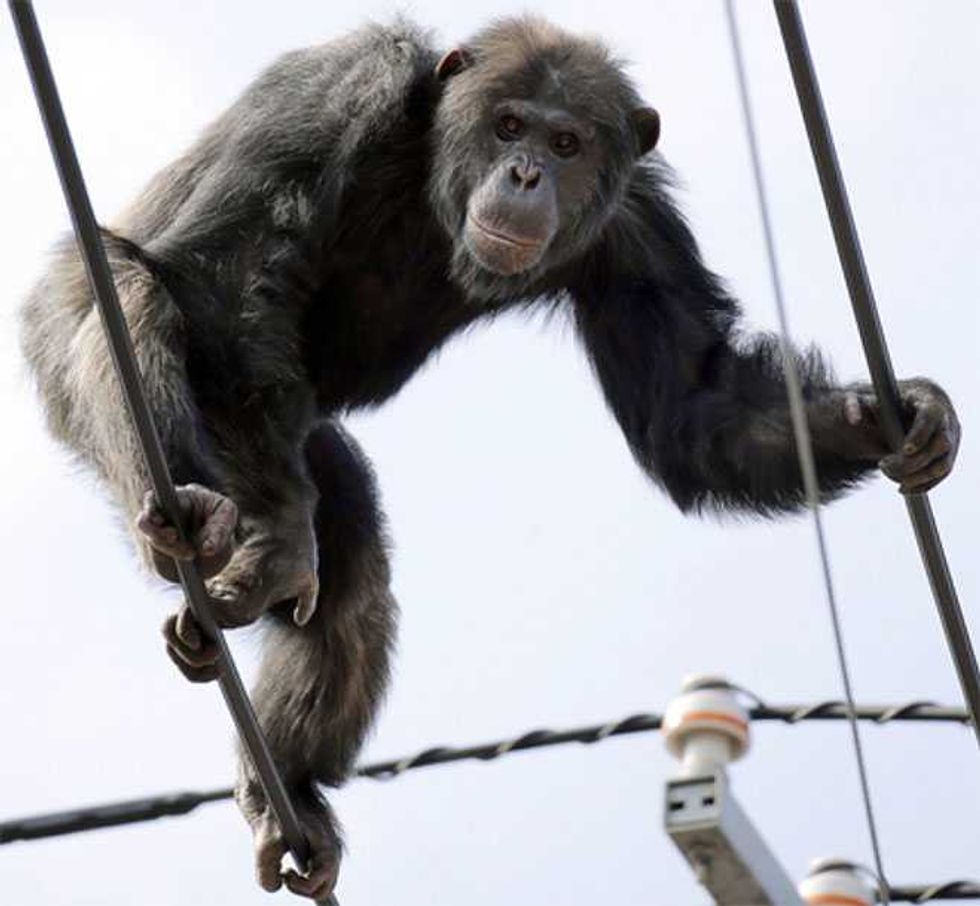 Despite being shot in the back with a sedative arrow, ChaCha valiantly clung on to a power line attached to the pole.
However, he finally succumbed to the drug and fell head down into a blanket being held by dozens of workers on the ground.
And so, he was returned to his prison cell cage at the Yagiyama Zoological Park in Sendai, to be gawped at and watched for yet another day.
Zoo officials tell Agence France-Presse that ChaCha is unharmed but still recovering from the effects of the sedation.
Meanwhile, they have launched an investigation into how he managed to escape.
It's little wonder why ChaCha attempted to escape however.
On their website, Peta lays out the trouble with zoos:
Even under the best of circumstances at the best of zoos, captivity cannot begin to replicate wild animals' habitats.

Animals are often prevented from doing most of the things that are natural and important to them, like running, roaming, flying, climbing, foraging, choosing a partner, and being with others of their own kind.

Zoos teach people that it is acceptable to interfere with animals and keep them locked up in captivity, where they are bored, cramped, lonely, deprived of all control over their lives, and far from their natural homes.

Virginia McKenna, who starred in the classic movie Born Free and received an Order of the British Empire in 2003 for her work in behalf of captive animals, says that her participation in Born Free made her realize that "wild animals belonged in the wild, not imprisoned in zoos. …

Freedom is a precious concept, and wild animals suffer physically and mentally from the lack of freedom captivity imposes.
Go to Care2.com to read some truly horrifying facts about zoos.
And visit Change.org to find out how you can help eliminate animal suffering in zoos.
#FreeChaCha!
For more entertainment, music and pop culture updates and news, follow Max Page on Twitter
Just Some Video Of An Orangutan Saving A Baby Chick From Drowning
Costa Rica Stray Dog Shelter Is Heaven On Earth For Canines
Stop What You're Doing And Watch The Cutest Sloth Video Ever
chacha chimp escapes zoo japan
Russian Monkey In A Snowsuit Will Warm Your Cold Cold Heart
All We Want To Do Is Watch This Adorable Guinea Pigs Eating Video
Micro Pig Twerking To Rihanna's Work Is Perfect Way To End The Week
Florida Dolphin 'Lover' Says Dolly The Dolphin Seduced Him—Yep Really
Kittens Puppies Koalas Sloths Bunnies! Cutest Animal Video Ever Alert!
Cute Young Tiger Found In Texas Wandering Along The Street!
Watching Sleeping Pig Wake Up To A Cookie May Make You Rethink Bacon
Diane Von Furstenberg Paid $100k To Have Her Dog Cloned
Puppy Shoots Florida Man Who Was Trying To Kill Him And Six Other Dogs
chacha chimp escapes zoo japan
Suzanne Somers—Bubbles The Chimp Tried To Cop A Feel During Liberian Girl Video!
The Very Best Of The Very Worst Utterly Tragic Taxidermy Attempts
Filthy, Abandoned Puppy Gets An Extreme Makeover, Hollywood Style