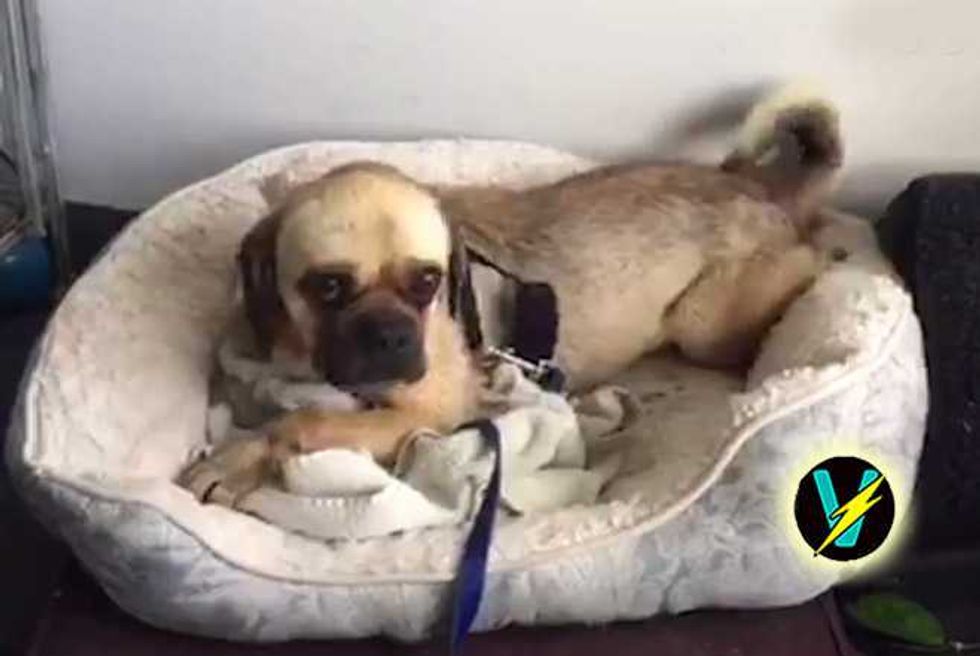 chained puggle rescue
Nero, an adorable "puggle" (a pug-beagle mix) had a hard life.
He was anchored with a heavy, metal chain all alone in a muddy  backyard—he was abused—severely neglected, starved, and often denied even water.
Meet Estella—The Adorable Paralyzed Guinea Pig With A Custom Wheelchair
When rescuers first found him, the poor guy was severely malnourished and dehydrated. His rib bones poked out from underneath his sparse fur, and he shivered in the cold; a dilapidated dog house his only form of shelter.
Thankfully, fate intervened and saved Nero in the nick of time, and whisked him to a new life indoors with all the love, water, and kibble a dog could want!
Filthy, Abandoned Puppy Gets An Extreme Makeover, Hollywood Style
The rescuers gave the sweet pup to PETA, whose motto reads in part, "animals are not ours to abuse in any way."
Nero was overcome with gratitude and immediately took to his rescuers, enjoying a well-deserved nap, with his paws up in the air, on the ride back to PETA's shelter.
And while most dogs think of baths as a form of water torture, Nero was thrilled as care givers gently washed away all the caked mud and filth from his little body.
Big, Burly, Badass Biker Saves Badly Burned Little Kitten
It was like he sensed that all his pain and suffering was over, and a new life, full of happiness and comforts awaited him.
Last month was Nero's first Christmas in a comfy bed—a concept so obviously foreign to him, it actually took him a while to figure out how the whole bed thing actually worked!
He got there pretty quickly though—Check out the heart-warming video below.
Rescuers Risk Their Lives To Save Animals —This Will Brighten Your Day
Nero is currently staying in a foster home while his forever home adoption application goes through—and because puggles are bred as companion dogs, Nero will make some lucky person or family very happy.
Check out the PETA Saves Animals page to find out more about the group's rescue endeavors, and to learn how you can help.