MUSIC
It gets pretty corny sometimes.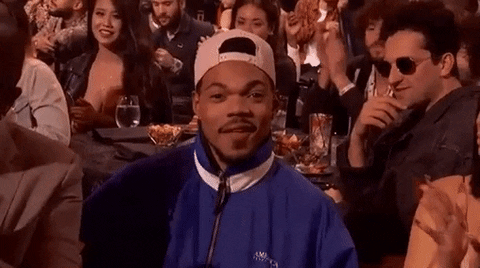 In the summer of 2017, I stood waiting to see Chance the Rapper perform at Boston Calling.
As the crowd poured in, three drunk and aggressive college students shoved past me. All three of them were draped in fraternity letters, with matching fitted snapbacks. "F**kin move!" one of them cursed as they plowed through, "I said all of you f**Kin' move!"
It was a dissonant moment of aggression considering who we were mutually waiting to see. Chancelor Johnathan Bennett has always been relentlessly optimistic in both his music and personal life, and I'm certain he would have been disappointed by the altercation had he witnessed it. But, as Chance took the stage and dove into "Angels" off 2016's Coloring Book, I was surprised to watch the three men emotionally sing along, arms wrapped around each other's shoulders. They screamed every word at the top of their lungs. They looked at each other with boarish appreciation. "Wear your halo like a hat, that's like the latest fashion! I got angels all around me they keep me surrounded!" At that moment, I understood the importance of an artist like Chance The Rapper.
As a member of the 2014 XXL Freshman Class, Chance rose alongside hard-hitting trap rappers like Lil Durk, Kevin Gates, Lil Bibby, and Vic Mensa. But unlike his colleagues, Chance's goofy demeanor, combined with his soulful and heartwarming lyrics about love and the glory of God, painted him as a different breed of artist. In short, Chance The Rapper had made jubilance cool. Even these three rude frat boys couldn't resist his charm. They were filled with childish glee.

This past March, Chance took to social media to tell the charming story of how he met his wife and recounted in touching detail how he slowly fell in love with her. The series of posts made national news and gave his fans a unique look into who Chance was as a person. It's rare for rappers to be so vulnerable; many of today's biggest rap stars tend to keep their fans at arm's length when it comes to their personal life.
As a result of this special relationship with fans, when The Big Day didn't release precisely at midnight, fans reacted as if they had been betrayed by a close friend. Then, around noon, it appeared out of nowhere. Chance fans immediately deemed the project a classic just from the setlist alone. The album is a staggering 22 tracks, with a wide breadth of features from Ari Lennox and Megan Thee Stallion to Death Cab For Cutie and Shawn Mendes. The Big Day appeared to be exactly what the title suggested.
But as Aesop once noted, "It is possible to have too much of a good thing," and The Big Day's relentless enthusiasm can be suffocating, at times even corny. "Hey there, lovely sister, won't you come home to your mister?" Chance mutters on the cringe-worthy "Let's Go On a Run." "I've got plans to hug and kiss ya, I've got plans to hug and hug and hug you!" Additionally, despite a well-placed feature from Ben Gibbard, "Do You Remember" tries too hard to evoke nostalgia. "Do you remember how when you were younger, the summers all lasted forever?" Gibbard sings. "Days disappeared into months, into years, hold that feeling forever." Yikes.
The Big Day succeeds when Chance loosens up and just has fun. "Handsome" is a playful bout of braggadocio, with Chance's exuberance oddly complementary to the lyrical prowess of Megan Thee Stallion. "Big Fish" is another endearing concoction of humor and swagger, with Chance casually rapping things like: "I swear my story just like Big Fish, I've seen hoes I was always just like 'Which? Which?'" At other moments, the optimism does strike chords. "I Got You (Always and Forever)" is whimsical and makes perfect use of Ari Lennox's pristine voice, and "Roo" is enjoyably impish: "I'll leave you inside the freezer and let you chill for the weekend, but forget over the weekend and come back inside in a month." As lethargic as the listener is by track 25, Chance's self-reflection on "Zanies and Fools" is a welcome look inward, with Chance and Nicki Minaj offering some of the strongest lyricism of their careers.

Given all that fans now know about Chance, every misstep made on The Big Day is easily forgivable. To believe Chance doesn't believe every single word he says would be a fallacy; at no point does the listener suspect Chance of being inauthentic. The Big Day is an imperative album in 2019, and while it doesn't strike every chord, its formidable number of features and overall runtime is a grand statement to the friends Chance cherishes most: his fans. "I really truly did this for y'all," Chance said during his album release party at Garfield Park Conservatory in Chicago. "As long as our relationship stays mutual, this can go on forever."
The Big Day