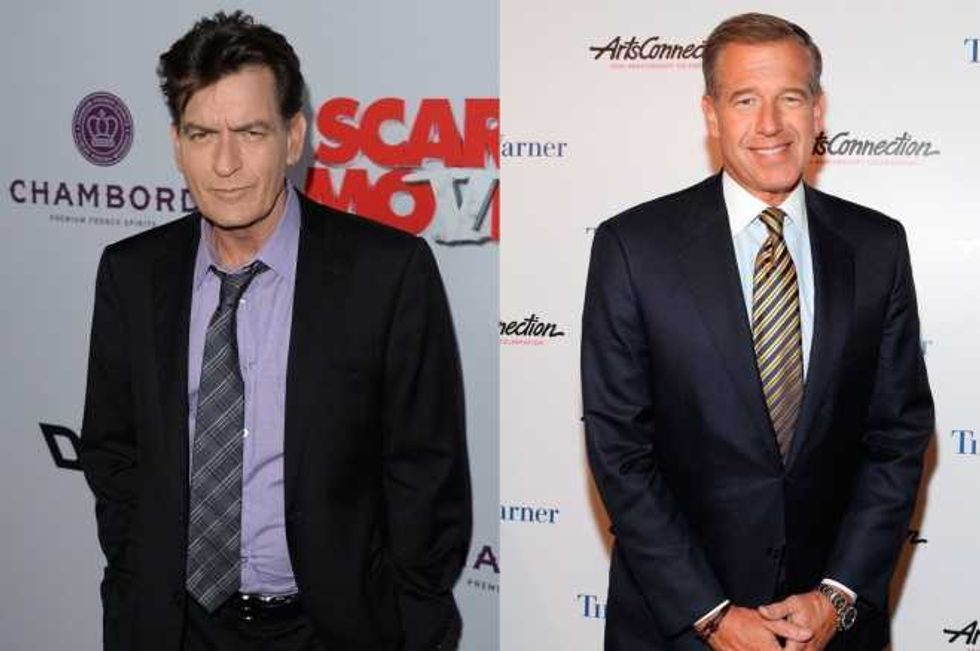 Charlie Sheen really likes to talk. The problem is, what he says usually makes him seem like an idiot.
For some godforsaken reason, the Anger Management actor has a crazed habit of commenting on things that he has no true knowledge of. Back in January, he went off on Kim Kardashian West for allegedly refusing to sign an autograph for a young girl (he eventually apologized).
Now, he's taken to bashing NBC Nightly News over their decision to suspend newscaster Brian Williams for six months. In case you're unaware, Williams was repeatedly caught in a lie about being shot down in a helicopter while in Iraq. The anchor attempted to take a step back from the chaos by taking a few days off, and the network decided to make his impromptu vacation an extended one.
TMZ posted Sheen's "open letter," and it's as manic as you think.
Dear Mr. Williams,

Sorry to bother you during this most surreal, unjust and mercurial moment in your awesome life. First off, THANK YOU, for 24 years of inimitable professionalism and top shelf brilliance, as a stone cold passion driven and (PERFECTLY) fact based journalist.

Secondly, Thank you "squared" for delivering not only the news on a nightly basis, (PERFECTLY) to myself and my family. But for every other person alive, (with a TV) who relied and still do, on your poetic, insightful and NOBLE sacrifices, that made our longest nights shorter, and our shortest nights safer.

You good sir, are a hero in my "Entire Library"

Lastly; you are clearly the victim of a transparent and vile witch hunt! Erroneously "staged" by hooligans, non coms, cowards and oligarchs, who's only desperate and hideous goal is to discredit the genius that they relied on for almost 3 decades!

Now and forever you are a true Patriot and a Hero of mine until the day i leave this star crossed imperfect Rock we call Earth...

Mr W: respect love hi 5's and refuge! (if you need it!) I remain humbly and on dangerous standby at your service.... I am; the MaSheen....
"MaSheen"? Seriously? Ugh....
Dude, look; your "true patriot and hero" makes his living by giving an honest scope of current events. Rather than just being comfortable with that, he instead chose to place himself on a pedestal by lying about a scary situation; one that our Armed Forces deal with daily. Even worse, they don't always survive these situations.
He not only disrespected the military with his actions, but he also went against his actual job description, so he was dealt with accordingly. Funny how you called his punishment a "witch hunt" and yet, no other journalists have been called out like this -- because unlike Williams, they actually realized that one "misremembered" fact can not only ruin their career, but the validity of the network / corporation that they work for.
Seriously, Sheen... just stop it. You sound absolutely ridiculous. Do something else -- you're an actor, right? Get back to that.
Jonathan Brown is a contributing writer for Popdust. Feel free to follow him onTwitter, Google or Facebook.