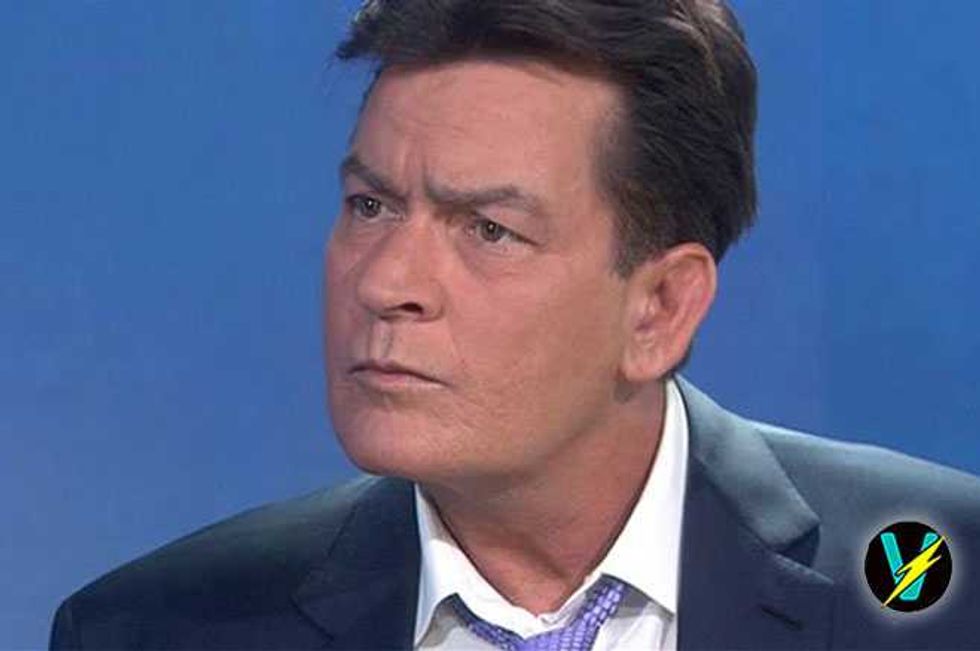 charlie sheen today show
As previously reported by Popdust, Charlie Sheen made a speedily arranged appearance on Matt Lauer's Today show this morning to reveal his HIV diagnosis.
The troubled actor seemed slightly stuttery during the interview and certainly did not appear slickly rehearsed, saying;
"I'm here to admit that I am in fact HIV positive and I have to put a stop to this onslaught, this barrage of attacks and of sub-truths and very harmful...stories that I am threatening the health of others, which couldn't be farther from the truth."
Scroll down for video of the interview
Sheen revealed he was diagnosed about four years ago after seeking medical treatment for "crushing headaches and insane migraines and sweating the bed, completely drenched two to three nights in a row.  I thought I had a brain tumor.  I thought it was over."
The former Two And A Half Men star said he decided to come forward and admit his condition publicly after being blackmailed by people he had taken into his inner circle and thought he could trust.
Who's The Boss Child Star Danny Pintauro Reveals He's HIV Positive
He says the extortion has totaled "into the millions", including a prostitute who took pictures of his anti-viral medication and threatened to sell them to the tabloids.
Burt Reynolds Tactlessly Weighs In On Charlie Sheen AND Angelina Jolie
It begs the question, why he continued to pay hookers to hang out with him, something he explained to Lauer;
"I was so depressed by the condition I was in, I was doing too many drugs, I was drinking too much."
Charlie Sheen Thrown Out Of Bar After Drunken Fight
Three times married Sheen, 50, was adamant he hasn't exposed anyone to the virus, saying he has told all of his past sexual partners about his HIV.
Sheen doesn't "entirely" know how he contracted the virus, but insists he hasn't transmitted it to anyone else.  His Doctor (Robert Huizenga) appeared with him during the interview, confirming that the virus was now undetectable in the actor's blood, so well is it managed.
Take A Guess At What Charlie Sheen's Latest Addiction Is
Sheen's story is being disputed though, by one of his ex's Bree Olson, who appeared on The Howard Stern Show, very upset in the wake of Sheen's revelation.  She said it appears she was with him right around the time he was diagnosed—and she alleges he most certainly did not share the news with her.  She is furious in the interview and said she would tell him "Fuck You" if he called her—luckily all her tests have proved negative, but if what she says is true, she has a pretty good reason to sue.
Gigi Hadid Blackmail Plot—She's Not Giving In To Them
charlie sheen today show
Social media has been awash with responses to the Today interview.  Most users commend Sheen's courage in making a public declaration given his fame, using the hashtag #StopTheStigma.  The general consensus seems to be that it's unsurprising his health was compromised given his lifestyle over the years, but that he's gained a lot of respect for coming clean (even though his hand was forced).
Charlie Sheen Sticks His Nose In Brian Williams Debacle
Let's hope that Charlie is being truthful when he says he never exposed anyone to HIV. No-one should have their private medical situation made public against their will, however it's a different ball game if that person is still engaging in unsafe sex with unsuspecting partners. If that is proven, not only will he have a whole heap of lawsuits, he'll certainly lose the public sympathy he has now.
Sheen hopes that his coming foward helps others in the same situation, but says;
"I'm not going to be the poster man for this, but I will not shun away from responsibilities"
charlie sheen today show
charlie sheen today show