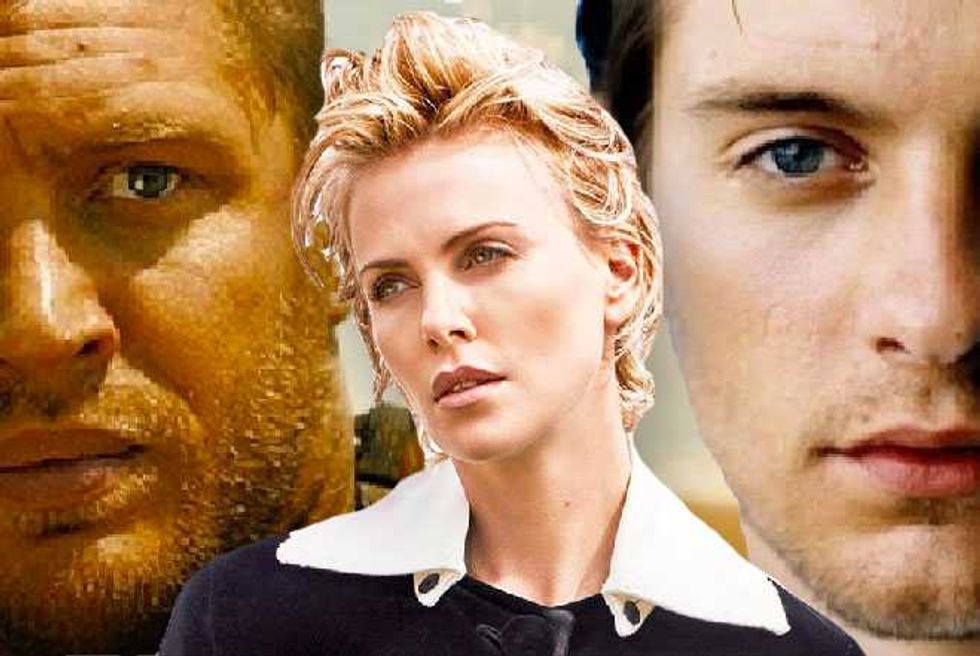 Charlize Theron male costars Tobey Maguire and Tom Hardy
Charlize Theron kinda hates her male co-stars it seems.
Well, two of her male co-stars in particular—Tobey Maguire and Tom Hardy.
How can anybody hate Tom yummy Hardy?!!!!
Earlier this month Theron revealed she and her Mad Max: Fury Road co-star were practically at each other's throats throughout the entire shoot.
She told the Wall Street Journal:
From what I hear, he's not like that on every movie—I hear he's had good experiences.

Maybe the movie is what it is because we struggled so much with each other, and those characters had to struggle so much with each other.

If we were chum-chum, maybe the movie would have been 10 times worse.
Now the 40-year-old screen goddess is opening up about her distaste for Maguire.
Theron played opposite him in 1999's The Cider House Rules—and, it was a.... difficult.....experience.
In a new interview for V magazine's Summer Hollywood issue, the Oscar winner says:
Tobey and I had a bit of a rough time, yeah. I mean, we're good now.

It was a difficult movie. Every day is completely different for a completely different reason.

Whether it's the weather, or the writing isn't there, or you don't get along with your castmate, you have to be able to go to something else that's just as powerful.

Does it make it as enjoyable? Probably not.

I mean, there were just a couple of days that Tobey and I had a rough time.

The rest of the movie, we actually had a really good time.
And she totally had to make out with him—even though they were not into each other at all!
Theron says the experience taught her an important lesson however:
It teaches you different things.

It taught me that I could fall in love with somebody in my head while looking at someone else.

We had some really intimate moments.

Tobey and I didn't feel that way about each other, so I had to figure something else out.
Oh the trials of tribulations of being a Hollywood star!
Talk about #AlisterProblems
ManCrushMonday—Appreciating Tom Hardy, Because, Duh, Tom Hardy
Tom Hardy Thinks He's An Adonis In Those Tighty-Whitey MySpace Pics (And So Do We)
Charlize Theron Invited President Obama To A Strip Club
Charlize Theron male costars Tobey Maguire Tom Hardy
Charlize Theron male costars Tobey Maguire Tom Hardy
Charlize Theron Calls Cops After Alleged Stalker Delivers Flowers
Real Housewives Craziest Fights, Insane Meltdowns And Brawls Ranked
Fights, Feuds, OUTRAGEOUS Dresses—Countdown To New Big Fat American Gypsy Wedding
Charlize Theron male costars Tobey Maguire Tom Hardy