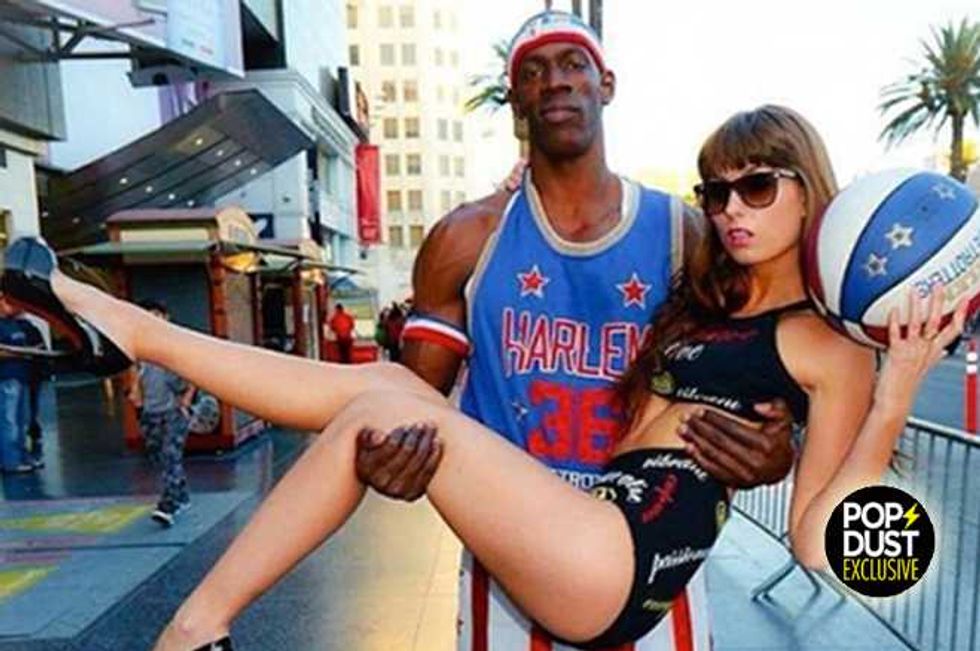 There's a disturbing new trend in Hollywood—a trend that seems to be gaining momentum with the velocity of a Kardashian hopped up on a fat-free chai latte.
Beautiful starlets…..are now funny. And they're getting better looking and funnier every year.
First there was Chelsea Handler. Not exactly a piece of ass, but when you factor in how funny she is, suddenly you wouldn't kick her and her saggy tits out of bed.
Next there was Whitney Cummings. A solid 7.5-8 with good lighting, and dirtier than Haitian tap water.
Now, Popdust gives you Chelsea Skidmore: think Larry David trapped in Miss July's body.
Suzy McCoppin sat down with the sexy stand-up to talk Guy Fieri, fat men eating pussy, Kim Kardashian and sex tapes, butts or boobs, Marilyn Manson, and Hillary Clinton jizz facials.....
Popdust: When did you know you were funny?
Chelsea Skidmore: When I was in middle school I would leave crazy voicemails on all of my friends answering machines trying to make their families laugh and they all called me "weird" but what they probably meant was "funny." They just had poor adjective choices.
Popdust: How often do you get hit on in a day?
Chelsea Skidmore: I'm bad at math but it pretty much depends on how often I go outside.
Popdust: Do you ever get too much attention?
Chelsea Skidmore: Not really, I wish.
Popdust: Who is someone that's really over rated?
Chelsea Skidmore: Guy Fieri. Plenty of guys have been on cocaine in kitchens with bleached tips for years.
Popdust: You have to be funny or hot, pick one..
Chelsea Skidmore: Funny
Popdust: What joke gets the biggest laughs?
Chelsea Skidmore: There is no excuse for an overweight man to be bad at eating pussy. How can they be so good at eating everything else?
Popdust: What joke are you most proud of?
Chelsea Skidmore: (Since it takes so long to get cum out of your pussy when a guy busts in you..)
Do you think on a busy morning Hillary Clinton gets jizzed in? Or is she like, "just cum on my face I have a lot of paperwork to sign."
I don't know if this is what I'm most proud of but it makes me laugh and shocks people every time.
Popdust: What is the best story you have about being a hot chick in LA?
Chelsea Skidmore: Getting to party at Marilyn Manson's house was definitely my favorite LA story because I've been a longtime fan and it was really surreal watching him sing along to his music in his living room.
There are always tons of other celebrity house parties stories because it's LA but once you meet these people that everyone idolizes you realize they suck and have bad personalities. Don't meet your heroes.
This one famous actor from my childhood wants to pay me $300 to do standup for him at the Polo Lounge, which is really weird and random. I'll probably do it soon when I feel poor and bored.
Popdust: You get 30 minutes with Kim Kardashian.... Are you going to bang her or yell at her?
Chelsea Skidmore: I would get her doctor's number, ask her why she talks in that fucking baby voice, and find out who the best distributor is for sex tapes.
Popdust: Who is your dream man?
Chelsea Skidmore: My dream man is someone who is funny, smart, has a good personality and knows how to fuck.
Also someone who gets the real me is important - I kind of play up an overly-sexual exaggerated version of myself who is 'too cool for school' but it's not really who I am on the inside, it's just a defense mechanism because I'm really shy. All I want is someone to take me on the Santa Monica Ferris Wheel overlooking the ocean during the sunset to tell me I'm pretty.
Popdust: Butts or Boobs? Why?
Chelsea Skidmore: I kind of like boobs better. But butts are super chill too.
Popdust: Who do you hate the most?
Chelsea Skidmore: There are so many people that I hate it's probably better to not name any of them, but just assume everyone.
Popdust: Who let the dogs out?
Chelsea Skidmore: Sarah McLachlan.
Popdust: If you could go back to high school and beat the shit out of someone, who would it be and why?
Chelsea Skidmore: This dude who spit on me at a party. It made me feel awful. Now I would fuck that bitch up. I think at the time I just wiped it off and sat in the corner alone.
Popdust: Funniest TV Show of all time?
Chelsea Skidmore: Curb Your Enthusiasm. Larry David is the best. I just really get everything he does.
Popdust: Is comedy tragedy plus time?
Chelsea Skidmore: I think honesty is the most interesting stuff to hear in comedy and things that are really honest tend to be more tragic. People get uncomfortable by the truth.
Popdust: Why you buggin'?
Chelsea Skidmore: I'm kinda buggin' because I just ate spaghetti and have to go to Pilates in an hour and hope my food digests in time.
Popdust: Which of the 7 deadly sins are you most guilty of?
Chelsea Skidmore: Sloth. I'm lazy as fuck.
Popdust: Craziest thing a fan has done?
Chelsea Skidmore: This guy made a compilation video of me and posted it on his Instagram. It was actually pretty cool but had like CGI or some shit. It was pretty technologically advanced in the edit. I like when people spend time on me.
Also one time some random stranger dude from the Internet showed up to my birthday party and it made me really uncomfortable.
Popdust: Ultimate goal?
Chelsea Skidmore: I just want anything creative I do to be paid attention to. I want my point of view to be seen and heard in any capacity.
Popdust: What would you change about yourself?
Chelsea Skidmore: To focus on just one thing and stick to it. I want to do so many things, which isn't wrong but sometimes I spread myself too thin. I wish I had better leadership skills, direction and self-discipline.