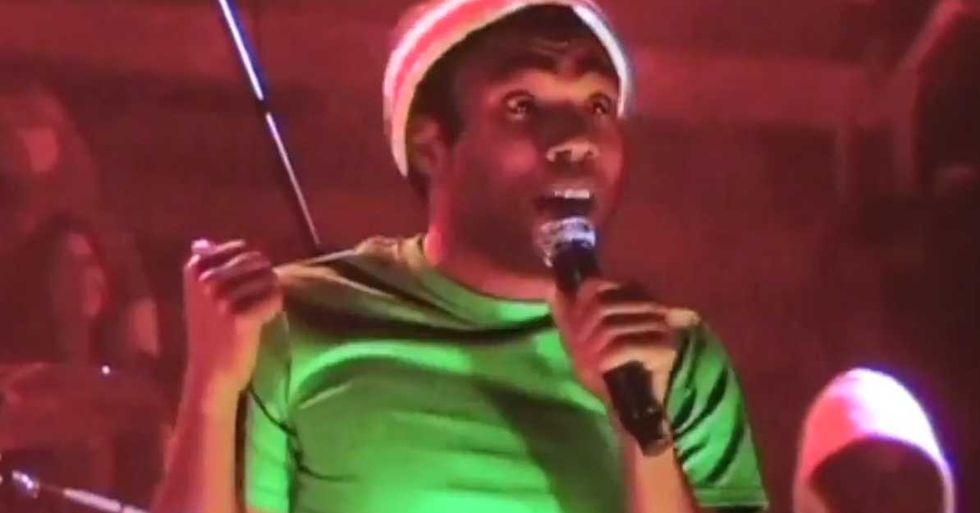 With debut album Camp less than two weeks away, New York's Hot 97 took the liberty of previewing some more of the highly anticipated Childish Gambino material with the premiere of "Heartbeat" on Saturday. While it has the mounting aggression of "Bonfire," he ultimately balks when presented with the opportunity to really go off on his lady in question, giving way to what is a danceable, slightly romantic chorus on top of a thumping electric bass, which is very different from what we've heard from him thus far. Still, the rhymes about unrequited love and female-related paranoia remain. "We rockin for the nerds right now!" DJ Funkmaster Flex interjects. But lest you think Donald Glover really is just a comedy nerd with a rap habit, he brought his current single to Late Night with Jimmy Fallon on Friday. The elaborate lighting, fierce violinist and Glover's winter beanie all make for an interesting visual, but it's his expressive delivery—exaggerated facial expressions and supremely flexible eyebrows—that make you want to watch him perform instead of just listen. Luckily he left the blood at home.
NO THREE FALL ON THIS NIGHT, JUST A FREE FALL
The Boston Globe (Boston, MA) November 22, 2001 | PETER MAY, GLOBE STAFF No turkey jokes today. But it's not for a lack of material. The Celtics gave us plenty last night.
They lost, at home, to an Atlanta Hawks team that had not won a road game since Feb. 18, a stretch of 21 straight setbacks away from cozy Philips Arena. They lost, at home, to an Atlanta Hawks team that had played the night before in Indiana, blowing a 21-point lead in that one. Boston, meanwhile, had had three days since its last game. They lost, at home, to an Atlanta Hawks team that had beaten them four days earlier. website iron man games
They lost because, for the second straight time against Atlanta, they insisted on relying on 3-point shooting to bail them out. They hoisted a franchise-record 37 treys last Saturday. They followed that up with 29 last night, missing a mind-boggling 25.
Jim O'Brien encourages what he calls "open threes," but what's the point if they aren't made? Erick Strickland had an open three last night, pulling up in transition with no one even close to getting a possible rebound. He missed, and the Hawks got the rebound. That's an open three - and a dumb shot.
The next team that wins consistently relying on 3-point shooting will be the first. Almost one of every three shots by Boston last night was a trey. Last Saturday, nearly half (37 of 81 attempts) were treys. They lost both times.
The Celtics are averaging an astonishing 25 three-pointers a game. Twenty-five. That represents 31 percent of their field goal attempts. Only one other team - Milwaukee - is averaging as many as 20 treys per game. The seducing stat for the Celtics is that they are connecting on 39.7 percent. (It was 43.6 percent before last night's Bob The Builder performance.) "We are going to continue to take them," said Antoine Walker, who took eight last night, a little below his average. "We miss, we miss." You miss, you usually lose. The Celtics have taken more threes than free throws in four games this season (including last night), and they are 1-3 in those contests.
But the 4-for-29 submission from international waters was only one of many mystifying things that happened to O'Brien's crew last night. You're going to see missed treys again. Some of the other things were (the Celtics hope) one-time occurrences that pointed to a bizarre night and an inevitable result.
The calendar may say it's Thanksgiving, but at times last night you would have sworn it was Halloween. Or the night of the Sports Illustrated curse.
We saw Paul Pierce and Antoine Walker work a pick and roll. Walker broke to the basket. Pierce threw a pass that hit an unaware Walker in the back and caromed out of bounds. ironmangamesnow.com iron man games
We saw the generally sure-handed Walker bring the ball up the floor and inexplicably lose control. As the ball was rolling out of bounds, he jumped to grab it and hoped for a timeout call from the referees. No chance.
We saw Pierce try to throw a downcourt bullet to Strickland, but the ball took off as if it had a mind of its own. No one was near Pierce or Strickland, but the pass went out of bounds.
We saw Pierce play in foul trouble all game (33 minutes) while Walker played his usual iron-man game (45 minutes) and somehow had seven shots blocked. For all the times we like to see Walker down low, he was smothered repeatedly last night.
Those two, incidentally, are featured rather prominently in this week's SI (although they are not on the cover). The timing could not be worse. The story talks about their bonding on and off the court. Last night, they looked like utter strangers at times.
"I don't know. It's weird," Strickland said. "We played like we haven't played in a long time." In truth, they hadn't played in a long time - four days. The Celtics are finishing up a stretch of only three games in 13 days, and they were 1-2 in those games. On all three occasions, they had time between games while their opponent played the night before.
And, amazingly, they had a chance to pull this one out, which would have made for a richly undeserved victory. They got to within 87-85 with 100 seconds left, but the estimable Shareef Abdur-Rahim followed with a tough turnaround over Tony Battie 20 seconds later. The Celtics would not score again, and the Hawks salted it away at the free throw line.
When O'Brien tries to cue this one up on the videotape machine, he's going to get one of those warning boxes with the red exclamation point and a message stating that there has been a system error and he is going to lose all the material. Then he will smile. Or at least he should. This one isn't worth the disk space.
PETER MAY, GLOBE STAFF