MUSIC
How Awaken, My Love! is the new Yeezus and Why Donald Glover's Ceaseless Sincerity Is The Answer to Kanye's Cruel Winter
Comparisons to a certain rap superstar have dodged Donald Glover (aka Childish Gambino)'s first run at a hip hop career-- his 2011 debut, Camp, once blasted as "a slightly off-brand, fictional version of Kanye West being played for laughs." With our current Kanye currently out of commission, however, we're looking forward to the new Kanye dominating our collective consciences come Friday. Here's a few reasons why the Childish Gambino is going to be the New Kanye we need.
Those New Jams
First and foremost, we got those new jams coming off Glover's third official album as Childish Gambino, Awaken, My Love!, which hits this Friday. Per Ural Garrett, writing for Hip Hop DX, who witnessed some of the material that Glover previewed at Pharos, the mad mysterious concert in the middle of the Californian desert that Glover held this summer and is now billed as the The Pharos Experience and set to be released in the timeless medium of "virtual reality vinyl" sometime next year, "Anyone expecting Because the Internet [Glover's last album as Gambino]...might be in for a disappointment." The comps that everyone is running around with are Funkadelic, James Brown and other very serious people from the 70s funk/soul scene, but I've listened to the singles that are already out ["Me and Your Mama" and "Redbone"] and this stuff is emotionally Yeezus folks. Dipping the catchy hand-clap melodies and chart-topping melodies for dark synths and a mysteriously aloof persona? It may be more analog, it may be more funky than Daft Punky, but Awaken, My Love! is looking to be the Yeezus of Glover's hip hop career, chock full of the love-it-or-hate-it caveats that populated every conversation ever re: Kanye's dark and crazy-hyped followed up to My Beautiful Dark Twisted Fantasy.
Just tack at least one danceable pop-jam at the end with a silly music video, please.
But We'd Rather Have The David Lynch of Rap Than the Michael Jackson of Fashion.
When Glover pitched his now-hit FX series Atlanta as "Twin Peaks with rappers," something about that felt like the kind of savvily keen pop-speak coming from someone with a finger on where the zeitgeist winds are blowing in 2016. Twin Peaks nostalgia is pretty, uh, peak right now—with it coming up in conversations (and being mashed up with) big hits like Stranger Things and a much hyped revival scheduled to premiere on Showtime next year. Hell, I went to a Twin Peaks-themed Halloween party last month. But more on-brand is that Lynch is a beyond-iconic figure who, for many, still manages to carry an aura of cultishness and specificity that suggests the kind of genre-crossing that once brought posters of Kanye to the bedrooms of moody nerds and introspective jocks alike, that brought singles to the top of the charts, and perfect reviews.
Though also, kinda, on-brand, Kanye proclaiming himself the Michael Jackson of fashion in a totally bonkers appearance on Ellen (like, watch it. It's a legit masterpiece of 2016 television) felt a bit more, uh, disconnected from reality. Now Kanye's been trying to push himself as a fashion figure pretty much from the very start, with pretty mixed results. While someone like Micheal Jackson remains pretty mad ubiquitous, you try finding a pair of Air Yeezys for south of an arm and a leg. And the first three fashion shows Kayne ran were fine, but Yeezy 4 was, well, "a total disaster."
No Irony
Per the latest issue of Billboard, one of the rules that Glover set at Pharos was "no irony." While that may sound like new age nonsense to someone forking over a hundred dollars to drive out into the middle of nowhere to see one of pop's biggest voices, it's kind of like how you can't approach Burning Man thinking you're just setting fire on fire on a pile of wood. Glover, as he's shown with his slacker dialogue on Atlanta and in interviews he's been doing for the Awaken, My Love!- press cycle has begun speaking in a "stream-of-consciousness logic fully apparent only to him," as Billboard's Jonah Weiner described it. This should be well familiar to anyone whose waited through a long night to hear what a Kanye appearance at the VMAs would entail.
But compare Glover's demands for a "a layer of sacredness" in concerts to the rapping-from-a-floating-stage personality that Kanye has been putting out throughout T.L.O.P.'s press cycle: the Bill Cosby tweet, #Swiftgate, the retroactive Trump endorsement. For anyone who wants to remain an avid fan of the Kanye brand, it's hard not to view this as a kind of emphatic ironization of the celebrity image. We live in a time when Kendrick Lamar, loose decedent of the N.W.A. G-funk scene, chills in the White House with no apparent incongruity. To reject the idea of celebrity as a meaningful medium to convey anything larger than personality is a bold stance to take and, in the wake of Trump's successful celebrity-based candidacy, not an entirely meaningless one. But it's hella cold.
The Swag
Like Kanye, Glover used his first live show to hawk some exclusive pricy swag that we can probably expect to see everywhere once he gets his actual venue-playing schedule in order. Since Glover's been keeping so much under the wraps of the cold desert sky, its hard to tell what his flirtations with swag-based iconography will entail this time around but, per e-bay, where expensive things go to die, it looks like Glover is going for a slick and dark cool compared to its neon-bright Kanye counterparts.
I'll rock that.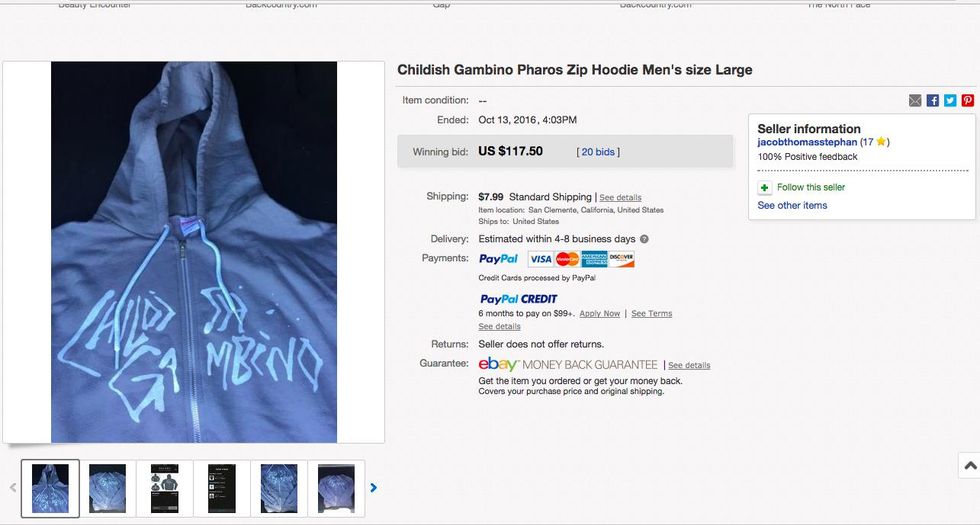 Gambino Swag, via e-bay
Awaken, My Love! comes out this Friday! Listen to the album's first single, "Me And Your Mama" below.
From Your Site Articles
Related Articles Around the Web