It had been his first show since preforming at an Australian music festival on New Years, his first concert in the United States since debuting "Awaken My Love!" in the middle of the Californian High Desert to an audience of the most devout fans, who had downloaded a special app just to find out the concert's location. Wearing the all-white garb of a desert priest, the actor Donald Glover, known also as the rapper Childish Gambino, begun with a declared that this show would be his last of the year. By the concert's end, shirt-off and panting the final hot and sexy lines of highest charting hit, "Redbone," he declared that the next record he was on would be Gambino's last. A few days later, Glover told the HuffPost that he felt little reason to return to his music career, following the radio success of last year's effort. "'Redbone' is a punk song because it's a gospel song that's on the radio…there's only so far you can go before you just are the radio," he said.
Which begs the greater question: how did a rap alter ego chosen by a Wu-Tang Clan name generator end up on a higher billing than the Clan themselves, who played their third show of the year two slots below Glover/Gambino that evening? In a culture addicted to achievement, Glover represented a kind of demi-god; writing for 30 Rock shortly after college and starring in another NBC comedy shortly afterward, Community, the idea that he could rap too meant a lot to aspirants in the colligate crowd. Glover was a figure we could project ourselves on: if he could rap and act, perhaps I could trade securities and DJ, work in advertising and have a meaningful musical career, thousands thought of themselves after hearing Glover lauded with that most millennial of adjectives, the multi-hyphenate On "Awaken My Love", he revealed even further accomplishment: he was a funk god too.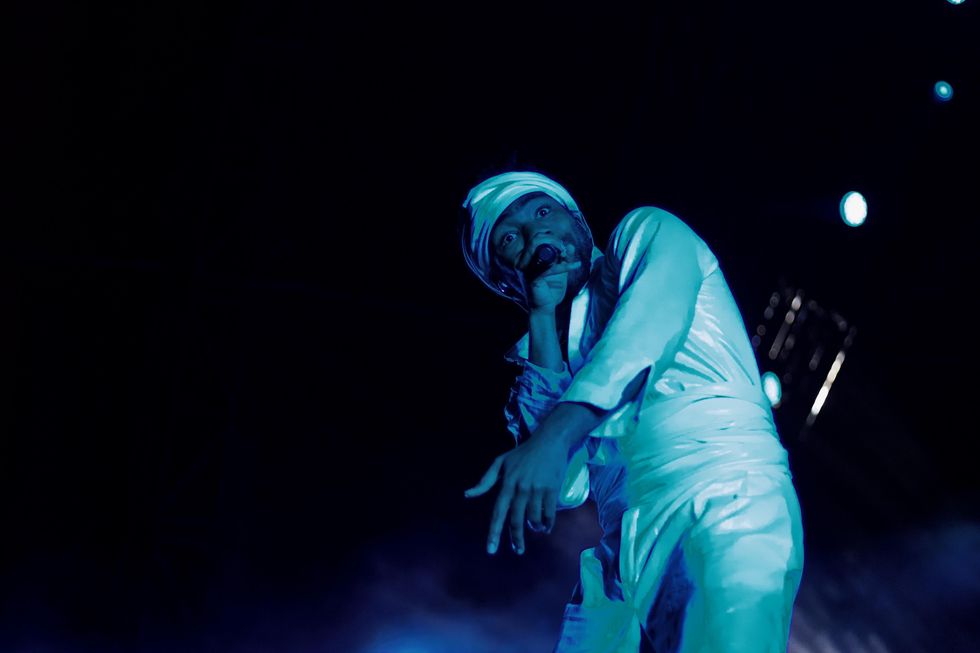 (Andrew Karpan)
His farewell set this weekend busily contained those multitudes: it began and ended with the Awaken's singles, performed by a rockin' Kevin Parker-lookalike on guitar and a '70s haircut on the keys but in between these critically-regarded pillars, Glover delivered the existential rapping that every college student in Cali or New York has used to fill their playlists since Gambino played Gov Ball, over in the lowly Bacardi tent and drawing a small crowd opposite the Strokes in 2014. There was "Telegraph Ave," there was "Sober," the latter an essential in declaring love dormrooms. And, without a doubt, there was "3005," four minutes to make your girl know you were serious, or at least a serious person.

Notably there was nothing from Camp, the autobiographically-inflected debut where Gambino earnestly bragged about being "the only black kid at a Sufjan concert." People didn't take this version of Glover seriously; a grumpy Ian Cohen labeled it "a slightly off-brand, fictional version of Kanye West being played for laughs." Everything about the album that followed, Because the Internet, was an attempt to be taken seriously, from its .GIF. album art to its serialized storytelling. This was no amateur creation of the weekend painter, it was something meaningful and about things like life, death and marriage.
In the carefully guarded buildup to what would follow, I suggested that it would be a record not unlike Yeezus, an unabashedly experimental profusion of noise that would enter the public consciousness like the howling and climactic yells of "I Am a God" did in the summer of 2013. I was both right and wrong: there was no rapping and, thus, no wack beats produced by Warp Records artists. It wasn't looking forward to the frightening sci-fi future that Kanye played to but, instead, to the past of Funkadelic lore.
Some exclusive photos of what might be Glover's last set as Childish Gambino.
(Andrew Karpan)

Glover wasn't the first rapper to spin the song of George Clinton; samples of the same 1975 Funkadelic track can be found in the work of rap acts as disparate as N.W.A., Public Enemy and Earl Sweatshirt; no less a figure than Kendrick Lamar has let some bars down on a remix of one of actual band Funkadelic's comeback singles. But the argument can be made that none of these figures actually engaged with the music: they did their thing over hot beats provided by Eddie Hazel's guitar, but it was just an element found. None but the most ardent fans were going to be converted by the backbeat in "Bring the Noise."
But, now there were hundreds eagerly waiting the bass lift on "California," millions who listened to the gospel chorus of "Redbone," an accomplishment that neither Chance the Rapper nor Kayne, much-professed love of gospel music notwithstanding, had managed to wing. "Ultralight Beam" may have been covered by white indie boys everywhere and millions of people may have bought a hat with the number 3 on it but that doesn't translate to a greater love for Maggot Brain. The fans nodded their heads, the critics wrote profusely on the return of handclappin' soul to their own playlists but that's just something you talk about at a party. In having nothing to lose, Glover was one of the few artists able to commit entirely to an aesthetic, to do the whole no-features thing but, add to that, no trends. Childish Gambino, as a project, was ultimately able to offer us something different, something that we weren't hearing anything else. Here's to hoping his next project takes us something even more wild.
---
Andrew Karpan was on the funk train before you. But it's okay, you can follow him on Twitter.
More Live Fun Times:

GOV BALL | TOVE LO is our poet of imperfection