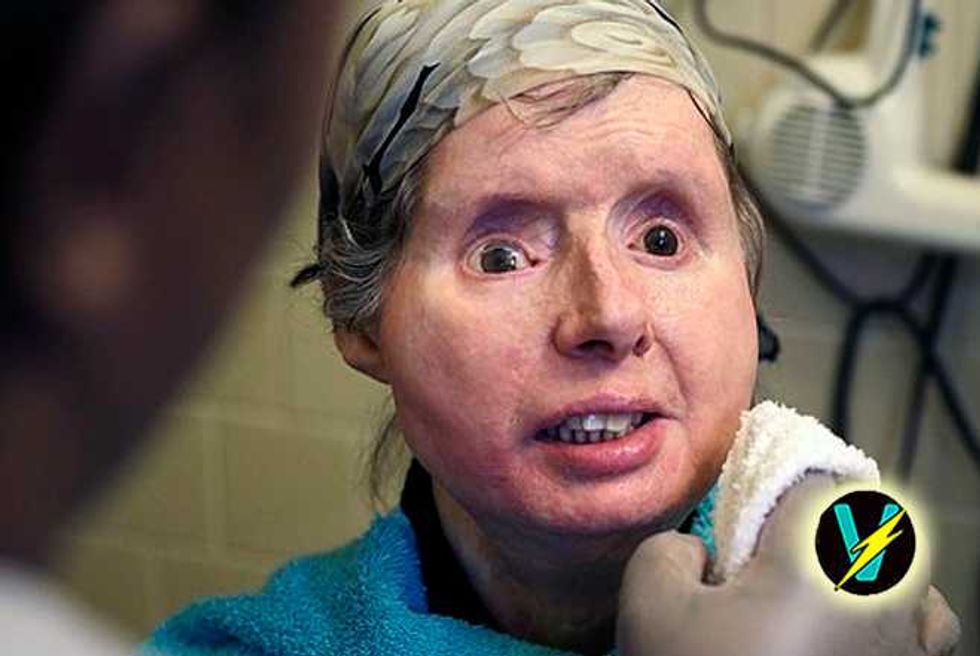 charla nash's body rejecting face transplant —the bravery of this woman is absolutely awe inspiring
Chimp attack victim, Charla Nash's body is rejecting the face transplant she was given back in 2011.
Nash underwent the groundbreaking surgery after she was viciously attacked in 2009 by Travis, a 200Lb chimpanzee that was owned by her employee.
As a result of the horrific attack, Nash lost both her hands, her nose, eyelids and lips.
The majority of the bones in her face were broken, and she a large portion of her scalp was ripped off.
She later had to have both her eyes removed too, due to a disease that was transmitted by Travis during the mauling.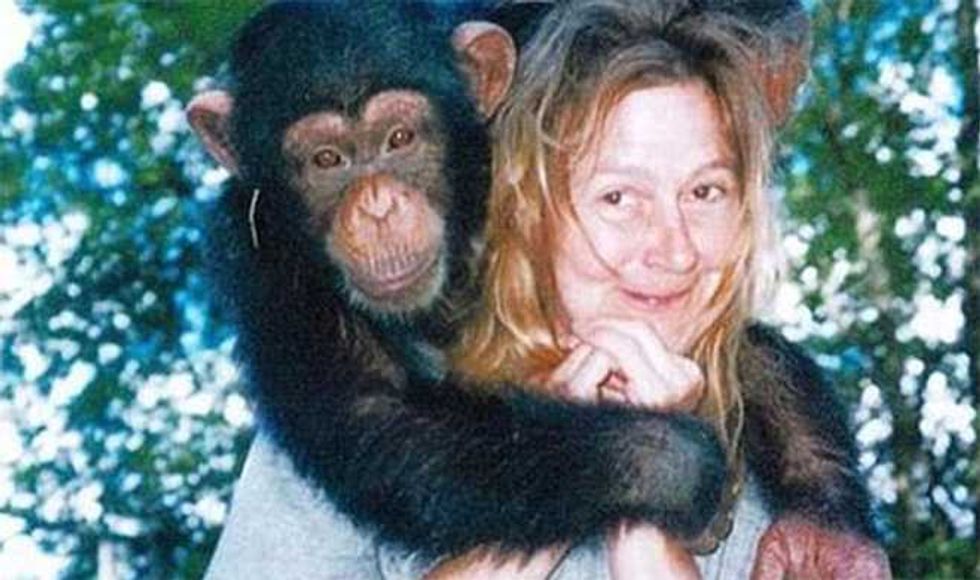 Charla and Travis before the horrific attack
Nash's reconstruction surgery was paid for by The Pentagon through its hand and face transplantation program.
She was given new facial features, taken from a deceased donor, and also underwent a double hand transplant.
Sadly, the hand transplant failed after her body rejected the tissue.
And now, Nash is back in hospital once again as her body has begun rejecting the face transplant too.
The 62-year-old had been taking an experimental drug treatment in hopes of weaning her off of the anti-rejection drugs she had been taking since her operation five years ago.
The anti-rejection drugs carry the risk of serious side effects—and their long term use has been linked to kidney damage, viral infections and cancer.
Nash says that doctors have now put her back on the original medication in hopes of reversing the rejection.
A spokesman for Brigham and Women's Hospital, where Nash is undergoing treatment, released a statement via their website yesterday:
The viability of Charla's face transplant is not in jeopardy. Overall, she is doing well.

Charla is currently experiencing a moderate rejection episode, which face transplant patients experience on occasion ...

We expect this rejection episode to be resolved within the coming week.
Nash, who is expected to be released from hospital later this week, also released a statement, via the AP:
I appreciate everyone's concern. I feel perfect.

I didn't even know I was having a rejection episode.

I gave it my all and know my participation in the study will still be beneficial.

I'd do it all over again, if I could.

The men and women serving our country are the true heroes.

I'm just happy I had the chance to help.

I wish I could have done more.

I believe in the power of prayer and appreciate everyone who is praying for me.
Nash opened up about the horrific ordeal she has undergone, during an interview back in 2009.
I'd like to put across to people's minds that these exotic animals are very dangerous and they shouldn't be around.

I don't want to remember [the specifics of the day she was attacked], because I couldn't imagine what it was like.

I want to get healthy. I don't want to wake up with nightmares.

[When I first woke up in the hospital following the attack] I do remember I kept saying that, 'Well, one of these days I'm going to see.'

And then the doctors said, 'No, you're never going to see again,' and I'm like: 'Well, I don't know. They don't know what they're talking about.

But the eye doctor came in a couple weeks ago and said that it's a shame they had to remove my eyes, and that's when I really knew.
She went on to explain why she chooses to wear a veil over her face when she is outside of her home:
[I wear it] so I don't scare people.

Sometimes other people might insult you, so I figure maybe it's easier if I just walk around covered up.
During the interview, Charla made the brave decision to show her face in public for the first time.
She explained why:
People are going to say what they're going to say.

I need to move forward and get better and stronger.
To say Charla's injuries are utterly horrific, would be a complete understatement.
The level of this woman's bravery is awe inspiring.
You can watch the video below.
For more entertainment, music and pop culture updates and news, follow Max Page on Twitter
ChaCha The Chimp Makes Desperate Break For Freedom From Japanese Zoo
Suzanne Somers—Bubbles The Chimp Tried To Cop A Feel During Liberian Girl Video!
Just Some Video Of An Orangutan Saving A Baby Chick From Drowning
charla nash's body rejecting face transplant
charla nash's body rejecting face transplant
Costa Rica Stray Dog Shelter Is Heaven On Earth For Canines
Kittens Puppies Koalas Sloths Bunnies! Cutest Animal Video Ever Alert!
Watching Sleeping Pig Wake Up To A Cookie May Make You Rethink Bacon
charla nash's body rejecting face transplant