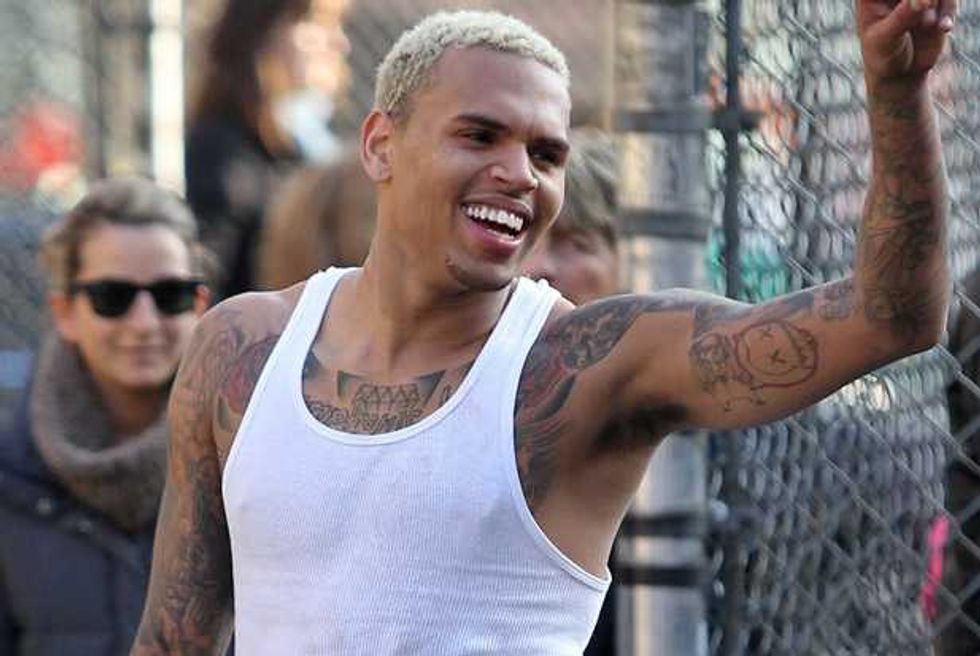 Seems like these days, Chris Brown just can't stop apologizing for things. The domestic abuse, the gay slurs, and now the talk show storm-outs-and-window-breakings--Breezy's contrition has been demanded early and often for his reckless behavior of late. At least he's had the good sense to offer it when necessary, as he did last night with a live appearance on BET's 106 and Park. Brown refuted ABC's claim that the subject matter of his violence against Rihanna was a pre-approved talking point in his Tuesday interview on Good Morning America, but apologized for his flip-out, saying that he just needed to let the anger out.
"First of all, I want to apologize to anybody who was startled in the office, or anybody who was offended or really looked, and [was] disappointed at my actions," said Brown. "Because I'm disappointed in the way I acted." He maintained that his behavior backstage, while destructive, was not harmful to anyone. "When I got back I just let off steam in the back," said Brown of his alleged dressing-room tantrum. "I didn't physically hurt anyone. I just wanted to release the anger inside me." (Based on the creepiness of that last statement, maybe we should be glad that a window is all he may have broken.)
Brown insists, however, that all of this could have been avoided if ABC had stuck to their list of pre-approved subject matters. "A lot of people don't know what went down," claimed Brown. "When I do shows or when I do interviews we send out, like, a talking point sheet. And if the network or whoever isn't compliant with what we want to do so that we can equally accomplish a goal, we usually kind of back out and wait until it's a better situation...So when the interview proceeded, I was thrown off. I felt like, OK, they told us this to get us on the show and exploit me." For her part, GMA host Robin Roberts maintains that Brown did in fact pre-approve the Rihanna "talking point." "Any time we have a guest here on the program, we let them know ahead of time the subject matter, the topics that we're going to discuss and we, even right before the interview," said Roberts this morning. "I said that to Chris and I was shocked, like everybody else was."
Regardless of who was entirely to blame in the incident, it doesn't appear to be hurting Brown too much in the sales department. Estimates projected from the first few days of sales for Breezy's new album F.A.M.E. have the album selling between 250,000 and 275,000 copies, which would be the second-biggest sales week of 2011 (behind Adele's 21) and more than double the opening-week gate for Brown's previous release, Graffiti. Shows you what a couple of good singles and a leaked naked picture or two can help you overcome, huh?