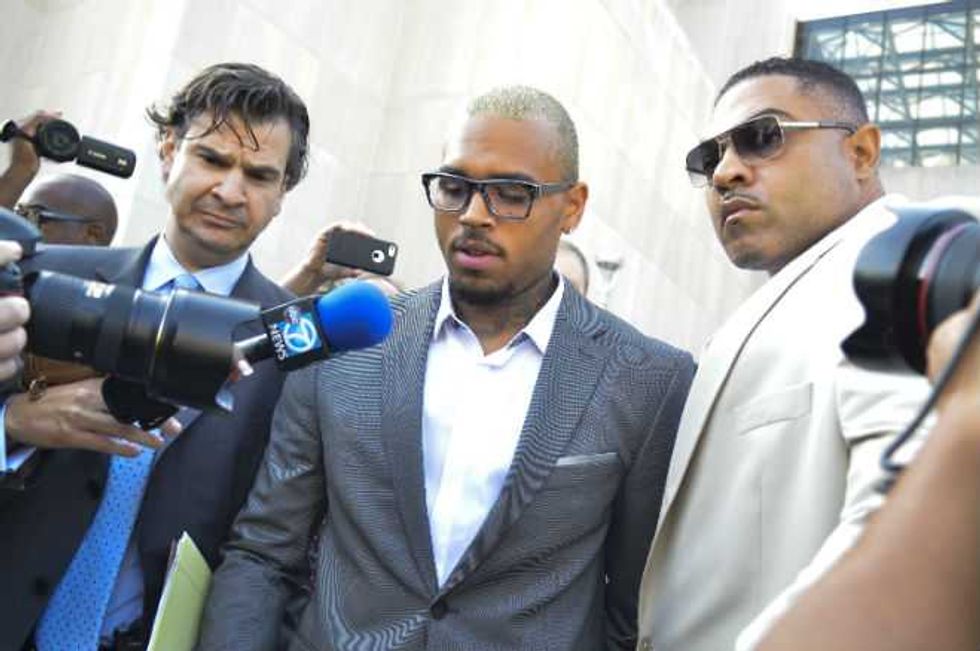 Chris Brown appeared in court on Tuesday and pleaded guilty to punching a man outside a hotel in Washington, D.C. last year.
The singer was charged with assault for the incident in October 2013 while he was still on probation for attacking his then-girlfriend Rihanna.
Chris admitted to a misdemeanor assault and was sentenced to time already served - because his probation was revoked, a judge ordered him in May to serve an additional 131 days in jail which covered his sentence. The star had previously pleaded not guilty in the case, and two deals fell through before he changed his plea.
"To say that he's been punished severely in this matter is an understatement," attorney Danny Onorato said.
Chris made a brief statement after sentencing, saying "I would like to say to the court that I'm sorry."
His attorneys added an official statement on his behalf, saying it was time for the star to get back to making music again.
"We are pleased with the outcome of today's court proceedings. Mr. Brown's guilty plea finally puts to rest a case that has been pending for almost a year. Today's result will allow Mr. Brown to focus his attention back on his music and his career."
U.S Attorney Ronald Machen also made a statement, saying justice had been served:
"As Chris Brown himself has now finally acknowledged, he punched a man in the face without provocation. No matter your status or celebrity, you will be held accountable for such conduct in our city," he said.
Time to get back in the studio Chris!