MUSIC
The story of Scream, Cornell's flat-out baller album of bangers
"I knew it was gonna be a masterpiece soon as I heard [Cornell's] first words over my track" – Timbaland
Like you, I woke up yesterday to the tragic news that yet another pillar of the grunge-cum-classic rock generation passed away. Vast chasms of the world blasted "Black Hole Sun" in requiem. Other, niftier corners put on some of the cooler, more SST-material of his most famous band's career. The good people at once-peerless tastemaker Pitchfork talked up his later work in Audioslave, a band they used to make fun of. But you know what nobody was talking up? Scream, Chris Cornell's third album as a solo artist and, most notably, produced and co-written with Timbaland, one of the two or three producers entirely responsible for the sound of the last decade. How did such a masterpiece take form?
By 2009, Timbaland's decadewas almost over. Missy Elliot, Timbaland's original muse, was branching out, telling journalists in 2005 that "Both of us came to a spot where we didn't know where to go with each other." Timbaland's beats were barely present on The Cookbook and Missy Elliot hasn't recorded another album since. In her stead, Timbaland recorded FutureSex/LoveSounds, the album that made JT a serious pop star. Basking in that success, JT turned away from music and began repeatedly hosting Saturday Night Live. Timbaland was still making mad crooked beats but who was going to sing them? Madonna? Bjork? Duran Duran? All respect to the boys who made "Hungry Like the Wolf," but these were all people who just wanted to add that Timbaland "Get Ur Freak On"-touch to their well-established sound. What Timbaland needed was somebody who wasn't fronting. Somebody who was willing to dive in the deep end of Mosley's funky grooves, somebody who knew there was some untapped soul sitting at the bottom of that sea.
Cornell, on the other hand, had just broken up Audioslave, the arena-playing supergroup consisting of him and everybody from Rage Against the Machine who wasn't Zack de la Rocha. At the time, he told Rolling Stone, "there's a lot I want to do and I don't want to juggle that with a band." The solo album that followed, Carry On, was a curious affair. Written off by critics as a soft-spoken go at Dylan territory and mostly remembered for the Casino Royale-theme song packed at the end, it also included such stuff as an earnest go at MJ's range (covering, what else, but "Billie Jean"). There was soul shimmering underneath the hammy guitar solos and clapped-on prog drumming. Cornell just needed someone to get it out.
A lifelong rockstar, Cornell was drawn to Timbaland precisely because of how important a hiphop producer, particularly one of Mosley's caliber, has in crafting a sound. "He's somebody who's also a musical genius and a songwriter," Cornell told MTV, "[He] comes in with actual musical ideas." At first, Cornell had the same idea as many—give the weirder elements of Carry On a funky touch, tune down the rock band. Timbaland refused: original material or nothing. Scream was written and recorded in six weeks. There's like one feature and it's JT.
"That bitch ain't a part of me, no that bitch ain't a part of me," Cornell emphasized on "Part of Me." In the emotional space of the jilted lover motif, Cornell discovers the trance-like allure of dancefloor bangers. In the music video, which features a Method Man-cameo, Cornell sits and watches people dance in San Jaun, EL Paso and Queens.
---
"I don't think there was any reference for [Scream] at the time," Cornell told Rolling Stone years later. Built out of an hour-plus of pulsing and trance-like hums, Scream had more in common with some of the '90s house music from across the pond that Soundgarden used to compete with than with anything happening at the turn of the last decade. This was the age of "Boom Boom Pow" and "I Gotta Feeling" on one end and "Sex on Fire" on the other. Skrillex was practically still making bad post-hardcore punk. Dance was dead.
But Cornell was dancing. In the music video for Scream's second single, "Part of Me." Cornell sits, contemplatively attractive, while he watches couples in cities like El Paso and San Juan energetically dance with each other, their legs dizzily moving like thatches on a ripped up plaid. The cities chosen, notably, are historically more diverse than Cornell's hometown of white-bread-eating and dancing-in-place Seattle. Musically and visually, Cornell positions himself as the sexy interloper, hoping his mouthwatering good looks will get him into the party. "That bitch ain't a part of me, that bitch ain't a part of me," Cornell clamors on Mosley's bubble-popping beats. In the single's three minutes and change, Cornell says this between ten and twenty times. There is fear in his voice.
---
Scream's savvy melding of hip hop texture with the intensity of rock and roll operatics would feel less out of place next to something like Khalid's American Teen or even one of the last two Frank Ocean records.
---
Elsewhere, more women who've done him wrong intermingle with the anxiety of closed spaces; "You've got no breathing room," warns the beginning of "Get Up." Unlike, say, Jack White, Cornell's interest in the former is purely aesthetic, Cornell was, by all account, happily married since 2004. The jilted lovers that Cornell plays in Scream are the kind that yearn out of the old Otis, the old Robert Johnson, they are punching bags for Cornell to flex his vocal muscles. Compared to the Roger Plant-esque lyricism of "Black Hole Sun," Cornell's work on Scream can sound almost mawkishly contemporary: "I don't want to start talking shit," he threatens on "Sweet Revenge." The ultimate appeal of the album was between these two worlds, Cornell's penchant for the small-scale but thunderously grandiose rendered into pop meditation, the hard thump of Timbaland's beats demanding more than Cornell's loud/quiet/loud rock star roar. The agitation in Cornell's voice felt intimately real as he crushed it into something starkly beautiful.
For most critics, of course, Cornell's voice has always been more interesting than what it was saying, the famous '70s yowl, the scream that Cornell was self-consciously references in the album title. The beats Timbaland and longtime Timbaland-collaborator J-Roc were throwing at Cornell forced him to modulate his voice into shapes you won't ever find on a Soundgarden record. On "Time," Cornell turns it into a hard bop, as if dodging synthpop bullets. Elsewhere, it is cut into sampled yips; on "Climbing Up The Walls," he anticipates the 'urban sounds' Chris Martin would claim to have explored in order to deliver his band's late-career masterstroke, Mylo Xyloto.
Scream, J-Roc would later claim, was ahead of its time. One of its most significant aesthetic effects, the way each song flows into another, a longtime but waning fixture of alt-pop (see: Since I Left You), was a precursor to Timbaland's later work, namely The 20/20 Experience, the album that successfully relaunched JT's musical career. Scream's savvy melding of hip hop texture with the intensity of rock and roll operatics would feel less out of place next to something like Khalid's American Teen or even one of the last two Frank Ocean records.
Scream, on the other hand, was not widely spoken in lauding tones. The conflation of hip hop and rock, in the post-Limp Bizkit era, was alienating and few critics were willing to begrudge offending either fanbase; Pete Cashmore, at NME, wrote: "it's neither rock enough to rock nor hip-hop enough to, well, make your hips hop." More jarring, on a personal level, perhaps, was the criticism of fellow '90s icon Trent Reznor, who, in a since-deleted tweet, asked: "You know that feeling you get when somebody embarrasses themselves so badly you feel uncomfortable? Heard Chris Cornell's record?"
Time has been kind to some of the forgotten R&B classics of the era, Kanye's much-panned 808s & Heartbreak has become a retroactive classic, gaining reference points to acts that followed. Time has been less kind to Scream. Back in 2015, Tom Breihan of Stereogum slammed it as "a disastrously awful combination of post-grunge yarling and club-pop thump that effectively derailed his entire career." And even the rush of Cornell's obituaries, populating across the web as they do in such times, refer to it in hesitant terms, trying as hard as possible to applaud the effort and not the work; Rob Harvilla at The Ringer eased around it by calling it "very brave and very strange," a sidehanded compliment if I ever heard one.
Well, as is often the case, they're all wrong. Scream is great. Rock to it.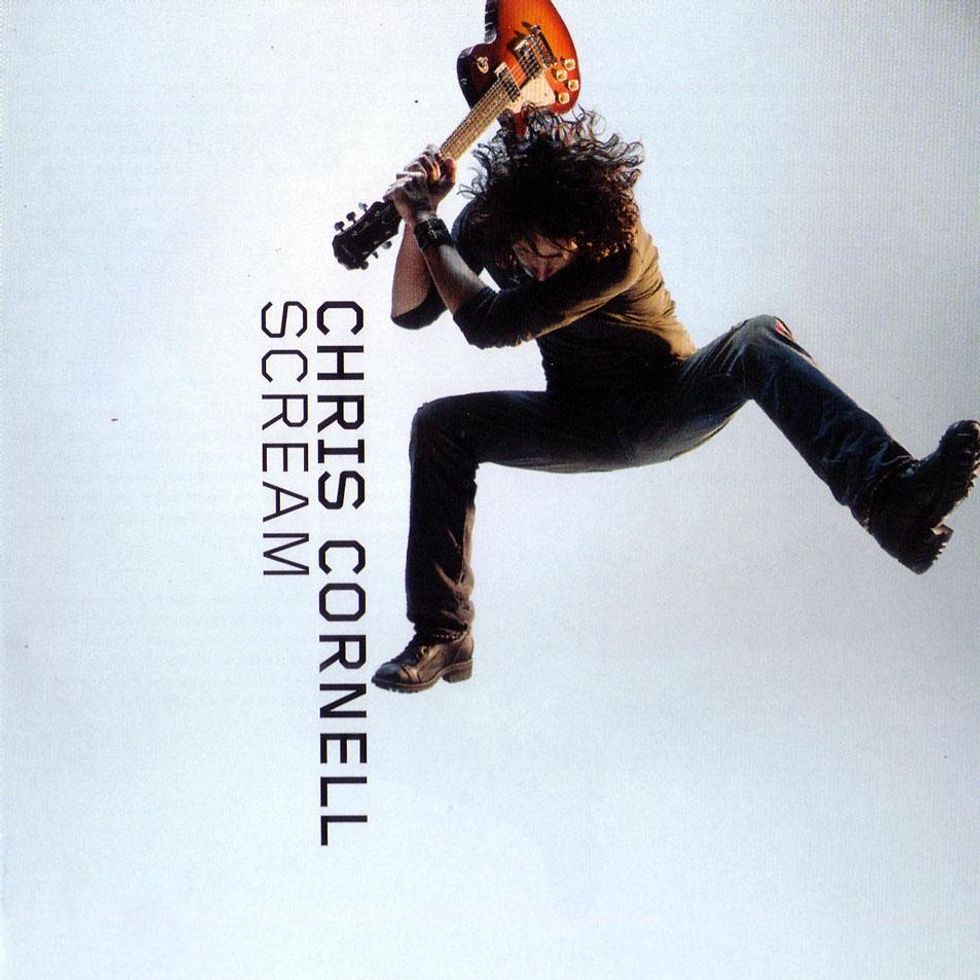 ---
Andrew Karpan is counting down his grunge superheroes and is down to his last few fingers. He is beginning his long essay on why Eddie Vedder's Ukulele Songs was the last decade's acoustic masterpiece. Stay safe, Eddie. And follow me on Twitter.
---
More rocking, more roll:
Are Sleaford Mods the last punks standing?
Mitksi baptizes Brooklyn Steel in emotional fire
Bare-chested and Scottish, BIFFY CLYRO are back
From Your Site Articles
Related Articles Around the Web