Sports
The First American Superstar Has Yet to Nail Down a Deal Commensurate with His Level of Play.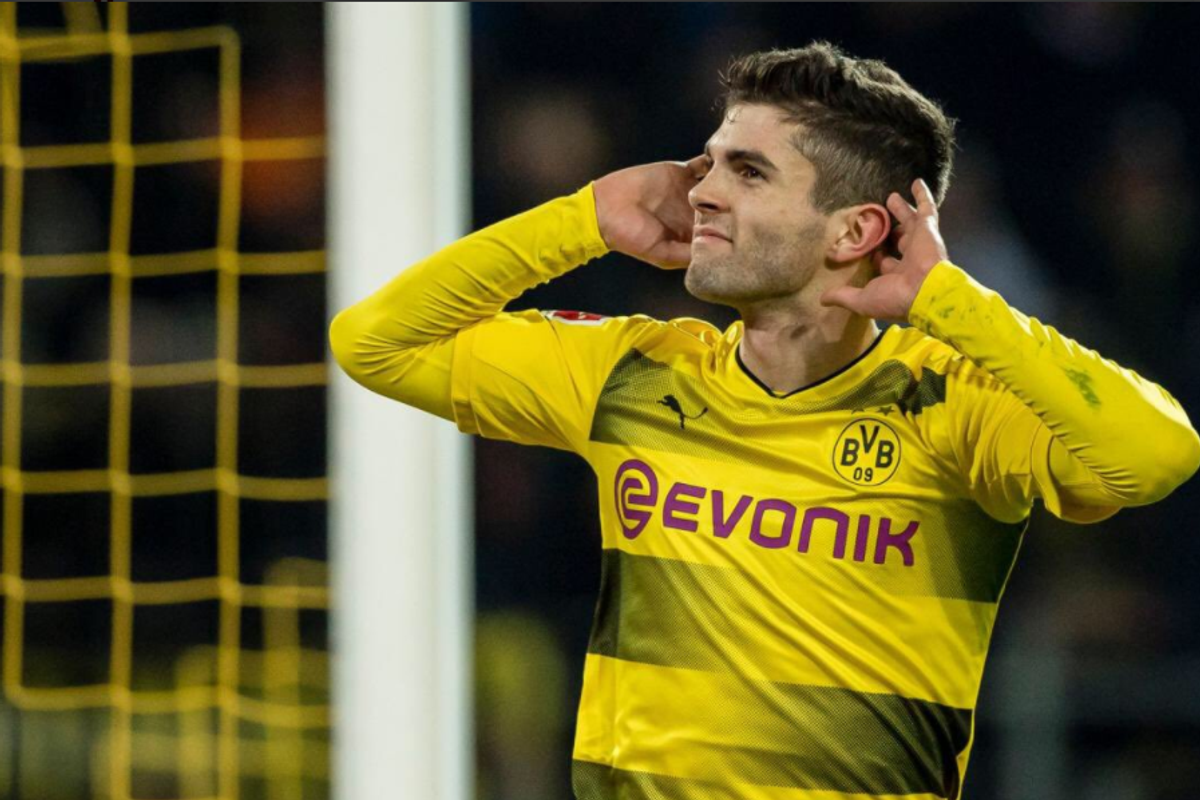 sbisoccer.com
The American market is pretty thin when it comes to soccer talent.
Almost no U.S. soccer player is a household name, and even big stars like Landon Donovan and Michael Bradley were mediocre when playing on top-flight European teams. Clint Dempsey is probably the only U.S. player who was actually relevant in European soccer, helping Fulham finish second in the Europa League in 2010.
That said, this is still a second-tier accomplishment. Fulham has never made it to the Champions League, and even when he played for Tottenham, Dempsey never made it to the highest level of European play. Maybe it's American exceptionalism, but the United States' lack of representation on the world stage has always rubbed our soccer fans the wrong way.
Cue Christian Pulisic, a plucky-looking 19-year-old from Hershey Pennsylvania, who has been making huge splashes in the German Bundesliga, where he became the youngest foreigner to ever score a goal at age 17. Unlike Dempsey, Donovan, or Bradley however, the United States' admiration for this up-and-coming star is universal and has very little to do with his track record with the USMNT.
Still, despite his obvious talent, Pulisic has yet to nail down a deal commensurate with his level of play. He makes around $23,000 per week, an insane amount of money for a normal person but a tawdry sum for a professional athlete. To give you an idea of how insultingly low it is, Pulisic's market value is estimated at about £40 million. He's still under contract with Borussia Dortmund until 2020, but this hasn't stopped the wild speculation about where Pulisic might end up playing for in the very near future.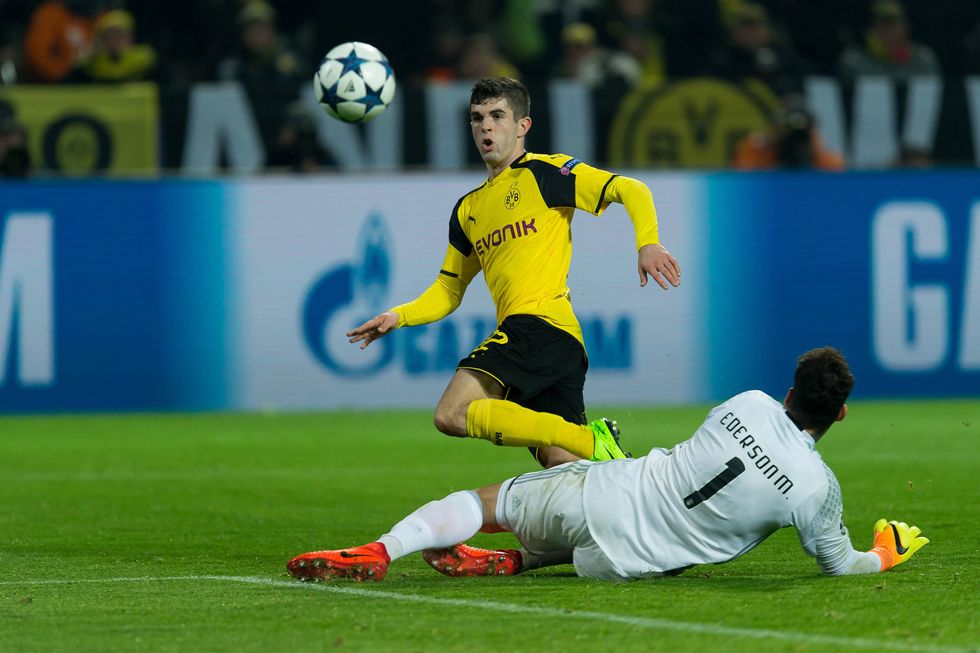 Pulisic
Currently, the frontrunners seem to be Liverpool, who have made at least two attempts to score the midfielder in recent years and saw their £11 million bid in 2016 rejected. Despite their failures to land the wunderkind, Liverpool manager Jurgen Klopp still admires Pulisic's play style and hopes to land him on the team, paying lip service and mumbling about 'respecting contracts' in a recent press conference.
Klopp later went on to explain that the team has everything it needs for the next season after signing a bevy of talent from all around Europe, including Fabinho, Naby Keita, Xherdan Shaqiri, and Alisson Becker. The latter was awarded the most expensive goalie contract in soccer history. Interestingly though, when Klopp's squad suited up against Borussia Dortmund in the International Champions Cup, Pulisic torched them in the second half, netting two goals and assisting on a third. The Reds are still interested in the young prospect, but since they've been handing out money to every other free agent they can find, they might not have deep enough pockets.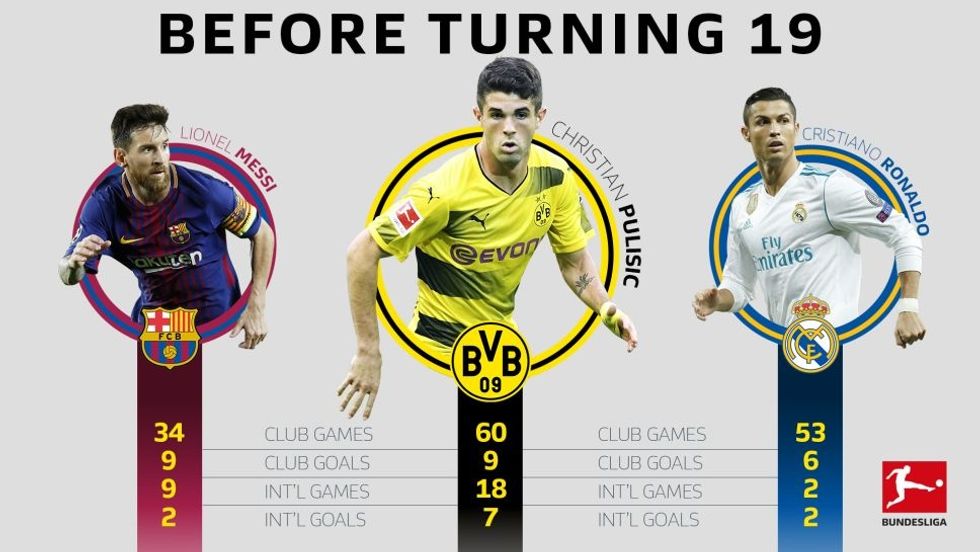 Not badBundesliga.com
Liverpool is far from the only Premier League team hunting Pulisic though, and rumors have been percolating all summer about Pulisic and his potential ties to Tottenham, Manchester United, and Chelsea. Still, they are just that, rumors. Tottenham just re-signed the oft-injured Erik Lamela, and with their depth at the midfield position, it seems silly to think that they'd go after the youngster.
United has been planning to trade Anthony Martial for the American phenom, but this has been in the news for some time and Borussia Dortmund hasn't publicly addressed the matter. Out of the three teams listed above, Chelsea is the only one desperate enough to really shell out the money for Pulisic though. Real Madrid has been eyeballing Chelsea's star midfielder Eden Hazard, and Chelsea is rightfully terrified to lose him. That said, if the Premier League has noticed Pulisic, that means Europe's most powerful squads have noticed him as well.
This brings us to two teams, both alike in dignity. I'm of course referring to Real Madrid and Bayern Munich (apologies to Barcelona). With teams of this caliber entering the scene, Pulisic's chances of entering the Premier League look to be dimming. Real recently shipped off both their head coach and star player (Zinedine Zidane and Christiano Ronaldo respectively) to Juventus, and are looking to rebuild their squad with young talent. They just won the Champion's League three years running, and definitely carry a certain appeal. On the flip side, Bayern Munich is also attempting to replenish its team with young players, as stars like Arjen Robben and Franck Ribéry are getting older. The issue with Bayern however, is that they're rivals of Pulisic's current squad. To throw another wrench into the situation, Pulisic's current teammate, Marco Reus has been urging Pulisic to stay with Dortmund for "many more years."
With so many teams to choose from, all of them top-tier, Christian Pulisic is on the verge of becoming the first real American soccer star. Whether he'll end up joining the Premier League and playing in a more competitive domestic environment or joins a super club like Real or Bayern remains to be seen. The fact is, for all the wild speculation, it's completely unclear where Pulisic is going to end up. Keep your eye out though, the smart money is that he won't be playing Dortmund next year, no matter how good the money is. Superstars play at the top level of competition, and it's clear that Pulisic would be wasting his time playing anywhere that doesn't have a real shot at winning the Champions League. After missing the World Cup, he's the only bright spot in the interminable mediocrity machine that is American soccer.
---
Matt Clibanoff is a writer and editor based in New York City who covers music, politics, sports and pop culture. His editorial work can be found on Popdust, The Liberty Project, and All Things Go. His fiction has been published in Forth Magazine. Website: https://matthewdclibanoff.journoportfolio.com/ Twitter: @mattclibanoff
---
POP⚡DUST | Read More…

THE OPTION | The Stafford Effect
THE OPTION | Catalan Independence and What It Means for Barcelona Soccer