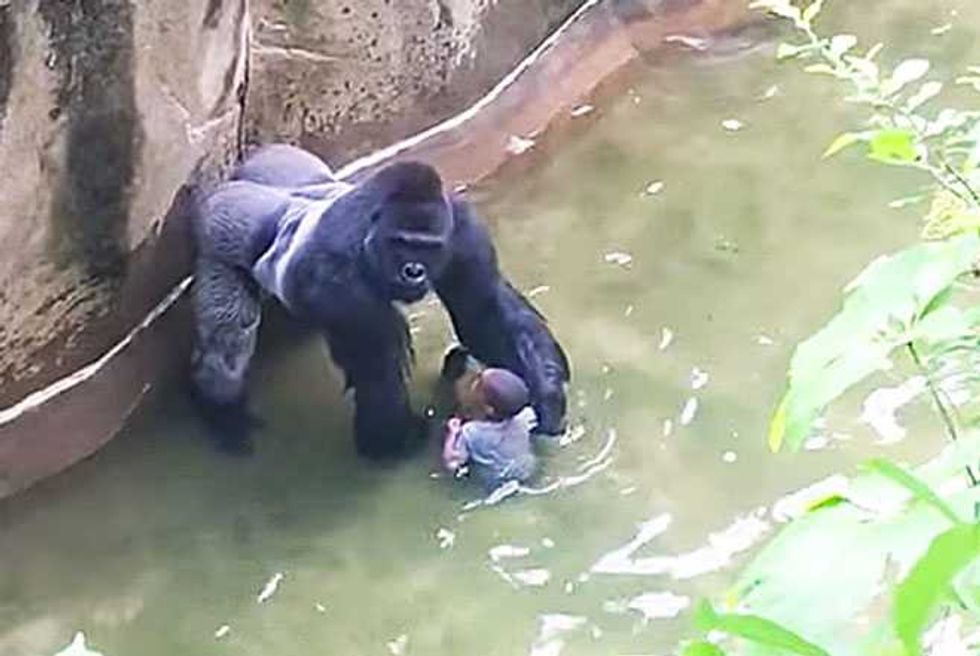 Cincinnati zoo gorilla shooting mom negligence investigation over after prosecutors determine she was not at fault
The mother of the 4-year-old boy who fell into the gorilla enclosure at Cincinnati zoo will not be charged with negligence.
As Popdust previously reported, the incident led to an endangered western lowland gorilla, named Harambe, being shot dead by zoo officials.
The toddler, Isiah Gregg, had crawled through a barrier around the enclosure, before falling 15 feet onto the ground.
17-year-old Harambe, who weighs 400 pounds, quickly seized hold of the boy, and dragged him through the enclosure's water area as horrified onlookers watched from above.
Zoo officials quickly rushed to the scene and shot Harambe dead—claiming they were unable to tranquilize him as the sedative would have taken too long to take effect and may have endangered the child further.
The shooting of Harambe caused outrage—with people blaming the mom, Michelle Gregg, for his death, and calling for her to be prosecuted.
Authorities cleared the zoo of any wrongdoing, despite video surfacing that, according to many animal behaviorists, seemingly showed the gorilla had actually been trying to protect the little boy just prior to his death.
They announced last week they would be investigating the boy's parents to see if charges of negligence should be brought against them.
Shortly after the incident, Gregg took to Facebook to defend herself:
God protected my child until the authorities were able to get to him.

My son is safe and was able to walk away with a concussion and a few scrapes... no broken bones or internal injuries.

As a society we are quick to judge how a parent could take their eyes off of their child and if anyone knows me I keep a tight watch on my kids.
She's since deleted all of her social media accounts after being inundated with angry messages.
Ohio prosecutor, Joseph Deters, released a statement today, saying they believe the mother was not negligent:
By all accounts, this mother did not act in any way where she presented this child to some harm.

She had three other kids with her and turned her back. ...

And if anyone doesn't believe a 3-year-old can scamper off very quickly, they've never had kids.

Had she been in the bathroom smoking crack and letting her kids run around the zoo, that'd be a different story.

She was being attentive to her children, by all witness accounts.
Deters concluded that the zoo had lost "a beautiful animal" that was beloved in the community, "but it's still an animal. It does not equate human life."
Following the prosecutor's ruling, Myers released her own statement:
It is what we expected.

This is one more step in allowing us to put this tragic episode behind us and return to our normal family life.

We extend thanks to all of those who have been praying for us and who have supported us through this trying ordeal and praise to God for His mercy and grace.
Meanwhile, if one good thing can come out of this whole sorry, tragic affair, it's the national dialogue that's been sparked over gorillas being held in captivity.
Harambe was born in captivity and held behind bars for the entire 17-years he was on this planet.
Basically, imprisoned for life without any chance of parole—and gawped at day in day out by ogling screeching crowds.
To find out more on the subject visit The Born Free foundation website and check out Peta's zoo stats report.
For more entertainment, music and pop culture updates and news, follow Max Page on Twitter
Panda Breeding Base Cleaning Time Is Adorable Playful Panda-monium
Thailand Toilet Python Latches Onto Dude's Dick
Watch! This Video Of Orphaned Baby Rhinos Crying Will Break Your Heart
San Diego Man Discovers Fat Little Rat Stuck In A Plug Socket
Chimp Attack Victim Charla Nash's Body Rejecting Face Transplant
cincinnati zoo gorilla shooting mom negligence
cincinnati zoo gorilla shooting mom negligence
Meet Toby The Two-Nosed Dog, Cutest Rescue Pup Ever!
Lisa Vanderpump Rescues Abandoned And Suffering Pomeranian Pup!
Dolphins Rescue Suicidal Girl, Continue To Be Absolutely Awesome
Diane Von Furstenberg Paid $100k To Have Her Dog Cloned
Penguin Swims 5,000 Miles Every Year To Visit The Man Who Saved His Life
cincinnati zoo gorilla shooting mom negligence
Russian Monkey In A Snowsuit Will Warm Your Cold Cold Heart
Micro Pig Twerking To Rihanna's Work Is Perfect Way To End The Week
All We Want To Do Is Watch This Adorable Guinea Pigs Eating Video
Tiny Kitten Riding Tortoise Video Puts The World's Wrongs To Right
Floridian Woman Arrested When Boyfriend Shows Cops Video Of Doggy Sexy Time
cincinnati zoo gorilla shooting mom negligence