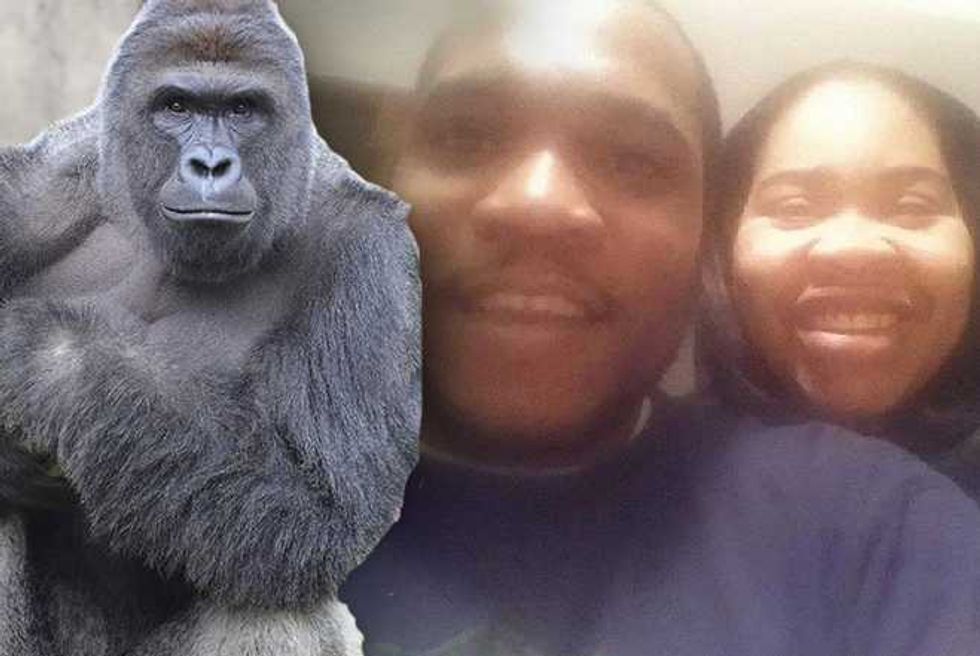 cincinnati zoo gorilla shooting parents investigation launched—critics call for family of 3-year-old boy to face negligence charges
Cincinnati cops are investigating the parents of the 4-year-old boy who fell into Harambe the gorilla's zoo enclosure Saturday.
The incident led to zoo officials shooting dead the endangered western lowland gorilla, who had been behind zoo bars since his birth in captivity  17-years ago.
The shooting was caught on camera and has led to an outcry—with many criticizing the zoo for not tranquilizing the gorilla instead of shooting him dead.
A zoo spokesperson claimed that was not an option, explaining that a tranquilizer dart requires time to take effect, and may have prompted the gorilla to act violently towards the little boy.
The zoo claims their only option in order to ensure the boy's safety was to kill Harambe.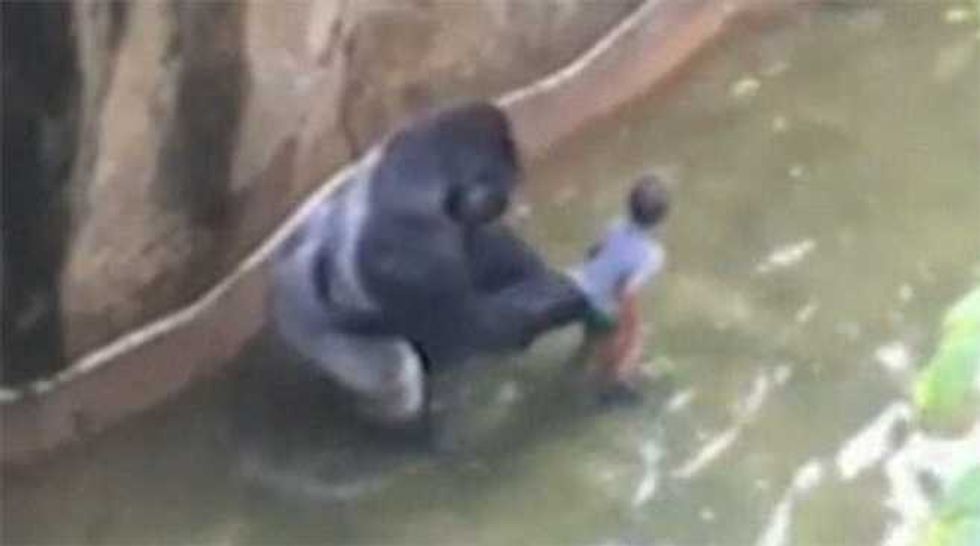 However, new video footage surfaced Monday, seemingly showing the 800Lb gorilla was actually protecting the boy, rather than posing any threat to his life.
And, some animal behaviorists claim Harambe was showing no aggression towards the child, and that when he was dragging the boy across the water, it was in reaction to screaming from the crowds.
That he was actually trying to keep the boy safe from danger.
The new video footage also appears to show the gorilla holding the little boy's hand just shortly before the shooting.
Whatever the true situation—and, we will never know for sure now either way—Harambe is dead, and there's no bringing him back.
However, people want somebody to be held accountable for his death—and the finger of blame is now being pointed firmly at the boy's parents.
News of the investigation into Michelle Gregg and Deonne Dickerson, follows calls for them to be charged with negligence.
Although, it has to be noted, Dickerson was not at the zoo that day.
An online petition was launched shortly after the investigation, with over 385,000 people (at time of posting) demanding Gregg be held responsible for the gorilla's death.
A Facebook page, called Justice 4 Harambe was also set up.
Gregg has been subjected to online abuse and some have called for her to be fired from her job.
Following the online harassment, Gregg removed her Facebook page—but, she posted about the incident shortly after it occurred.
Sharing that her son was "able to walk away with a concussion and a few scrapes... no broken bones or internal injuries".
She went on to state:
As a society we are quick to judge how a parent could take their eyes of of their child and if anyone knows me I keep a tight watch on my kids.

Accidents happen but I am thankful people were in the right place today.
Meanwhile, Hamilton County Prosecutor Joseph Deters says once the police inquiry had finished they "will confer with our office on possible criminal charges."
For more entertainment, music and pop culture updates and news, follow Max Page on Twitter
Just Some Video Of An Orangutan Saving A Baby Chick From Drowning
Cute Young Tiger Found In Texas Wandering Along The Street!
Kittens Puppies Koalas Sloths Bunnies! Cutest Animal Video Ever Alert!
Costa Rica Stray Dog Shelter Is Heaven On Earth For Canines
ChaCha The Chimp Makes Desperate Break For Freedom From Japanese Zoo
cincinnati zoo gorilla shooting parents investigation launched
Panda Breeding Base Cleaning Time Is Adorable Playful Panda-monium
Thailand Toilet Python Latches Onto Dude's Dick
Watch! This Video Of Orphaned Baby Rhinos Crying Will Break Your Heart
San Diego Man Discovers Fat Little Rat Stuck In A Plug Socket
Chimp Attack Victim Charla Nash's Body Rejecting Face Transplant
A Cat Named Stump Is Running For President And He Totally Has Our Vote
cincinnati zoo gorilla shooting parents investigation
Watching Sleeping Pig Wake Up To A Cookie May Make You Rethink Bacon
Florida Dolphin 'Lover' Says Dolly The Dolphin Seduced Him—Yep Really
Inside Pup Play—The Bizarre BDSM Subculture Where Men Dress As Dogs
Stop What You're Doing And Watch The Cutest Sloth Video Ever
Russian Monkey In A Snowsuit Will Warm Your Cold Cold Heart
Micro Pig Twerking To Rihanna's Work Is Perfect Way To End The Week
cincinnati zoo gorilla shooting parents investigation
Miley's Menagerie Multiplies! Cyrus Adds Hamster To Four-Legged Family
Meet Toby The Two-Nosed Dog, Cutest Rescue Pup Ever!
Lisa Vanderpump Rescues Abandoned And Suffering Pomeranian Pup!
Dolphins Rescue Suicidal Girl, Continue To Be Absolutely Awesome
Diane Von Furstenberg Paid $100k To Have Her Dog Cloned
Penguin Swims 5,000 Miles Every Year To Visit The Man Who Saved His Life
cincinnati zoo gorilla shooting parents investigation