When it comes time to predicting the winners for the CMA Awards, there's always a delicate balance between commercial success and critical acclaim. For this year's 48th Annual ceremony, to be co-hosted by Carrie Underwood and Brad Paisley for the seventh-year running, there are a few predictable choices, some hopeful glimmers and more than a handful potentially shocking surprises among the nominees. When the Nov. 5 event comes around, will there ultimately be some upsets? Or will the political stronghold on Music Row continue? (Let's hold the former to be true.)
Also, will Miranda Lambert and Blake Shelton break records with more wins? Or will Luke Bryan, Dierks Bentley or Kacey Musgraves cause some commotion? Here at Popdust, we are going to take our best shot at rightfully predicting this year's winners, but we will also include who we hope (and deserves) to win some hardware.
Let's go!
Entertainer Of The Year
George Strait
Keith Urban
Blake Shelton
Should Win: While George Strait won last year (score for traditional fans!), his Cowboy Rides Away Tour wrapped up earlier this year. Last year's accolade was simply an honorable way of sending tradition off into the sunset.
Will Win: Among the nominees, Luke Bryan's selling power is nearly unrivaled. He has the charisma to be one of the format's biggest touring draws, too, so we couldn't hate him (too much) if he walked away the victor this year.
Female Vocalist Of The Year
Miranda Lambert
Taylor Swift
Kacey Musgraves
Carrie Underwood
Martina McBride
Should Win: Unlike several previous head-scratching years, Miranda Lambert deserves to win this year. Her Platinum is one of the mainstream's boldest and most experimental releases this year. It might be a bit more mainstream-leaning than fans are used to from the singer, but she still clings to what makes her so special ("Holding On To You," "Little Red Wagon"). Oh, a little nod to Carrie Underwood: while she didn't release a full-length during the eligibility period, her "Something In The Water" is one killer track, with a great hook and powerful message. (That should count for something, right?)
Will Win: Again, Miranda has this on lockdown.
Male Vocalist Of The Year
Dierks Bentley
Luke Bryan
Blake Shelton
Keith Urban
Should Win: Dierks Bentley channeled personal tragedy (and triumphs) into one outstanding collection. Riser, both emotional and fun, marks the underdog as the true top dog. The competition is stiff here: especially with Blake Shelton's placement on The Voice and his own chart-topping success. Regardless, a win for Dierks is a win for substance.
Will Win: Blake Shelton. The political ties that bind are still too strong to be broken...at least not yet.
Group Of The Year
Eli Young Band
Little Big Town
The Band Perry
Lady Antebellum
Zac Brown Band
Should Win: Too bad Little Big Town's upcoming album Pain Killer didn't fall into award-worthy timeframe. While their "Day Drinking" seems more like "Pontoon" Part 2 (but less original or even catchy), this quartet still boldly go where no other group in this category goes.
Will Win: The Band Perry are the clear winners here.
Duo Of The Year
Dan + Shay
Florida Georgia Line
Love & Theft
The Swon Brothers
Thompson Square
Should Win: Any discussion that doesn't involve Florida Georgia Line winning is irrelevant.
Will Win: Regardless of what you think of FGL—seriously, their new single "Sun Daze" is an abomination—you can't not award their success.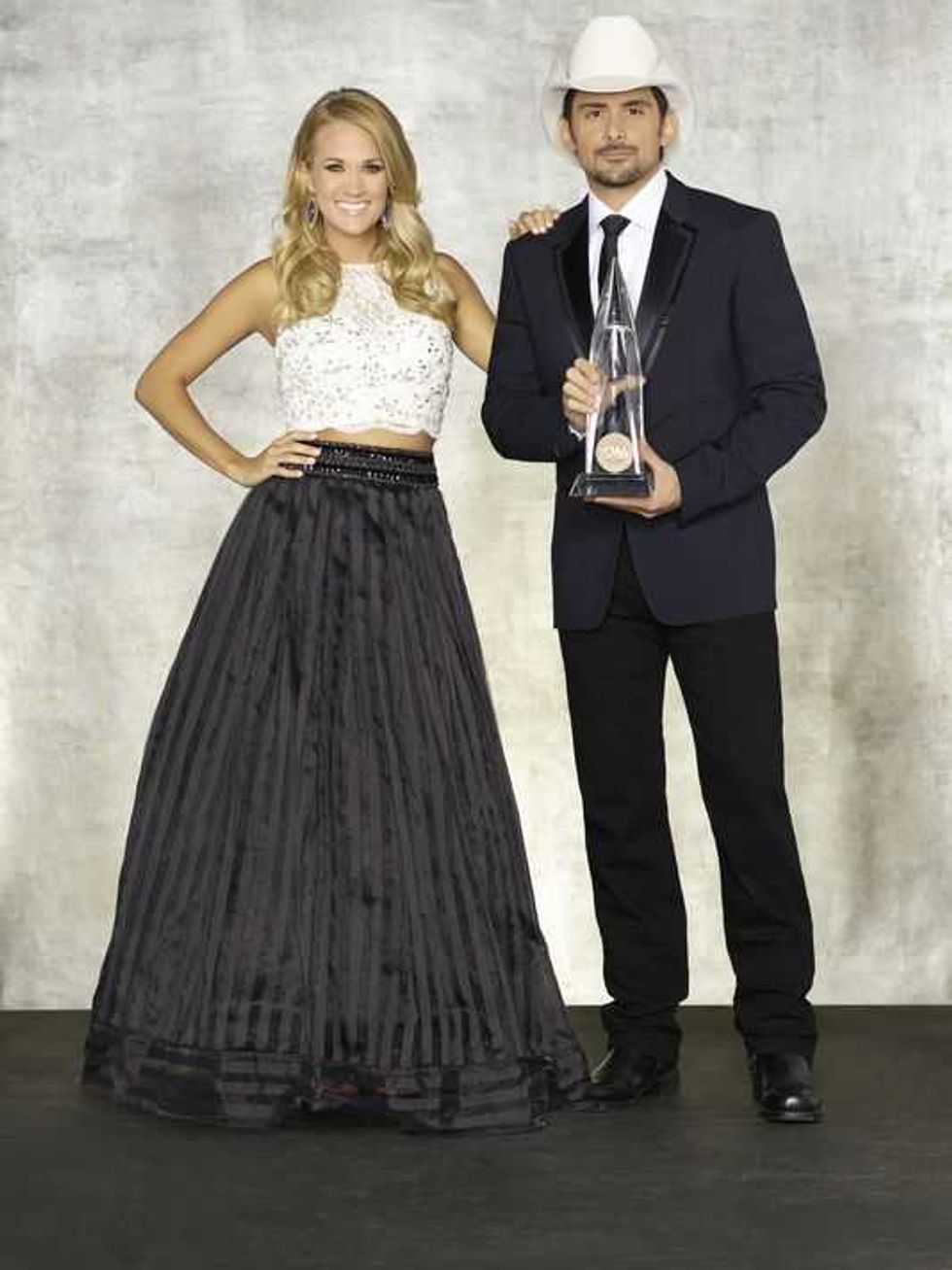 Album Of The Year
Crash My Party, Luke Bryan (Produced by Jeff Stevens, Capitol Records Nashville)
Platinum, Miranda Lambert (Produced by Frank Liddell, Chuck Ainlay, and Glenn Worf, RCA Nashville)
Fuse, Keith Urban (Produced by Benny Blanco, Nathan Chapman, Ross Copperman, Zach Crowell, Mike Elizondo, Dann Huff, Jay Joyce, Stargate, Keith Urban, and Butch Walker, Capitol Records Nashville)
Riser, Dierks Bentley (Produced by Ross Copperman, Jaren Johnston, and Arturo Buenahora, Jr., Capitol Records Nashville)
The Outsiders, Eric Church (Produced by Jay Joyce and Arturo Buenahora, Jr., EMI Records Nashville)
Should Win: This is the toughest category to pin down. While Luke is riding high on his album (which bowed with more than 500,000 copies first-week of release), Miranda, Eric and Dierks have the critics wholly in their corner. It's down to those three. Keith's set, which spawned such hits as "Cop Car" and "We Were Us" (with Miranda) doesn't stand a chance.
Will Win: Again, it's a heart-pounding race between Miranda, Eric and Dierks—all three have been critic favorites through the years. It could go any way, and we wouldn't be mad at the winner.
Song Of The Year
"Automatic" (Nicolle Galyon, Natalie Hemby, Miranda Lambert)
"Follow Your Arrow" (Kacey Musgraves, Brandy Clark, Shane McAnally)
"Give Me Back My Hometown" (Eric Church, Luke Laird)
"I Don't Dance" (Lee Brice, Rob Hatch, Dallas Davidson)
"I Hold On" (Brett James & Dierks Bentley)
Should Win: Not to be confused with Single, Song Of The Year is awarded to the songwriters, primarily (and of course, the performer), but the focus here is on the songwriting, as opposed to the vocal performance and chart success. With that said, this is "Follow Your Arrow"s to lose. Kacey, Brandy and Shane are three of Nashville's finest songwriters, and this empowerment anthem became a Top 10 hit on Billboard's streaming/sales/airplay hybrid Hot Country Songs, with virtually no country radio support. "I Hold On" is the only other possible contender here.
Will Win: 2014 could be Dierks' year, and rightfully so. "I Hold On" is emotional, but doesn't skimp on a driving beat and great vocal. It's also a No. 1 radio hit, so it has that going for it, too.
Single Of The Year
"Automatic," Miranda Lambert
"Drunk On A Plane," Dierks Bentley
"Give Me Back My Hometown," Eric Church
"Meanwhile Back At Mama's," Tim McGraw feat. Faith Hill
"Mine Would Be You," Blake Shelton
Should Win: "Give Me Back My Hometown" or "Meanwhile Back At Mama's" would be fine winners here, but something tells me this could be Dierks' to lose, too.
Will Win: Dierks' "Drunk On A Plane," a nuanced template of the typical bro-country tropes, is one of the better releases of the year. Sure, it incorporates those laundry list cliches that are vomit-inducing, but Dierks does it in a way that adds a bit of depth to the story.
New Artist Of The Year
Brandy Clark
Brett Eldredge
Kip Moore
Thomas Rhett
Cole Swindell
Should Win: Historically, New Artist (previously Horizon Award) is one tough egg to crack. Sometimes, it goes to the most commercially successful act; other times, the one with more critical acclaim wins out. Last year, Kacey Musgraves managed to halt the Florida Georgia Line train. Anyways, Brandy Clark (who has penned several mainstream singles this year) should win; her 12 Stories is a testament that organic, raw storytelling can still be achievable to a wide audience.
Will Win: Brandy. Kip would be a nice alternative. (Or in a horrible twist of events, Thomas Rhett.)
Musical Event Of The Year
"Bakersfield," Vince Gill & Paul Franklin
"Meanwhile Back At Mama's," Tim McGraw feat. Faith Hill
"Somethin' Bad," Miranda Lambert & Carrie Underwood
"We Were Us," Miranda Lambert & Keith Urban
"You Can't Make Old Friends," Kenny Rogers & Dolly Parton
Should Win: The Kenny/Dolly or Vince/Paul collaboration would be fantastic winners, but will true legends win this year?
Will Win: This probably comes down to Tim/Faith and Miranda/Keith, hopefully the former.
Music Video Of The Year
"Automatic, Miranda Lambert
"Bartender," Lady Antebellum
"Drunk On A Plane," Dierks Bentley
"Follow Your Arrow," Kacey Musgraves
"Somethin' Bad," Miranda Lambert & Carrie Underwood
Should Win: Cinematically speaking, Miranda/Carrie's clip is by far the most dynamically cool. With Carrie's 11-page treatment, this video is by far the most creative.
Will Win: Miranda/Carrie have this one, no doubt.
The 2014 CMA Awards go live from Nashville's Bridgestone Arena on Nov. 5 and will air on the ABC Network at 8/7c.
Stay tuned for updates. Feel free to follow @Popdust and JasonTheScott on Twitter!