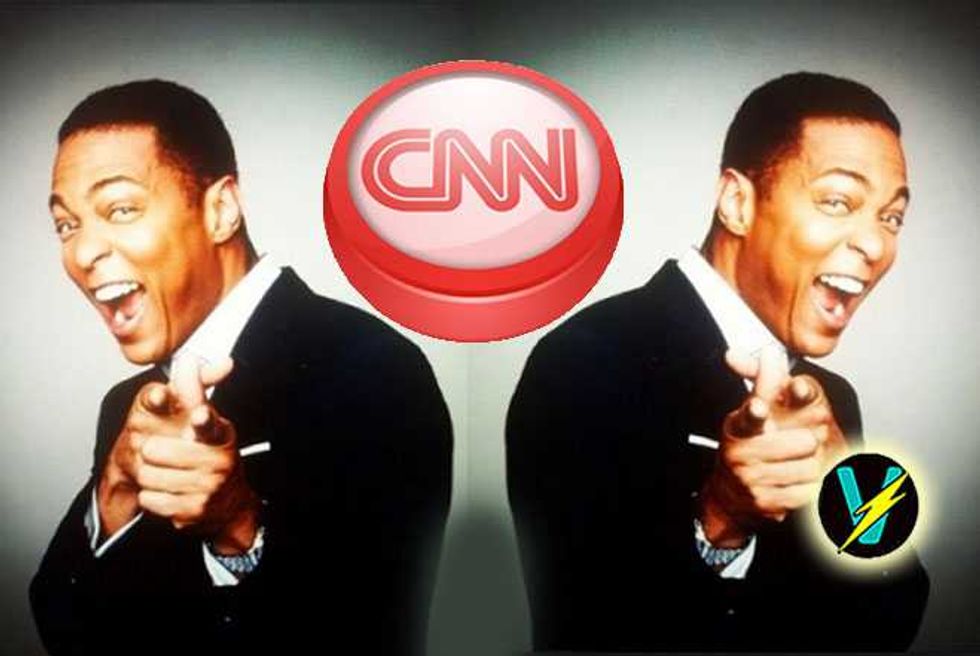 CNN continues to slip down the news pole into the murky depths of Fox News.
Since Jeff Zucker took over the struggling network back in 2013, it's become progressively dumber and dumber in a desperate bid to claw back ratings.
CNN has come under fire time and time again for its sensationalism when it comes to its coverage of news events—most recently, its often laughable week-long coverage of the missing Malaysian flight 370—which included model airplanes, black holes, conspiracy theories and non-stop speculation....24-7.
As usual, Jon Stewart led the charge, with an epic rant against the network, mocking them over their obvious and desperate ratings ploy.
"Why don't we just strap some wings to Wolf Blitzer and let him loose?" Stewart quipped, going on to claim, "the only thing less likely than an airplane falling out of the sky is CNN's ratings doubling."
Well, the desperation continues, resulting in CNN airing a photo, Tuesday, allegedly of Bruce Jenner wearing a dress and smoking a cigarette outside of his home in Malibu.
The New York Daily News went nuts, claiming the photo was sold exclusively to them, and that CNN had no right to air it—but the paper soon found itself in hot water, as it is pretty evident that the photo was very likely obtained using illegal methods. (They have since removed it from their website.)
The pic was clearly taken on a long lens camera, and the Los Angeles County Sheriff's Department has launched an investigation after, according to TMZ, the 65-year-old former Olympian lodged a complaint claiming the intrusive pics were obtained illegally.
Don Lemon, who appears to be becoming more and more of a professional troll every day, rather than a news anchor, used the alleged photo of Jenner to lead a Caught on Camera: Bruce Jenner's New Look? CNN panel discussion.
Lemon quizzed the panel about what Jenner's transition means for the transgender community, and if he should be doing it publicly.
In case you were wondering, the general consensus was that, Jenner is a public figure—being a reality TV star and all—so yeah, he SHOULD be doing it publicly.
Good to know.
The Washington Post wrote a great article, pointing out why this was wrong on so many different levels.
Starting with the consensus that yes, Jenner IS a public figure, so the story is newsworthy, they go on to lay out the "journalistic, legal and maybe ethical issues of showing just any old photos that surface of someone purported to be Bruce Jenner in a dress."
Pointing out that Jenner hasn't confirmed the photo actually is of him, so CNN is setting itself up for potential libel, they go on to state it's made doubly risky by the fact that the NY Daily Post (America's first tabloid) was the only paper to purchase the photo.
They then go into the fact that the photo was very likely taken illegally, broaching California's 1998 celeb friendly anti-paparazzi law that allows "photographers to be found liable for invasion of privacy if it is proved that they trespassed or used telephoto lenses to capture images of people engaging in personal or familial activity, and provides for hefty damage awards against both photographers and their organizations."
The Washington Post then quotes a Yahoo article, claiming, "CNN, which did not have the right to broadcast the dress photograph, has received flak for airing the controversial shot in what seems a thinly veiled effort to scoop rival ABC."
They conclude:
Bruce Jenner is a public figure. But he is not President Obama or Edward Snowden or — perhaps a more relevant example — Chelsea Manning. And, since nothing about Bruce Jenner (or the Kardashians, for that matter) is vital to national security, it's hard to claim questionably obtained, possibly embarrassing images of him are vital to the public interest. No matter how much anyone wants to see that dress.