Cody Simpson serenades his girlfriend Gigi Hadid in his brand new music video for Flower, an acoustic jam off his forthcoming Free record.
Much like the easy-listening feel of the track, the video is rather sparse: set at one of his shows. The clip, directed by Cameron Duddy (Rixton, Bruno Mars), opens with Simpson strumming on his guitar backstage, with a stunning Hadid by his side and being chill on a couch. The video (below) then features the singer-songwriter bathed in red light, as he takes the stage to sweetly perform the song.
"So I just chill up on the hill picking daffodils, making wishes, about you Mrs.," he swoons. "'Cause I know I'll never be the apple of your eye but I'll pick you a flower."
#flower video is out! http://t.co/O4XsLIDGgI

— Cody Simpson (@CodySimpson) February 9, 2015
Flower serves as as stark departure from Simpson's previous bubblegum pop-heavy releases, and while he's experienced the disappointment of being dropped from a major, he has found new freedom in that.
"It's the first time I've had the creative freedom to do what I want," the singer shared with Rolling Stone last week. "I needed the independence," he says. "[The album process] has been very reflective of that."
Miley Cyrus, who designed the song's artistically captivating cover art, says, #
"I just wanted something where people didn't have a stereotypical idea of what he was and could just look at the song for what it is, because it's a fucking epic song."
With plans to keep 2015 "simple and acoustic," Simpson has big things coming down the pipeline for this year, including a Justin Bieber collaboration (that is temporarily on the back burner). In the meantime, he will be performing as many shows as he can, rebuilding his image and sound into something a bit more fresh.
Producer Cisco Adler speaks rather highly of Simpson's new musical direction:
"When I met him, he was just a dude at 17 and at a chapter change and really want to dive in and reignite his musical fire. He's on a musical pilgrimage. He's trying to find the real Cody Simpson. He's learning how to bridge the gap between what he's known for and what he wants to be.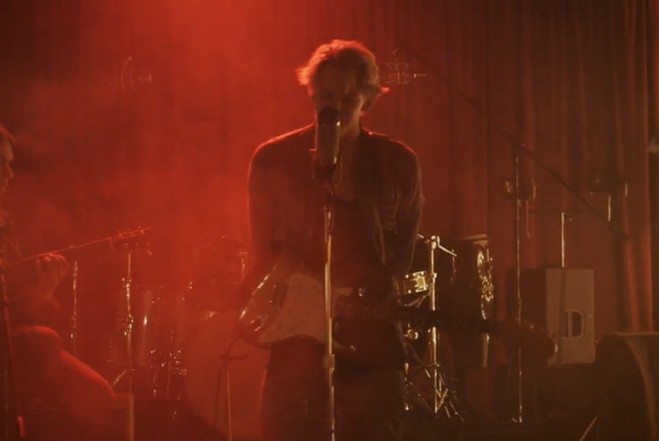 Stay tuned for Cody Simpson updates. Be sure to follow @Popdust and @JasonTheScott on Twitter!