11 Artists enter, 1 Artist leaves. Who won?
When you think about a talent show, you may think of the Voice, American Idol, or even your local Open Mic. The Coffee Music Project, partnering with Project Waterfall, took place at Rockwood Music Hall. It represented not only eleven of the most talented singer-songwriters, but the kindness humanity has to offer. All of the proceeds from the festival went to Project Waterfall to bring countries clean water where there is none.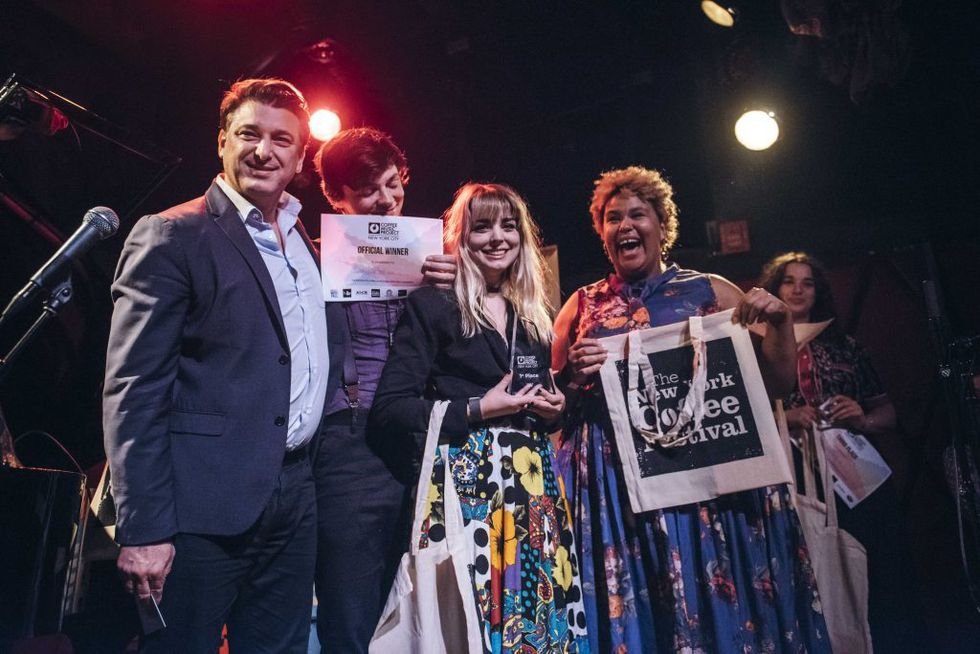 As Editor of Popdust, I was asked to be a judge for the competition. I felt honored to be invited and told them I would love to participate. It is interesting to watch you people developing. I realized that I had experienced much of what they are all striving for... success doing that which you love. Music!
We all do music for different reasons, which is easier to recognize in other people besides yourself. Everyone had worked hard to get to where they were in their musical journey. Everyone that reached the finals had earned the privilege to compete with other artist on the same level. It is a good gauge to see where you stand in the larger scheme of things.
As all of these thoughts rolled around my head, I smiled and thought... These musicians have already won, regardless of who wins the prize. It is an affirmation that they are doing something right. I judged all but one of the nights for semi-finals and the finals. This business can be unkind, but that is what separates the artist that succeeds and the artist that makes music their hobby, more than a career.
Persistence and drive are essential qualities to approach the starting line, just to compete on a professional level. So all of these contestants deserve credit for the craft and their continued work ethic. I respect the grind and unwillingness to give up. I got some footage from the contest so all can see this was not an easy decision. Please check all of these artists out, you will not be disappointed. Meet the pop-stars of tomorrow.
---
BANDITS ON THE RUN | Winners
This trio charmed the judges with their 3 part harmonies, snappy attire and songwriting arrangement. There was also a love story about how 2 of the members met. He was Busking in the subway and She came up to him... 4 years later they are still together. The song that depicts their story is "Love in the Underground." It has us welling up with emotion at the way they pulled all of these elements together to create something that is ready to pop. The first song the they performed,"Paris" used a great line from the movie Titanic. They will be on Popdust Presents on Wednesday, December 6th.

---
ABRIELLE SCHARFF | Top 3 Finalist
Live performance of Abrielle's song, "New York Makes Me Cry." The song was so sad and really made me feel like a rain days full of contemplation. Her style reminds me of Joni Mitchell a little and her band really served the song. Who could resist that trumpet in the mix. Listen to this sensitive treatment of well crafted songwriting.
---
BECCS | Top 3 Finalist
Live performance of Beccs' New York City song. It was really an emotional song with lots of subtly and some really cute parts too. She has a unique style that feels very 'now.' It has derived some elements ofsoul as the chorus was chanted by the crowd, she summons a deep, powerful vocal that contrasts to the pretty singing that dominates most of the song. A nice surprise, that left a lasting impression.
---
NOTABLE PERFORMANCES
It was so hard to pick a winner because there were so many contestants that were really good. Original submissions were about 1,000 and they whittled it down to eleven finalists. Her are some other notable acts that should be mentioned.
---
KAT QUINN
She has a wonderful voice and songwriting is especially nice on her second song, "Cigarettes and Fireflies." Her style reminds me of Tom Petty, mixed with a little Taylor Swift. She is soft and understated, which will have you run it back and catch the words that made you feel some kind of way.
---
GINA ZO

Gina is a powerful singer that shares a vocal kin-ship with Stevie Nicks or Heart. Even though she is only 20 years old, I was impressed by her stage presence and texture of her voice. I believe that she will be one to watch. She moves on stage with a freedom that many don't have. Even though I enjoyed her songs, I was more impressed by her delivery. She engaged the audience in a way that just can't be taught. Good things ahead for Gina.
---
SCRUFFY PEARLS
I love blues and soul music. I really dug Scruffy Pearls because they worked well together. I keep thinking of a mixture of Billie Holiday and Stevie Wonder, in the vocals and songwriting. I bet in the right setting these guys can probably jam hard.
---
Specials Guests: Nalani & Sarina | 2016 Finalists
They are twin sisters and can really belt it out. Check them playing the baby grand and acoustic, trading back verses. They were finalist at the 2016 Coffee Music Festival. After watching them, it is easy to understand why. They played while the judges were deliberating, and I got to catch the last 2 songs.
---
ALL THE FINALISTS: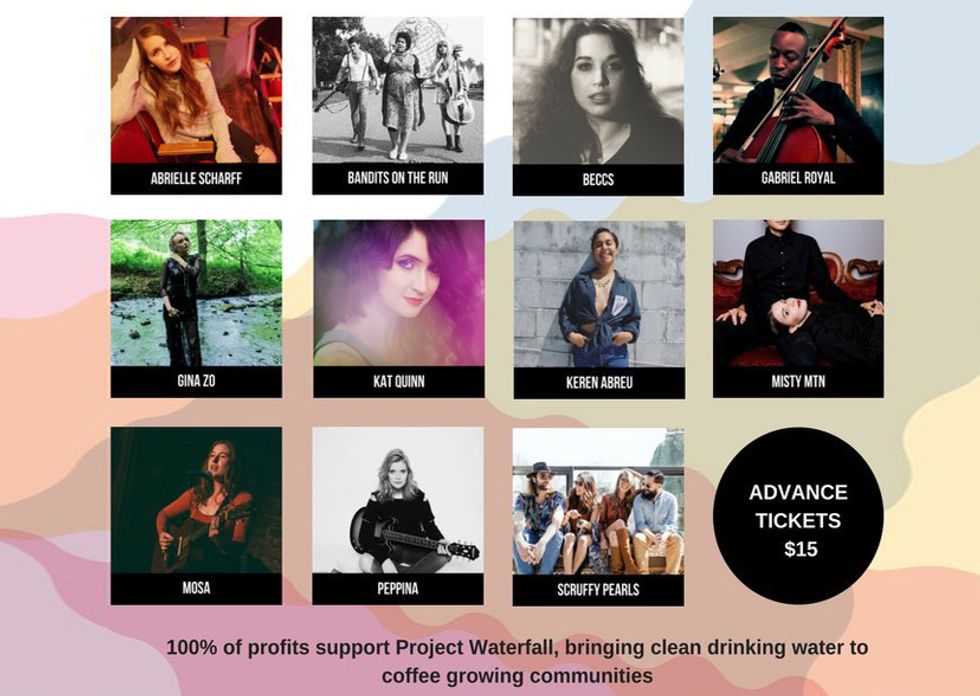 PROJECT WATERFALL:
Project Waterfall believes in a world where every single person has access to safe, clean drinking water. Project Waterfall is a charity initiative established by The Allegra Foundation, bringing clean water and sanitation to coffee growing communities.
Coffee is one of the largest and most powerful industries in the world. In fact, coffee is the second most traded commodity after crude oil. Over 500 billion cups of coffee are consumed globally each year, and every one of these cups provides an opportunity to make a difference. The majority of the worlds coffee comes from developing countries, where for many access to clean drinking water is still a daily struggle.
They believe the coffee industry and coffee drinkers across the world have the power to make a real and positive impact on the communities at the end of the coffee supply chain.
Access to clean water is the first step in breaking the poverty cycle. Clean water not only improves the health and well-being of communities affected by the global water crisis; it also means greater access to education, income and ultimately a better life.
---
Dan Victor is Editor of Popdust and Producer of Popdust Presents. He is also a music producer, bassist for Low Profile (live hip hop) and front-man for Ductape Halo (indie punk). Follow on Youtube.
POP⚡ DUST | Read More…

WTWD? | Questions on Season Eight of The Walking Dead
"Portlandia" is made with love and wacky liberals in mind
MUSIC MONDAY | Came early this week thanks to *repeat repeat's Halloween playlist