B.S.
Spoofs have been fortune-telling with eerie accuracy long before The Simpsons or Family Guy predicted Bruce Jenner's transformation into Caitlyn.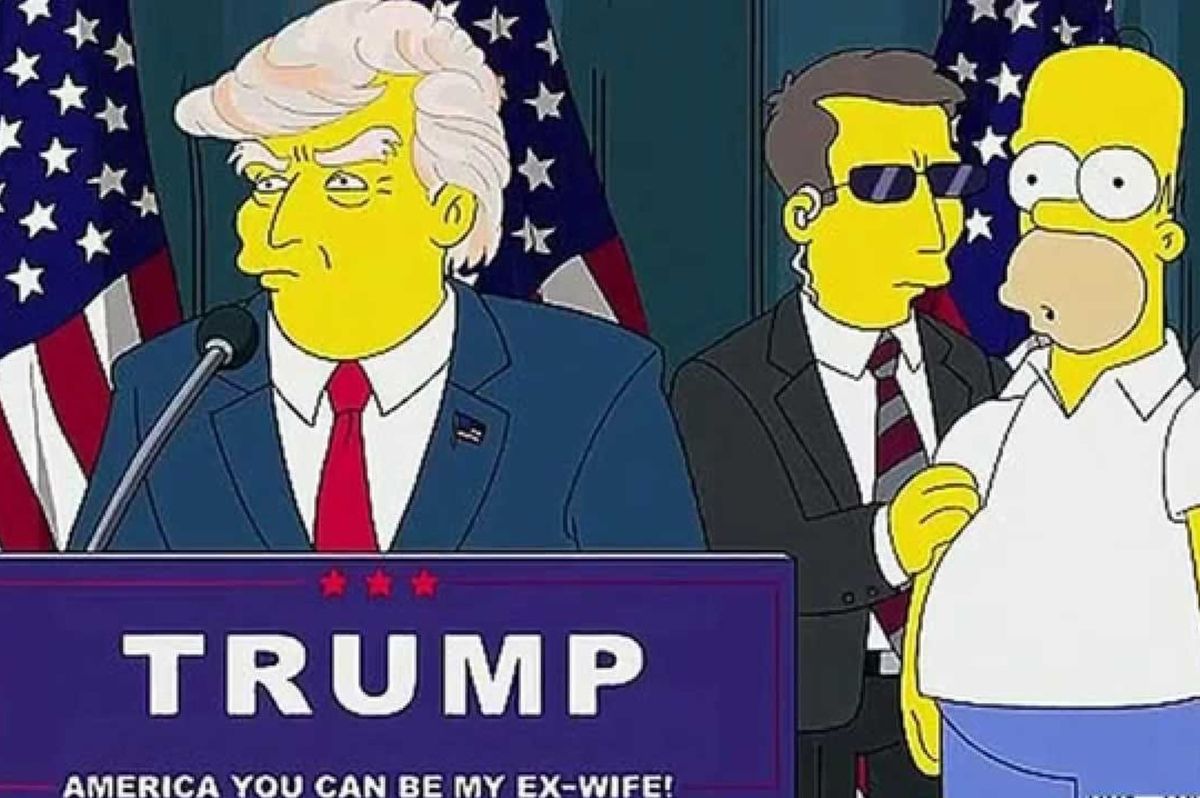 Odyssey
Yes, we've all heard that The Simpsons predicted the future, and Matt Groening is probably a time-traveling harbinger of doom.
But spoofs have been fortune-telling with eerie accuracy long before The Simpsons or Family Guy predicted Bruce Jenner's transformation into Caitlyn. From crime confessions to the future of sex toys, satire has proven to be more reliable than the news in many cases. These five parodies that came true are proof that everything is only getting weirder. You might as well start laughing now.
1.Chris Rock predicted O.J. Simpson's book, If I Did It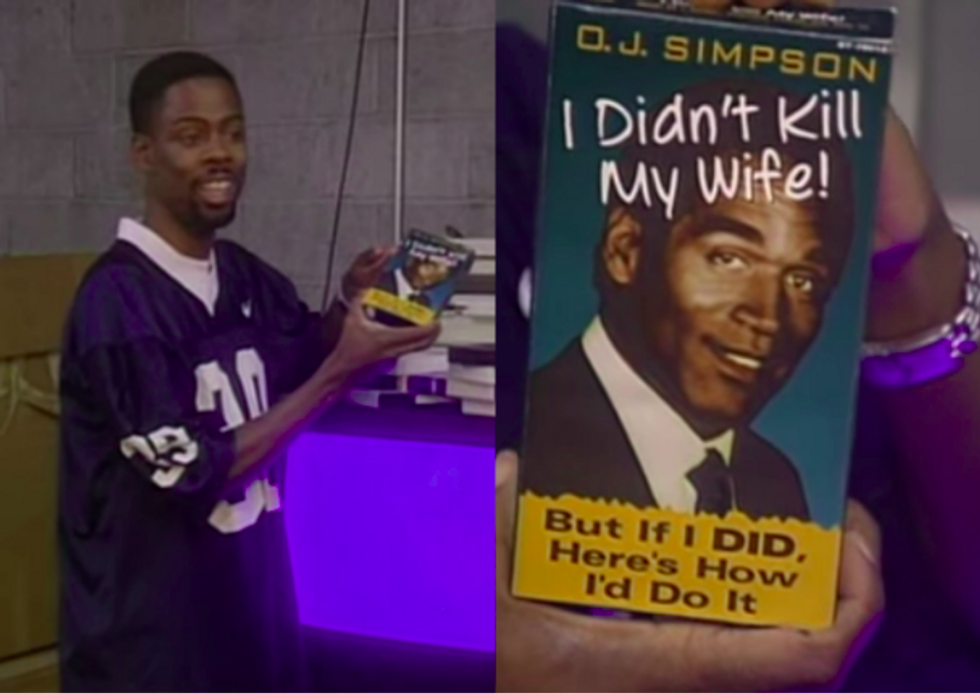 Chris Rock predicted O.J. Simpson's confessional bookIFC
The Chris Rock Show was under-appreciated for its run on HBO between 1997 and 2000. The raunchy comedian hosted the show's satirical sketches and parody commercials with guest stars like George Carlin, Arsenio Hall, Conan O'Brien, and Tracy Morgan. In a 1997 parody of a studio tour, Rock rummages through a collection of gifts supposedly given by celebrities. 20 years before O.J. Simpson allegedly approved ghostwriters to release the confessional book, If I Did It, Rock held up a VHS tape and reflected, "Who could forget the night O.J. Came by to sell his new instructional videotape: I Didn't Kill My Wife! But If I Did, Here's How I'd Do It?"

Chris Rock Sees The Future youtu.be
2. The Onion predicted eerily specific masturbation technology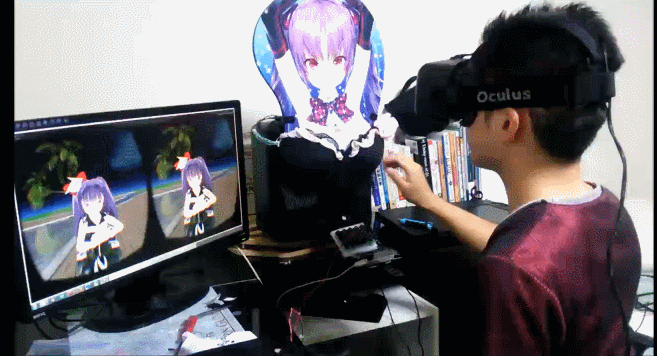 The Oculus Rift Sex simulatorThe Daily Dot
The only real difference between Samsung's "Apex" and the Oculus Rift sex simulator is that the Apex was the subject of The Onion's satirical news video and the Oculus Rift offers a wider variety of simulated sex acts. The Onion first spoofed the idea with the description that the Apex "streams video into your left eye, Internet into your right eye, and sucks your dick at the same time." Now, developers in Japan have crafted next-gen masturbation techniques that allow virtual reality users to simulate sex with crudely-animated 3D women. They even offer compatible masturbation aids for a fully "immersive experience."

New Wearable Computer Also Sucks Your Dick youtu.be
3. Gremlins 2 (1990) first broke the news that Donald Trump was a cheater
Filmmakers Joe Dante and Charlie Haas cooked up a Donald Trump riff in their comedy sequel. In Gremlins 2, Daniel Clamp is a crass, narcissistic billionaire who dominates New York real estate despite being too idiotic to believe. He also has an affair with his employee named Marla. Shortly after the film's release, front page news broke one of Trump's most public scandals of the 90s when he cheated on his wife with Marla Maples, who would later become his second wife. Haas said, "He was an emblem of what was going on in the '80s and '90s with greed and money and crassness, and [the idea of] the whole world being for sale. But he still seemed sort of harmless."
John Glover as Daniel Clamp (Gremlins 2 ) youtu.be
4. EDtv (1999) mocked soulless reality TV before reality TV existed

Few people had good things to say about Ron Howard's comedy at the time, but the entire premise of the film seemed patently absurd in 1999 (even with The Truman Show riffing on media and sitcoms the year before). Ellen Degeneres portrays the comically cold-hearted studio head of "True TV" network who tries to drum up ratings with the novel idea of filming a painfully average man (Matthew McConaughey) and broadcasting his life 24/7. One year before Survivor and Big Brother debuted, "reality TV" didn't exist as a genre when the comedy captured how successful a show can become when people watch for "no reason, I just want to see what happens."
Edtv Official Trailer #1 - Dennis Hopper Movie (1999) HD youtu.be
5. Airplane II: The Sequel (1982) turned airport scanners into nude pictures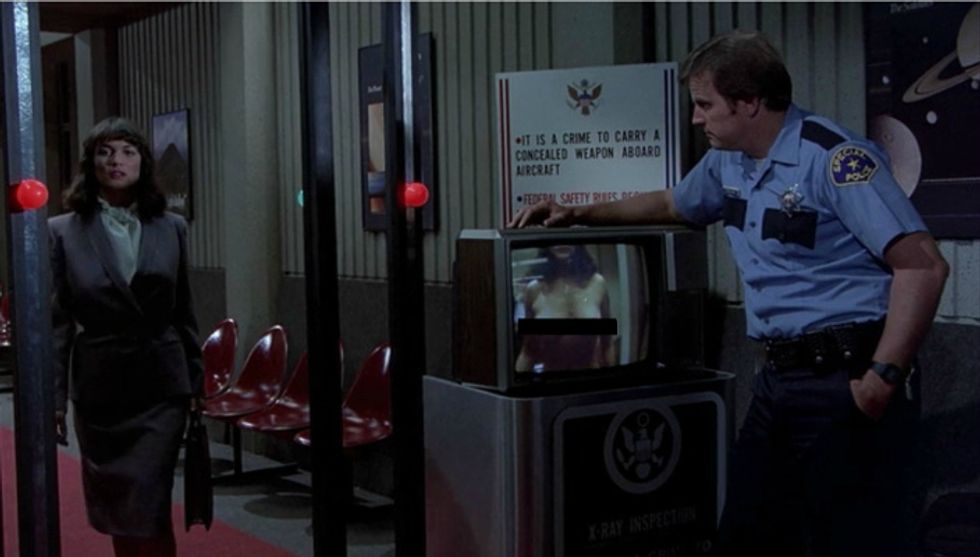 Airplane 2: the sequel predicted nude airport scannersIFC
The 1982 disaster movie spoof delivers more of the original's bawdy humor and dirty jokes. But in a simple scene of travelers passing through airport security, there's a passing joke about security scanners being able to view passengers naked. The bored security guard and quick pacing of the scene banks on the sheer ridiculousness carrying the joke. Of course, in 2013 the TSA introduced Advanced Imaging Technology scanners soon dubbed "naked scanners." The backlash was so extreme that the TSA eventually switched software systems to reduce the clarity of the images.
Airplane II: The Sequel. Airport youtu.be
---
Meg Hanson is a Brooklyn-based writer, teacher and jaywalker. Find Meg at her website and on Twitter @megsoyung.

---
POP⚡DUST | Read More...

The Future Is Here. And It's Gay.
Fetishizing Autism: Representation in Hollywood