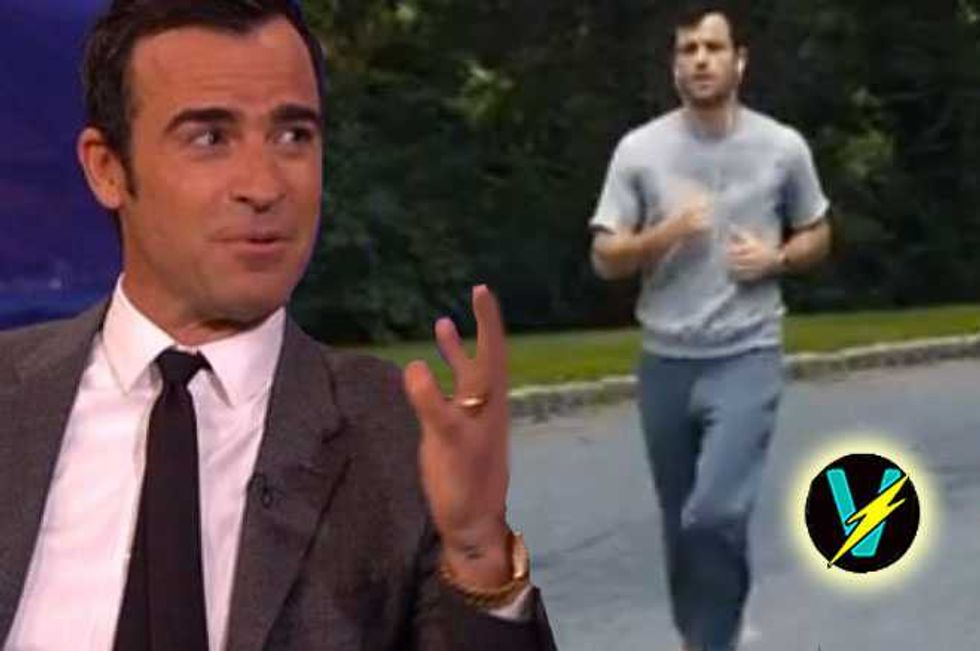 Move over Jon Hamm's cock, there's a new man package in town.
Justin Theroux took his huge penis on to Conan O'Brien's show last night, and claimed he had no idea his bulge had been receiving so much attention of late—Popdust has video.
As previously reported, even Theroux's Leftovers co-star Liv Tyler has felt the need to speak up about the actor's massive man parts, telling Watch What Happens Live host Andy Cohen, "There was this scene where he was jogging, and there was quite a large bulge in his sweatpants and it was all over."
All over indeed…but, that didn't stop the intrepid O'Brien from getting to the crotch of the matter.
"This is embarrassing ... many women today on my staff came up to me and they said, 'You have to ask Justin', there's a scene where you're jogging and they say that your package is quite apparent when you're in these sweatpants," Conan said. "All the women here are like, 'Ask him about it, ask him about it,' I was like, 'How can I address that!'"
"The true story is that I didn't know that was a thing," Theroux replied. "There was two jogging scenes … when I went to get my wardrobe for the second jogging scene way later, there was my jogging pants and two pairs of underwear in the trailer.
"I was like 'oh I can choose which pair' and they were like 'no, they want you to wear BOTH.'"
So, from what the future Mr Jennifer Aniston is saying, his swinging peen pendulum occurred even though he was wearing two pairs of underpants—a fact that didn't go unnoticed by O'Brien, who asked Theroux if that was indeed the case.
"I don't know how to answer this question," Theroux replied bashfully.
"There's really not a question there, I'm just congratulating you," said Conan.