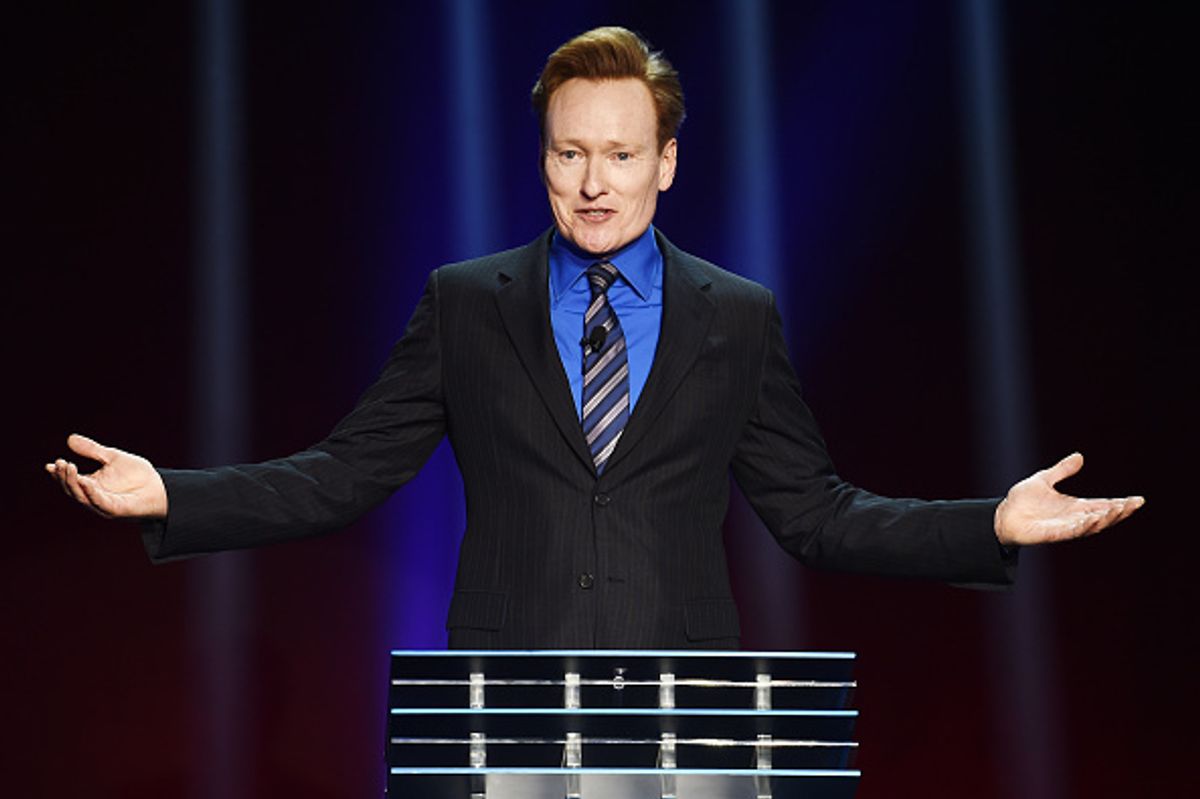 Dimitrios Kambouris
About a week ago, the landscape of late night comedy was shocked by reports that Conan O'Brien's long running late night talk show might transition from a nightly format to a weekly one. On paper the decision made some sense with the expanding late night field making it tougher to compete and newer weekly shows like Last Week Tonight and Full Frontal finding success. Yet the thought that Conan, the closest thing left in late night to an elder statesman, might lose his nightly showcase rattled many of his longtime fans. The reports were later amended by TBS to say there are no immediate plans to alter Conan's schedule and that the weekly format was just one of several ideas being floated to help the show survive against its competition. The news however raises the question exactly where the 20-plus year talk show vet fits within a world that is emphasizing digital traffic more and more.
It's hard to imagine another figure like Conan being able to rise up in late night the way he did. A young Harvard educated writer with no professional performance background plucked out of The Simpsons' writing room and given the reigns to NBC's Late Night franchise, succeeding the beloved David Letterman. Few performers would have the patience to find their footing on national TV, even as he faced constant cancellation threats. He eventually however found his niche by emphasizing his absurdist sketch characters like "The Masturbating Bear" and "Vomiting Kermit" as well as filmed remote segments featuring Conan interacting with strangers in unexpected locations. Perhaps the longest standing issue for Conan has been his past challenges to make his comedic sensibilities accessible to all. Many still point to this as a factor in his abrupt removal from hosting The Tonight Show as he struggled to compete with Jay Leno's blandly inoffensive approach, ultimately resulting in his predecessor reclaiming NBC's top hosting mantle.
In the over six years since TBS gave Conan a new, low pressure home, the comedian has largely been able to play to his strengths, creating a free-wheeling and goofier environment than he was ever allowed with The Tonight Show. But while this was occurring, his broadcast network rivals experienced an infusion of youth, appointing younger-skewing hosts like Jimmy Fallon or James Corden and launching a new generation of late night programming. What has come to define these new programs are their utilization of YouTube-friendly segments. Sometimes this means asking celebrities to cut loose from their manufactured personas in light activities like Fallon's Lip Sync Battles and Corden's Carpool Karaoke. Others like Seth Meyers, Trevor Noah, and Stephen Colbert use the segments to deliver discussions or comedic rants on politics, informing the masses in painless and often sharable fashion.
Conan and his eponymous show now exists on something of an island; too quirky and bizarre for the masses, and not politically active enough to make headlines. His show's saving grace, from a network perspective, has been his continued usage of his remote segments. Content like his Clueless Gamer videogame reviews and travel episodes in Cuba and Berlin provide a plethora of viral content accessible to people who may never have seen Conan's show before. TBS has championed these segments enough that it is already developing a spinoff Clueless Gamer program in addition to Conan. It's clear that if the show's format was going to be altered as rumored, the network would likely push for Conan to emphasize this content over continuing his interview or sketch segments.
Maybe this is the natural evolution for a show like Conan, stripping away excess and allowing a more streamlined broadcast that emphasizes its strongest attributes? Fans are protective of Conan; especially given his history of being treated as the (literal) red-headed stepchild of late night comedy, but perhaps this could promote his long-term survival chances? As the bubble of late night content continues to expand, one can't help but sense an inevitable burst somewhere on the horizon. But despite the strangest path of any current late night host, Conan has asserted himself as a true survivor through every professional obstacle, and for that we are all lucky.