Sports
Rumors that the former secretary of state was considered for the head coach position sparked debate and hope against the odds.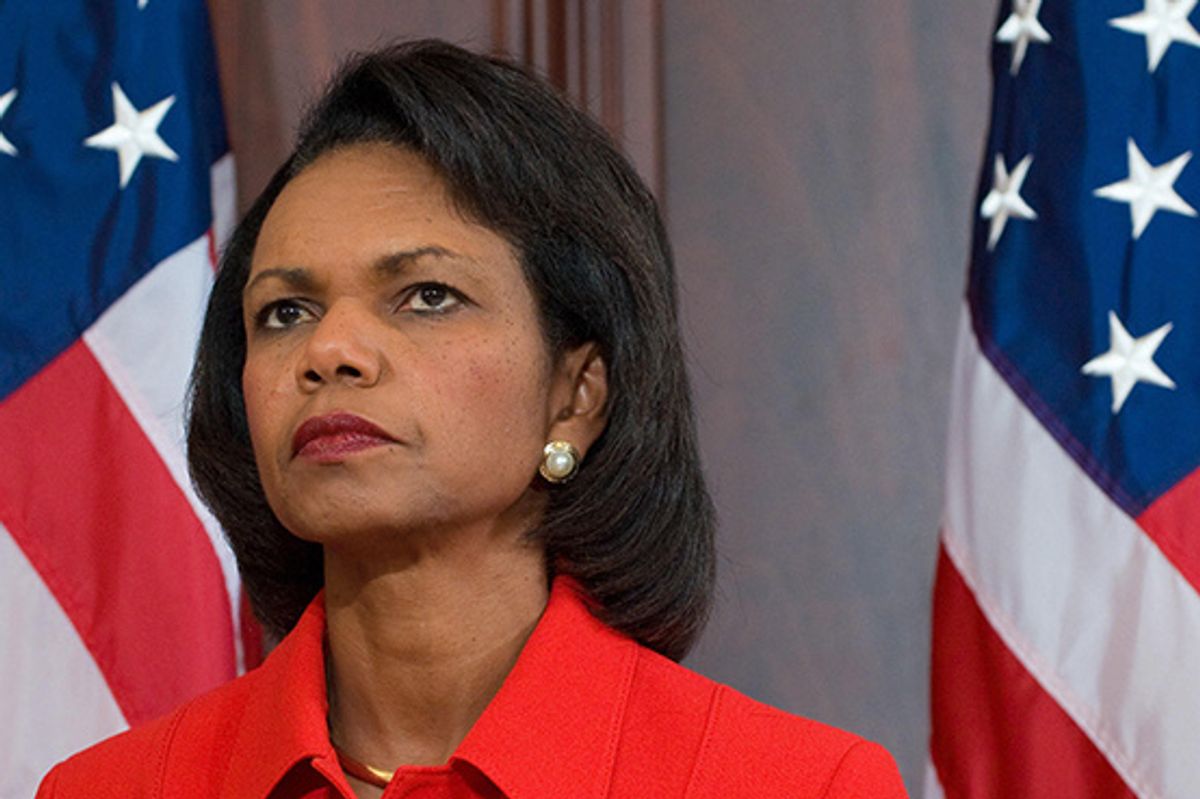 Condoleezza Rice will not be the next head coach of the Cleveland Browns, but for a baffling, desperate weekend it seemed like a feasibility.

ESPN senior writer Adam Schefter reported on Sunday that the Cleveland Browns wished to interview the former Secretary of State for the head coaching position. Just a meeting with Rice would make NFL history as the first time a woman ever interviewed to be head coach. Undoubtedly, such a bizarre interview would also break records for prospectively hiring someone with no football coaching experience and a resume listing "secretary of state" under previous job experience.
But no, the ruse was inconceivable from the start, with Schefter's source being "a league source" who was clearly unaffiliated with the Browns. Although Rice, 64, is a self-proclaimed lifelong fan of the Ohio team, she clarified on her Facebook page that she had no plans to make NFL history.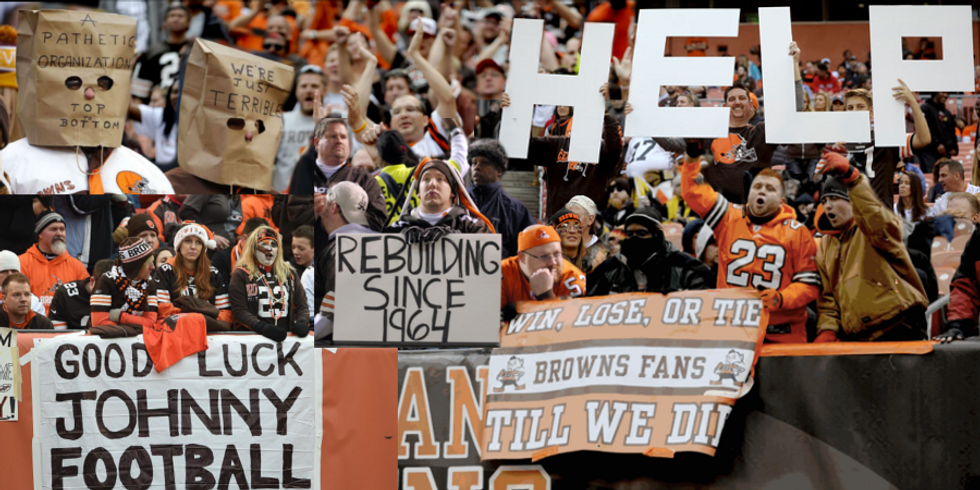 Sludge Feed
She stated, "I love my Browns — and I know they will hire an experienced coach to take us to the next level." She added, "BTW — I'm not ready to coach but I would like to call a play or two next season if the Browns need ideas! And at no time will I call for a 'prevent defense.'"

Yet the media's half-credulous reaction to Rice's prospective future with the Browns highlights two undercurrents in the NFL: the Browns don't have to keep sucking now that they've fired Jackson, and the NFL is ready for a female head coach.

The Browns finally fired Hue Jackson at the end of October, along with offensive coordinator Todd Haley, after an embarrassing 3 wins in two-and-a-half seasons. In fact, Jackson's 3-36-1 record is superlatively the worst of any coach of one team in NFL history. After his firing, defensive coordinator Gregg Williams took over as interim head coach, with confirmation from Browns general manager John Dorsey that he will interview Williams for the permanent position. Freddie Kitchens, running back and associate head coach, has been acting as offensive coordinator.
When the Browns took the field last Sunday under Williams and Kitchens, they broke a four-game losing streak with a win against the Falcons 28-16.
GM Dorsey also went on record recently that he would consider hiring a woman as Cleveland's next head coach, likely fueling the Rice rumor. Dorsey quickly addressed such talk in a statement, "Former Secretary of State Condoleezza Rice is a great leader, possesses the highest possible character and also happens to be a Browns fan." He added, "I have the utmost respect and admiration for all she's accomplished and was honored to meet her for the first time earlier this season. Our coaching search will be thorough and deliberate, but we are still in the process of composing the list of candidates and Secretary Rice has not been discussed."
Yet the idea is compelling not only for its shock factor, but a legitimate trend in professional sports that puts women in charge of team decisions for the first time. As ESPN notes, the San Antonio Spurs took on Becky Hammon as their assistant coach, the Buffalo Bills hired Kathryn Smith as a quality control assistant, the Oakland Raiders added Kelsey Martinez to their strength staff and the San Francisco 49ers appointed Katie Sowers as their offensive assistant.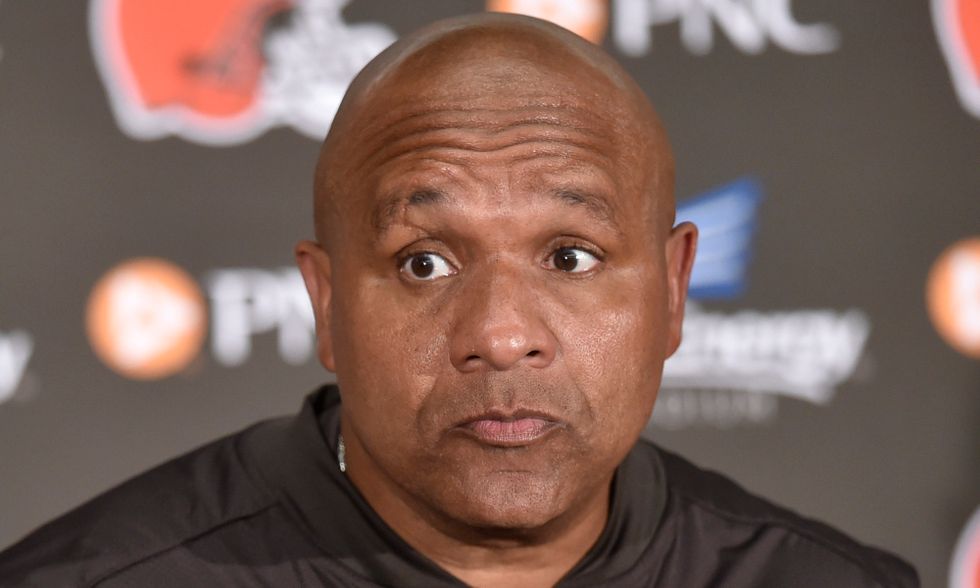 AP BEARS BROWNS FOOTBALL S FBN USA OH USA Today
In her Facebook post, Rice urged the progress to continue: "On a more serious note, I do hope that the NFL will start to bring women into the coaching profession as position coaches and eventually coordinators and head coaches. One doesn't have to play the game to understand it and motivate players. But experience counts — and it is time to develop a pool of experienced women coaches."

As the team is now, the Browns are preparing for their Nov. 25th game against the Bengals without a fixed head coach. Now that they've ditched Jackson's baggage and Williams and Kitchens attempt to streamline the playbook, lifelong Browns fans like Rice are hoping that the next record the team breaks will be for sweetest underdog triumph — just not this season. With an astronomically slim chance of making it to the playoffs this season, smart leadership in the post-Jackson years could lift the Browns from being an NFL punchline to a powerhouse.
---
Meg Hanson is a Brooklyn-based writer, teacher, and jaywalker. Find Meg at her website and on Twitter @megsoyung
---
POP⚡DUST | Read More…

Le'Veon Bell Won't Play for Less Than $17 Million
Jaden Smith Claims To Be Dating Tyler, The Creator