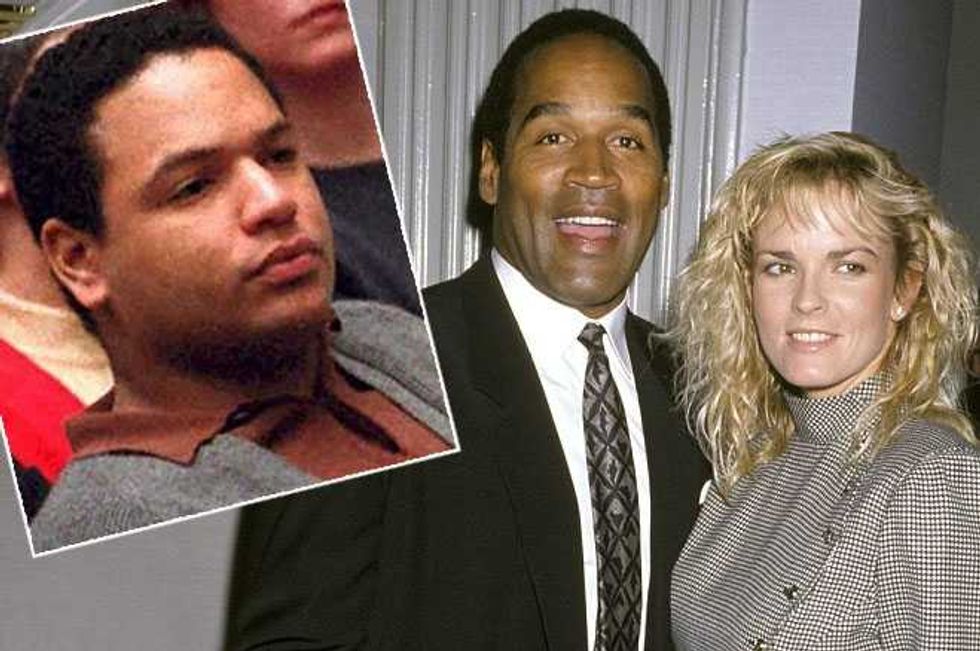 You had to have been living under a rock for the last 20 years if you haven't heard about the OJ Simpson case.
The gruesome murders of Nicole Brown Simpson and Ron Goldman on June 12 1994, the Bronco car chase and the subsequent trial of her ex-husband, kept the nation enthralled, and interest in the case has recently been resurrected with the broadcast of the gloriously camp The People vs OJ.
Conspiracy Theory Thursday—Is Katy Perry Really JonBenet Ramsey?
The nature of the televised trial, the larger than life characters involved and OJ's stunning acquittal have all added to the notoriety of the case, as did the civil court's later finding that OJ was in fact responsible for the murders.
Conspiracy Theory Thursday—Beyonce And The Illuminati
There aren't many people who don't believe that OJ did it. The general consensus is that he managed to buy his way out of jail with his defense 'Dream Team' who took the prosecution by surprise and played the race card magnificently (aided of course by racist cop Mark Fuhrman who played right into their hands).
Conspiracy Theory Thursday—Britney Spears Was On George Bush's Payroll
oj simpson cover up jason simpson
The Theory
There is a compelling assertion by renowned private investigator William C Dear in his book OJ Is Innocent And I Can Prove It that OJ Simpson did not carry out the murders after all. Dear concludes that Simpson was definitely at the scene shortly after the crime occurred (hence the presence of his footprints and blood), but that the murders were actually carried out by his then 24-year-old son, Jason Simpson and that OJ took the rap for him. The fact that literally no-one other than OJ was ever investigated or questioned about the crime is pretty inconceivable and it certainly seems that the cops decided very early on that they had their man and any evidence that didn't fit with that narrative was disregarded.
oj simpson cover up jason simpson
The 'Proof' (as put forward by William C Dear)
Jason's medical history. Jason had been diagnosed with "intermittent explosive disorder" and was prescribed the drug Depakote to control his seizures and rages. Jason had attempted suicide on at least thee occasions, one time stabbing himself in the stomach. Literally six months before the killings, Jason had visited the emergency room because he heard voices in his head and said he felt as if he was "going to rage" because he had run out of Depakote. He stopped taking Depakote two months before the murders.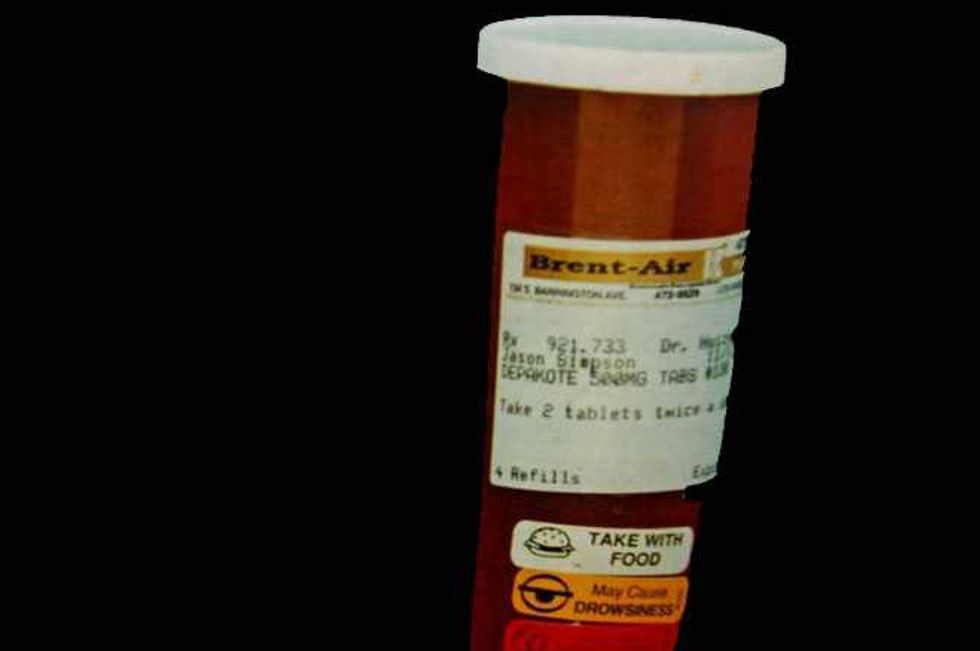 The medication prescribed to Jason Simpson for his rage disorder.
His violent history. Jason had previously nearly killed a girlfriend and cut off her hair with a knife. He had also attacked another girlfriend in a fit of rage and narrowly avoided causing her serious injury. At the time of the murders Jason was 24-years old and on probation for assault with a deadly weapon after he attacked his boss with a kitchen knife. The crime scene at Nicole's home showed the manner of the murders to be particularly ferocious. Nicole was practically decapitated and Ron was stabbed up to 22 times in a prolonged fight with his attacker. Police described the murders as rage killings.
The weapon. Jason Simpson was a chef and as such had access to an assortment of knives (one expert says that the murderer used two different knives during the attack). He was familiar with knives and his past actions show they were his weapon of choice for violence. Jason's diary entries show him to be obsessed with violence and also with knives. One entry reads; "It's the year of the knife for me. I cut away my problems with a knife."
The motive. Nicole was due to have dinner with her family, including her parents at the Beverly Hills restaurant where Jason was a chef. He had put a lot of planning into it, bought the food, and was looking forward to showcasing his talents. He had long struggled to step out from under his father's shadow, having failed in the football scholarship OJ had arranged for him and, in cooking, had finally found something that he was good at. However Nicole changed her plans at the last minute and dined elsewhere. Now that might not be a motive for murder for a person of sound, reasonable mind—but a violent person with a diagnosed rage disorder who was off his meds at the time? That scenario could be a trigger.
The alibi. Jason's alibi for the time of the murders was that he was cooking at a restaurant where he worked in a open kitchen. There is however a period of time during the murder window when Jason was by himself and doesn't have an alibi that can be supported by anyone else (colleagues say he closed the kitchen early). Plus the punch out time recorded on his time card that evening was handwritten—despite the fact that the automatic electronic time card clock was working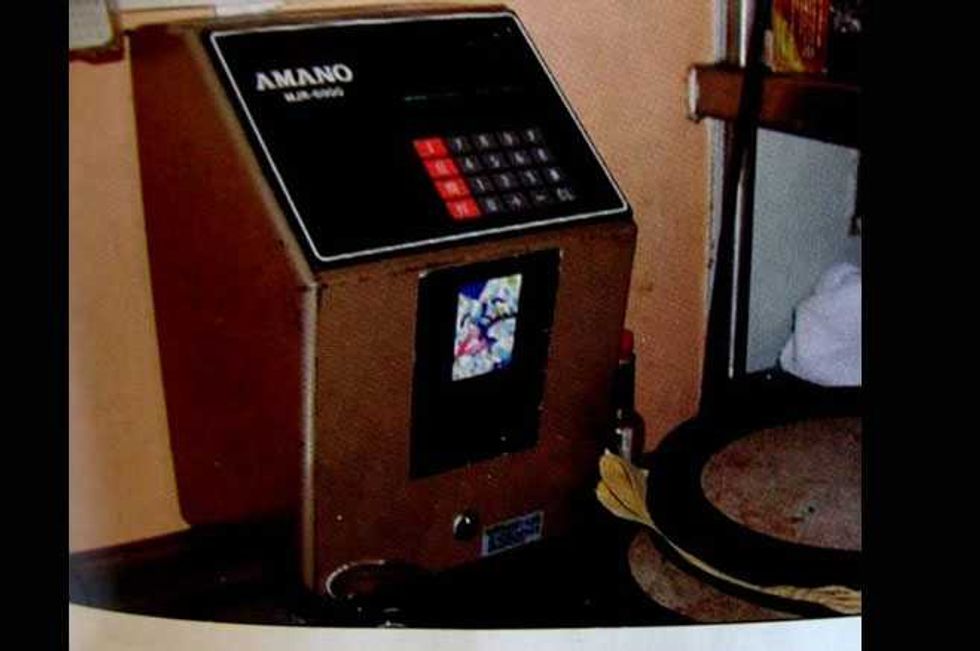 The electronic time-clock in full working order on the night of the murders—yet Jason's timecard was handwritten.
The hat. There was a black navy 'watch cap' found at the crime scene which contained animal hair and hair fibers that did not match OJ. Photographs of Jason taken a year before the murders show him sitting with a dog wearing an identical watch cap to the one found at the scene. His DNA was never tested for a match.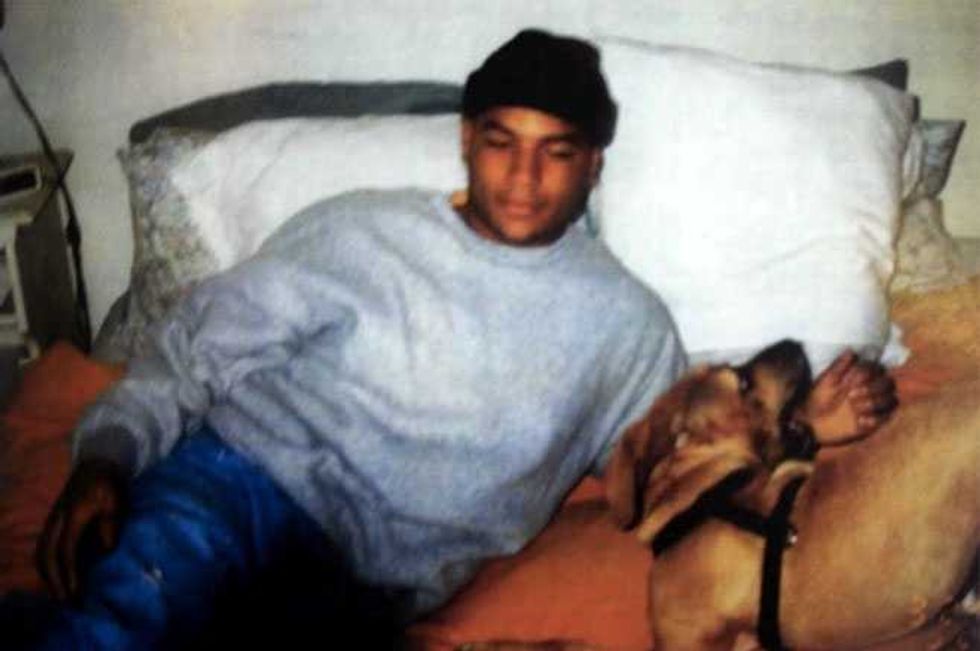 Jason Simpson wearing a black knitted hat exactly like the one found at the crime scene.
The cover up. The day after the murders, before he was arrested, OJ hired a top criminal attorney named Carl Jones to represent Jason. Why would he do this when Jason hadn't even been spoken to by the LAPD and wasn't a suspect? After the slow speed police chase when OJ finally made it back to his house on Rockingham, Jason rushed at the Bronco and was seen shouting and gesticulating at his father and Al Cowlings (who was driving the Bronco) before being pulled back by police. What was he so desperate to communicate to OJ? (Check out the footage of the car chase below and see Jason approach the vehicle around the 4:12 mark.)

The lack of evidence against OJ.

There was blood and skin found under Nicole's fingernails and also drops of blood on her back that did not match OJ.
There were 15 separate unidentified fingerprints at the crime scene that did not belong to OJ.
Ron Goldman was a 3rd degree black belt in karate and he fought for his life as is evidenced by defensive wounds on his bruised and swollen hands. OJ voluntarily stripped at the LAPD and there were no marks or bruises anywhere on his face or body to indicate he had been in any kind of altercation.
Whilst OJ had a history of domestic abuse, none of this had ever escalated to a level where he used weapons. In fact it was well known that he hated the sight of blood. His previous fights with Nicole had been the subject of complaints as they were loud, noisy, screaming affairs. Is it really believable that one night he is in a rage bigger than any before, one that leads him to commit two violent murders and yet he is silent, not screaming his lungs out, despite a lengthy fight with Ron Goldman?
So there you have it.
There is without doubt a compelling argument that OJ' son perhaps could actually have carried out the murders. That yes, OJ was at the scene (was he called in a panic by his son?)—but being present at the scene does not necessarily mean that he was the murderer.
Ask yourself, who would you risk your freedom and your life for? Who would you go to any lengths to protect? Your child maybe?
Let us know what you think and check out Popdust's previous Conspiracy Theory Thursday posts here.
poj simpson cover up jason simpson
oj simpson cover up jason simpson