This week Popdust breaks down the conspiracy theory aids man-made disease claims.

HIV/AIDS was first reported by the Centers for Disease Control and Prevention in 1981.
It was originally believed to be a mysterious, deadly disease found among young white gay men in New York City.
Fast forward 35 years and the disease has killed 34 million people worldwide.
According to statistics, more than 36 million people globally are now living with HIV (as of the end of 2014).
In the early days, the disease was prevalent in the gay community, and believed to be transmitted by unprotected sexual contact.
However, it soon became obvious that it wasn't only homosexuals being infected.
And, it wasn't purely being passed on through sexual contact.
It was in the blood supply and heterosexuals were contracting it too.
The widely accepted scientific explanation is that HIV/AIDS originated from an African primate virus that crossed over into humans.
Scientists speculate the virus was passed on through the consumption of "bush meat" (the eating of chimpanzees by hunters.)
However there is another, more sinister theory that, on the surface at least, is really not that far-fetched.
Popdust breaks it down: conspiracy theory aids man-made disease claims:
In the early 1970s there was a huge surge in LGBT activisim and the gay pride movement flourished.
A large number of gay men came out of the closet and the government believed homosexuality to be an out of control threat to society.
The growing strength of the gay rights movement coincided with homosexuality being de-classified as a "mental disorder."
Nixon, the President at the time, warned that homosexuality had a damaging and destructive effect on society.
He blamed the downfall of both the Greek and Roman empires on homosexuality, and claimed:
Homosexuality, dope, immorality in general, these are the enemies of strong societies. That's why the communists and the left-wingers are pushing the stuff: they're trying to destroy us.
The Theory
A man-made disease—approved by congress—was created in a laboratory and introduced into the gay community in the mid 1970s.
The disease was intended to scare gay men and reduce the number of practicing homosexuals in society.
At the same time, it was also introduced into Africa in order to control the poor black population there.
The 'Proof'
Within the next five to ten years, it would probably be possible to make a new infective micro-organism which could differ in certain important aspects from any known disease-causing organism.
MacArthur claimed the disease would be resistant to "the immunological and therapeutic processes upon which we depend to maintain our relative freedom from infection and disease." And testified it would require $10 million to develop.
AIDS first surfaced within MacArthur's estimated "five to 10 years" and is the only disease to fulfill the definition.
The first cases of AIDS were traced to gay men in 1979 Manhattan—3-years before the African epidemic was recognized in 1982—countering claims it originated in there.
KS was labeled the "gay cancer" and reported to also originate from a primate virus jumping species in Africa.
A 1974 government initiative encouraged gay men in Manhattan (especially promiscuous ones) to participate in an experimental hepatitis B vaccine being developed by Merck and the National Institute of Health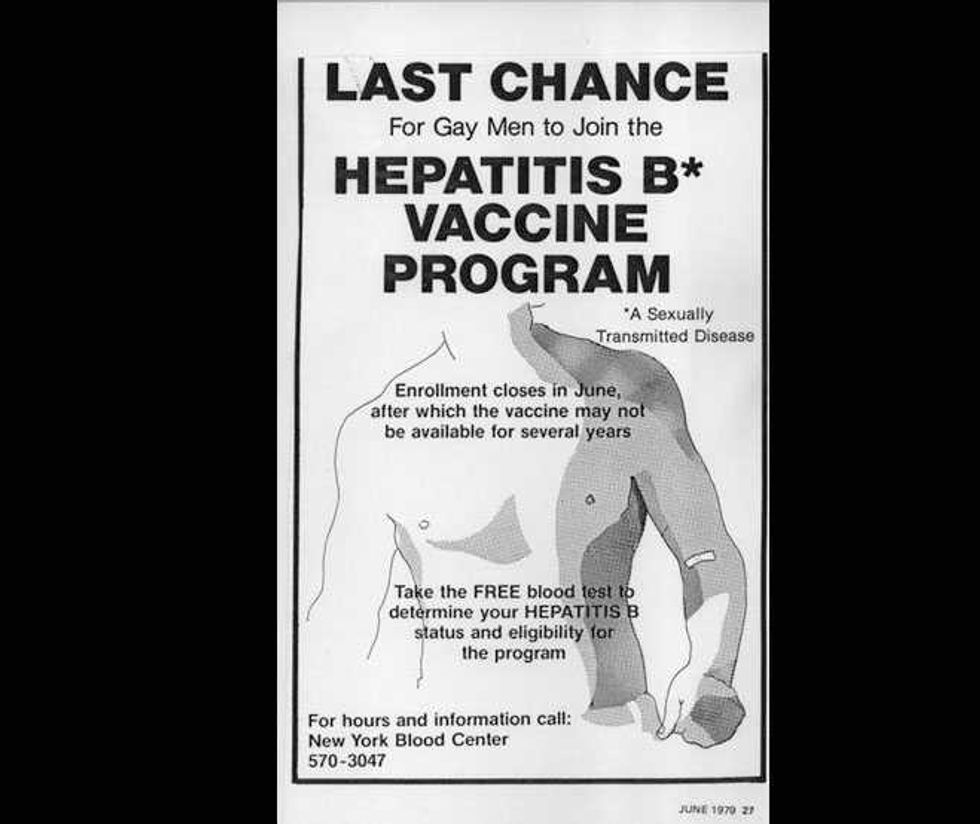 Tens of thousands of gay men were screened and 1,083 of them were subsequently selected to test the vaccine.
Beginning in 1978, groups of gay men were inoculated at the New York Blood Center.
The hepatitis B studies extended to clinics in San Francisco in 1978.
By 1980 additional clinics in Los Angeles, Denver, Chicago and St Louis were also seeking participants for similar programs
The vaccine was made from the combined blood of 30 gay men who carried the hepatitis B virus.
During development it was injected into chimpanzees known to be infected with the simian cancer causing SV40—The same virus that contaminated the polio vaccine between 1955 and 1961
By December 1981, 121 people in the USA had died of AIDS with victims hailing from San Francisco, New York and Los Angeles.
The dead would have been infected at least 2-years prior, ie: 1979—none of them had ever been to Africa or eaten primates
No blood stored anywhere in the U.S. prior to 1978 had tested positive for HIV or the KS virus.
Before 1978 there were no cases of AIDS and no cases of Kaposi's Sarcoma recorded.
20% of the gay men who volunteered for the experiment in NYC were found to be HIV positive in 1980—a whole year before AIDS was officially recognized in 1981
By 1984 over 40% of NYC gay men were found to be HIV positive.
20% of samples taken in 1982 tested positive for KS2 herpes-8 when re-tested in 1999
The hepatitis B vaccine proved to be a success—protecting 96% of the men—however the vaccine was contaminated
The vaccine was introduced into Africa in 1981—leading to the first cases of HIV/AIDS being officially recorded there in 1982
A number of high profile doctors have carried out investigations on the origins of HIV/AIDS and concluded it was man-made and deliberately introduced;

Robert Strecker MD, PhD published a memorandum in 1984 confirming the virus detailed to Congress in 1969 was produced in the early '70s and spread in America via the hepatitis B vaccine trials.

Alan Cantwell Jr MD, a prolific cancer microbe researcher, has published two books Doctors of Death and Queer Blood concluding AIDS was man-made.
Dr Michele Carbone of Loyola University in Chicago, a leading expert in vaccine manufacturing, has openly admitted HIV/AIDS was spread by the hepatitis B vaccine.

Check out this interview with Dr Maurice Hilleman, Merck's vaccine developer, during which he alleges the polio vaccine was contaminated with SV40 and that it's likely SV40 is the source of AIDS.
The actual number of AIDS deaths among the men in the original hepatitis B experiment has never been released.
Blood samples from the original patients are sealed as per order of US Department of Justice.
What we do know (or think we know) for sure:
The development of a man-made virus was discussed in Congress in 1969
The government recruited gay men in New York beginning in 1974—and later San Francisco and Los Angeles—to participate in a hep B vaccine program
Gay men were injected with the vaccine in 1978 through 1979.
The first officially recognized AIDS case in the U.S. was reported in 1980—San Francisco resident Ken Horne
By 1985 66% of the men in the original trial tested HIV positive
Balancing conspiracy theory aids man-made disease claims:
Researchers estimate the first form of SIV was transmitted from primate to human in the early 1930s
Analysis of blood samples taken from a man who died in the Congo in 1959 reportedly find he was infected by HIV
In the same year, NYC shipping clerk, Ardouin Antonio, died of Pneumocystis carinii pneumonia—a disease closely associated with AIDS
Genetic studies reportedly find HIV first arrived in the Americas some time around the late 1960s—via Haitians who had been working in the Congo
Test samples taken from the remains of St. Louis teenager, Robert Rayford, who died under mysterious circumstances in 1969, reportedly find evidence of HIV
Reports of a mysterious wasting disease spreading throughout Africa—known as "slim disease"—start surfacing in 1975
Test samples taken from Norwegian sailor, Arvid Noe, who died in 1976, reportedly find he had contracted HIV/AIDS in Africa during the early 60s
In 1977, a prostitute in San Francisco gave birth to the first of 3 kids to later be diagnosed with AIDS. The prostitute went on to die from AIDS in May 1987
A baby born in 1974 to a 16-year-old intravenous drug dealer in New Jersey, died in 1979, age 5. Subsequent tests reportedly reveal she had contracted HIV at birth
That said, if you have any doubts the U.S. government could be evil enough to unleash a man-made virus onto an unsuspecting community— just google Tuskegee experiment.
So, what do you think about the conspiracy theory aids man-made disease claims?
Vote in our poll!
Conspiracy Theory Thursday — Area 51 Really IS Used For Shady Alien Experiments
Conspiracy Theory Thursday — It Wasn't The Titanic That Sunk
Conspiracy Theory Thursday—JFK Jr Was Murdered (And You Won't Believe Who By)
Conspiracy Theory Thursday—Is Katy Perry Really JonBenet Ramsey?
The family of Miriam Burbank knew she would never miss a party, so they made sure she was on the guest list for the blowout funeral celebration just prior to her own burial
Propped up in a chair and surrounded by a few of her favorite things: Busch beer, menthol cigarettes, and a disco ball flashing overhead, the New Orleans native was the life of the party!
Miriam Burbank's two daughters, who call their mom Mae Mae, said their late mother was a party girl and that they wanted a funeral that would make her proud.
And no party girl would attend a gathering without a perfect pedicure- Miriam had her nails painted black and gold as a shout out to her favorite team, The New Orleans Saints!

Conspiracy Theory Thursday — Was Bob Marley Killed By The CIA?
Conspiracy Theory Thursday — Is Jim Morrison Alive?
Conspiracy Theory Thursday— Paul McCartney Died In 1966
Conspiracy Theory Thursday — The Marilyn Monroe Death Cover Up
Conspiracy Theory Thursday—Jamie Lee Curtis Is A Hermaphrodite
Conspiracy Theory Thursday—The Princess Diana Death Conspiracy