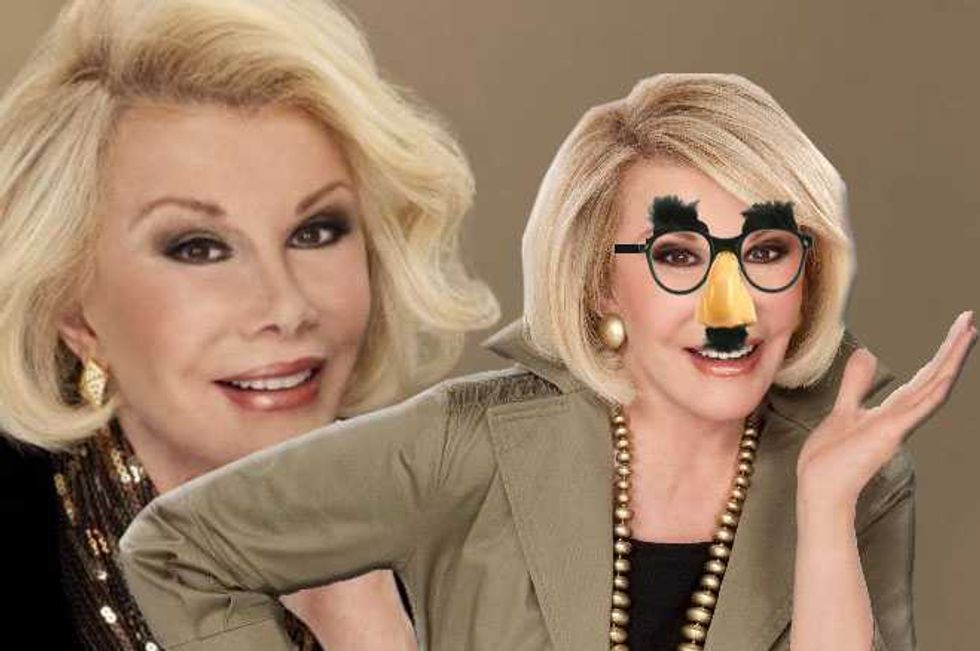 Joan Rivers died in September 2014 at the age of 81 after suffering a cardiac arrest following plastic surgery.

Her death came as a shock to many, as in spite of her age, she appeared to be in good health and was anything but a frail old lady.
The internet has been awash with suspicion ever since and we at Popdust feel it's our duty to prove or debunk the main theory.
The Theory
As we all know, Joan Rivers' acerbic wit was the stuff of legends.
She crossed the line on many occasions, including just two months before her untimely death when she made a public claim that President Obama is homosexual and that Michelle Obama is in fact a transsexual.
Conspiracy theorists were very quick to claim that she had made one enemy too many in the First Family and her that her life had been in danger.
Conspiracy Theory Thursday — Is Jim Morrison Alive?
The coma and 'death' were merely a cover up, they claim, and Joan is actually alive and well and in an FBI witness protection program.
Conspiracy Theory Thursday—Tupac Shakur Faked His Death
The "Proof"
Joan had had many plastic surgeries before and never encountered a problem until that last one, when her alleged death was caused by a biopsy on her vocal chords—nothing to do with the surgery she had gone in for.
She was upbeat before supposedly slipping into a coma and had just done a comedy show prior to the surgery. She was certainly not infirm.
Joan's name was mysteriously left out of the 'In Memoriam" list of names at the 2015 Oscars
Video footage has emerged of 'Joan' with her good friend Clive Davis in February this year. There is a distinct likeness between Joan and the woman in the video clip, but that likeness becomes uncanny when you hear the lady speak.
Why would she need witness protection?
Conspiracy Theory Thursday—Beyonce And The Illuminati
Here are a few pieces of evidence supporting the claims around the Obama's that Joan unwisely repeated—believe us when we say there are many, many more.
Conspiracy Theory Thursday — Was Bob Marley Killed By The CIA?
Some body proportion differences between and a woman remain constant, ie shoulder to waist ratio etc. With these constants we see that Michelle Obama's body is mathematically that of a man, not a woman.
In a speech on September 30, 2011 at the transition ceremony, Obama mistakenly called his wife "Michael" —see video below
Conspiracy Theory Thursday—Jamie Lee Curtis Is A Hermaphrodite
For the speech that Michelle gave at the 2008 Democratic National Convention, she wore a clingy fabric aqua dress which showed every lump, bump and bulge. There have been many pictures which show a certain something at crotch level. Yes you could argue that pictures can be photoshopped, but the screen grabs taken from the actual video definitely show zero body fat around her belly (unusual for a woman, let alone one who's had two children) and a tugging / dipping around the crotch area.
Conspiracy Theory Thursday— Paul McCartney Died In 1966
Check out the un-doctored crotch area
Former Secret Service agent Paul Horner reveals in his tell-all book that he is 100% positive that President Obama is gay and that he witnessed a string of male late night visitors to the Presidential bedroom.
Kevin DuJan, a gossip columnist in Chicago during Obama's years as a community organizer and an Illinois senator alleges that the President was actively involved in the city's gay bar and bathhouse scene and that it is "preposterous to the people I knew then to think Obama was going to keep his gay life secret". Investigative journalist Wayne Madsen also confirms that Obama's visits to local gay bars and bathhouses was "common knowledge" in the community.
Author, Dr Jerome Corsi suggests that Obama may have been married to a former roommate. He says, "Obama had all these roommate pictures [where he] seems to be sitting about on the guy's lap" and he also claims that BO was photographed wearing a wedding ring many years before his marriage to Michelle.
Enough proof for you?
Let us know what you think—vote in the poll, and sound off in the comments below!
And, check out Popdust's previous Conspiracy Theory Thursday posts here.