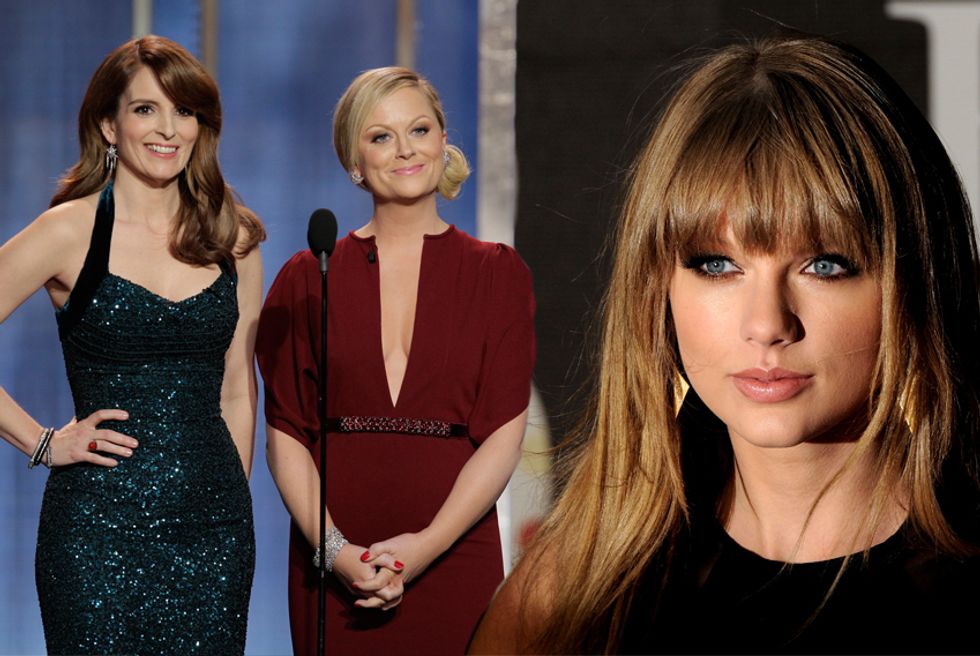 If you're a conscientious follower of popular television and/or music, you're going to read a lot of headlines this afternoon about the bubbling feud between professional funnywomen Amy Poehler and Tina Fey and pop megastar Taylor Swift. This supposed flare-up dates back to the comedy duo's hosting gig at the Golden Globes, which Taylor attended, and in which the women made a joke at Swift's expense by demanding that she "stay away from Michael J. Fox's son," an obvious dig at her reputation as a love-crazy (or maybe just straight-up crazy) girl intent on dating just about every young guy in Hollywood.
Swift has now supposedly escalated the joke into an actual beef with the comments she made in a recent Vanity Fair profile, concerning Poehler and Fey's comments. The exact quote from the article reads as such:
'You know, Katie Couric is one of my favorite people,' Taylor Swift tells Vanity Fair contributing editor Nancy Jo Sales on the subject of mean girls in general and in response to an incident at this year's Golden Globes, where Amy Poehler and Tina Fey mocked her highly scrutinized love life. 'Because she said to me she had heard a quote that she loved, that said, 'There's a special place in hell for women who don't help other women.''
Now, a lot of people are going to read this and just get "TAYLOR SWIFT FIRES BACK AT AMY AND TINA" from this. But hold on a second—don't we need a little more info, a little more context from her quote? All Sales and the magazine gives us is that Swift gives the quote "on the subject of mean girls in general and in response to an incident at this year's Golden Globes." But we have no idea what exactly Sales asked her about the incident, or if she just alluded to it as a larger part of question about mean-girl bullying, something Taylor has always been fairly obviously against. By the time she answered Sales' question, she might not have even remembered that the Poehler/Fey quote was even part of it.
We bring it up, because it really doesn't seem like Taylor's style to us to take an explicit shot like this at two respected comedians (and generally beloved people) like Amy and Tina, to basically imply that they'll burn in hell for their joke about her. Sure, she's probably tired of the many ill-informed and reductive swipes at her love life, as any of us would be in her shoes, and maybe she didn't appreciate that particular joke at that point in time. But she's also a professional, someone all too aware that her life is under the microscope, and we doubt she's quite so humorless that she takes a joke at an award ceremony—where just about any celebrity present is roasted in some form or another—so personally and so to heart as this.
Before we takeVanity Fair at their word here, we need a more explicit transcript of that part of Sales' conversation with Swift, to know that her comment was actually directed specifically at Amy and Tina, and not just Taylor doing her part in the good fight against girl-on-girl bullying. In the meantime, we'd be a little surprised if we didn't see some sort of clarifying statement from Taylor's camp in the next 24 hours or so, talking about how her quote was taken out of context and she really has the utmost respect for the two comedic greats.