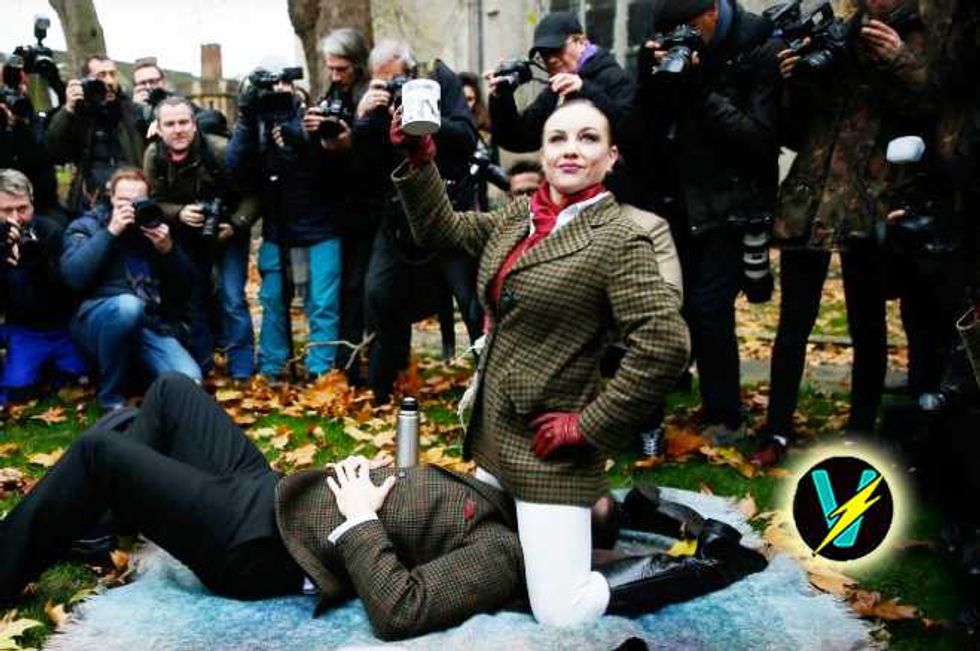 After the British Parliament laid down strict regulations banning certain sex acts from online pornography, sex workers and enthusiasts decided to do something about it.
And their protest took the form of a giant facesitting demonstration. Because how else is that message supposed to be delivered?
As Popdust previously reported, it all started on December 2, 2014, when the British Board of Film Censors (BBFC) decided to amend the 2003 Communications Act. The move meant that video-on-demand online porn has to adhere to the same guidelines laid down for DVD "sex shop-type porn."
The Department for Culture, Media & Sport insisted that the move was a "tried and tested" method for protecting children. The BBFC also ruled that acts such as facesitting, squirting, spanking , strangulation and fisting were "life-threatening" and should not be shown on video.
However, it appears that the men in suits underestimated how many Brits are members of the porn community. Or, just how many Brits were staunch supporters of the industry. Because just over a week after the ruling was made, the demonstrations started.
On December 12, a hoard of people gathered in front of the Houses of Parliament in central London. They laid down rugs, played the music of Monty Python and handed out hot tea. And in keeping with true British fashion, they also decided to sit on each other's faces. It was, all in all, a pretty classy affair.
Though the protestors were hoping the demonstration would result in a world-record event, The Guinness Book of World Records refused to sanction it, and no official count was made. But those present estimate that there were about 60 facesitters present, give or take a few.
And credit must be paid for the clever collection of slogans around. One banner directed at the British Prime Minister, David Cameron, read, "Can't Make His Wife Squirt. Bans It in Porn." Another remarked, "Vulvas Don't Kill People, Revolvers Do."
Organizer Charlotte Rose called the restrictions "ludicrous" and told The Mirror, "These activities were added to the list without the public being made aware."
She added, "There are activities on that list that may be deemed sexist, but it's not just about sexism, it's about censorship. What the Government is doing is taking our personal liberties away without our permissions."
But for many people, the perceived sexism is what really pushed them over the edge. Ally Jones, 25, told The Daily Beast, "Why is it perfectly fine for me to choke on a penis or be covered in semen but not OK for me to ejaculate on someone?"
And she's right. The restrictions were predominately placed on what is deemed as physical expressions of female pleasure.
The Daily Beast reports:
The targeting of female pleasure is only heightened by the fact that male ejaculation is not on the list of banned acts. Of course, banning the sight of jizz in pornography would be like banning explosions in a Michael Bay movie: pretty much impossible and wholly disappointing to male viewers. In fact, the money shot is the one of the most consistent hallmarks of free and widely accessible pornography.
Is it that the British Parliament feels all that threatened by the female orgasm? Is it that they underestimated how many women participate in and enjoy watching pornography? Did they fail to take into account that male feminists exist, and that many men get off on seeing a woman climax?
Maybe none of the above, maybe all of the above. But one point remains clear—the Parliament's justification in banning these acts is bogus. It implies that women should be submissive, compliant partners, focusing on getting their guys off before themselves, because hey, we don't want to be selfish, right?
As the Daily Beast puts it so succinctly, "It may be just a squirt but it stands for a whole lot."