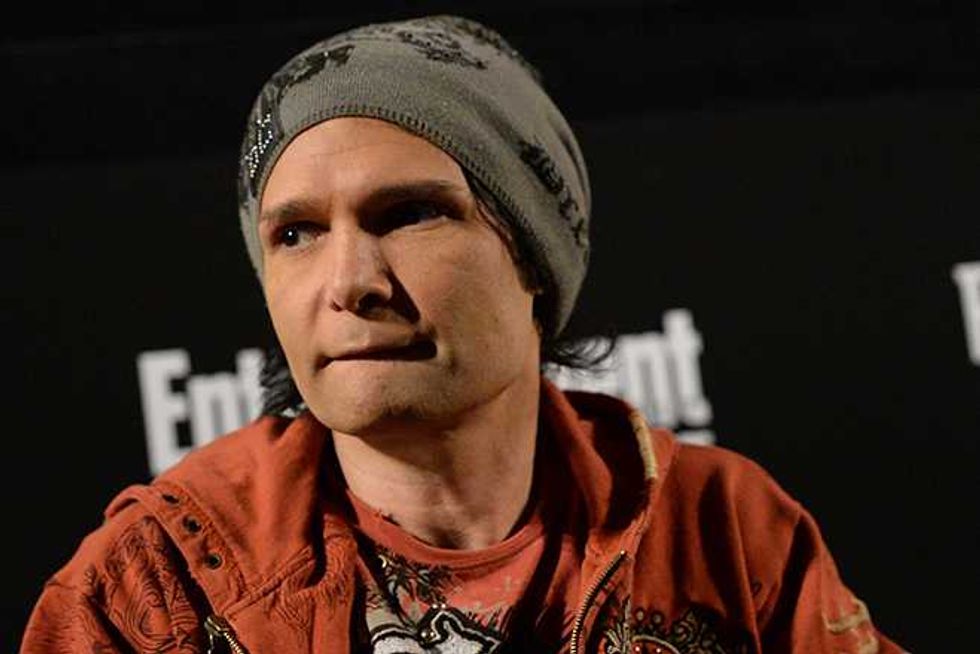 Corey Feldman has detailed horrifying incidences of sexual abuse he and fellow actor Corey Haim suffered at the hands of older men in Hollywood, when the two were child stars.
The 42-year-old opens up about his traumatic childhood in his new book, Coreyography—and Popdust has details of his harrowing account.
Feldman's memoir is released October 29th— Photo courtesy: St. Martin's Press
In the book, which the New York Post has an exclusive excerpt of, Feldman claims he and Haim—who died of pneumonia in 2010, age 38—were told by "trusted adults" that it was normal practice for young boys to have sex with older men in Hollywood.
David Sedaris Opens Up About Sister Tiffany's Suicide In Bittersweet Article
Feldman paints his childhood as being a far from happy one—claiming his mother starting bleaching his hair blond when he was just four, harangued him constantly about his weight and force fed him diet pills from a frighteningly young age.
Corey paints a tale of an unhappy childhood rife with drugs and sex abuse in his shocking new tell-all—Photo courtesy: Getty
Meanwhile, Feldman's father only cared about spending time with his son when they were getting high together, he claims.
Gwyneth Paltrow Bracing Herself For Vanity Fair 'Epic Takedown' Assassination Article
By the age of seven Corey's childhood was firmly over, as he had become the family breadwinner and his mother pushed him harder and harder towards stardom.
Feldman's childhood pal, Corey Haim, died of pneumonia in 2010 age 38—photo courtesy: Getty
But, it was as he entered his teens that the real nightmare began.
Feldman claims a man named "Ron" who worked as his father's assistant, starting taking him out on the town—introducing him to drugs and sex.
Would You Spend $100,000 To Look Like Justin Bieber? This Man Did And You Won't Believe The Results!
Corey details an occasion where he was drugged by Ron, who was in his twenties at the time, and the pair ended up having oral sex after Feldman was too scared to say no—he goes on to claim he had a relationship with Ron for "several years" along with other men who crossed his path during that time.
"Slowly, over a period of many years I would begin to realize that many of the people I had surrounded myself with were monsters," Feldman writes.
Feldman and Haim starred in the A & E reality show The Two Coreys in 2007—photo courtesy: Getty
Surprisingly, the Lost Boys star says the one adult he did feel safe with was Michael Jackson.
"I was shattered, disgusted, devastated. I needed some normalcy in my life. So, I called Michael Jackson," he writes. "Michael Jackson's world, crazy as it sounds, had become my happy place. Being with Michael brought me back to my innocence. When I was with Michael, it was like being 10 years old again."
Kelly Clarkson Says 'I Do'—See The Gorgeous Wedding Photos!
Given his own experiences, it comes as no shock that Feldman advises parents against pushing their children into the world of Hollywood.
"People always ask me about life after childhood stardom. What would I say to parents of children in the industry?" he writes. "My only advice, honestly, is to get these kids out of Hollywood and let them lead normal lives."
Coreyography goes on sale October 29th.