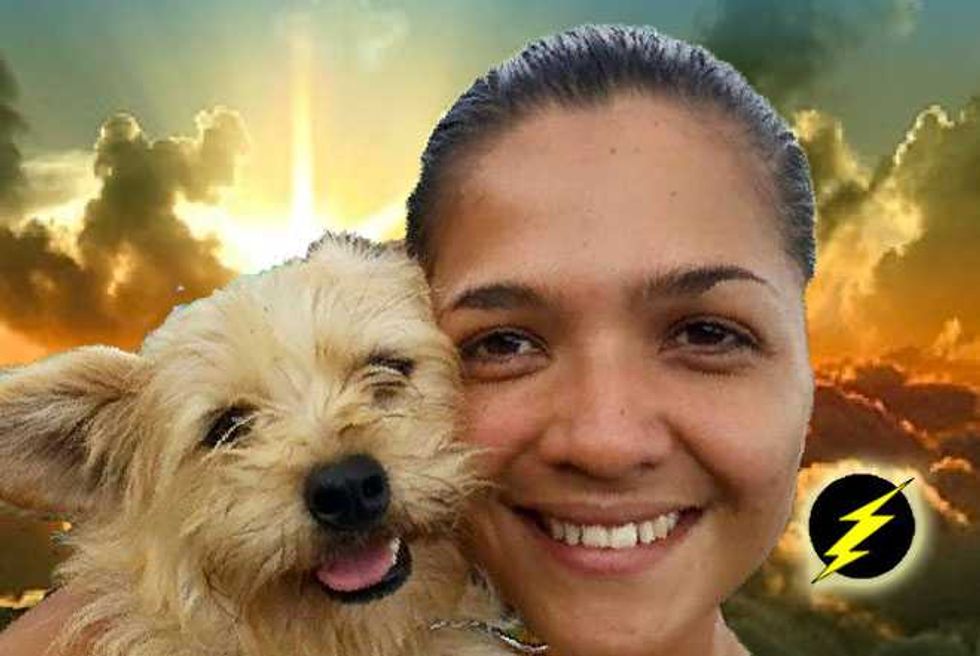 costa rica stray dog heaven
There's a Costa Rica stray dog shelter named Land Of The Strays and it's basically heaven on Earth for homeless canines.
The shelter, known locally as Territorio de Zaguatesis, a no-kill, volunteer based animal shelter that has saved hundreds of dogs from starvation, abuse and euthanasia.
Not only that, Territorio de Zaguatesis  is reinventing "the mutt."
Ever hear of a Fire-Tailed Border Cocker, Chubby-Tailed German Dobernauzer, or an Alaskan Collie Fluffyterrier?
Well, they're now all new "breeds" of dog, thanks to Land Of The Strays.
Pure-breeds are far more sought after by dog owners and can command up to $5000 per puppy.
Sadly, this prejudice leaves many mixed breeds out in the cold, which is why over 900 dogs consider Territorio de Zaguates home.
But, Land of the Strays is launching something of a public relations movement for their tenants.
Instead of depicting them as cast-off half breeds, each dog is reinvented into its own exotic, unique breed.
The sanctuary's ad campaign slogan is "When you adopt a mutt, you adopt a unique breed".
The shelter is open to the public and anyone can come and bask in all the puppy love, or better yet, adopt a friend for life!
Event though the population of Territorio de Zaguates is pushing a thousand, each dog gets plenty of tender loving care, belly rubs, and beefy treats.
As soon as the dogs arrive at the shelter/come day spa, they are spayed/neutered, vaccinated and treated for parasites.
If the vet determines that a dog is sick, he or she is given the appropriate medical attention and quarantined if necessary.
The happy hounds have acres and acres of lush green grass, rolling hills, and windy creeks.
Not to mention endless visits from people who want to come and hang out with them for the day.
And when they have tired from a dog day of playing and panting, they retire to their cozy bedding within their modern indoor facility, just after dinner is served.
If you want to donate or learn more about Territorio de Zaguates, click here.
Just Some Video Of An Orangutan Saving A Baby Chick From Drowning
ChaCha The Chimp Makes Desperate Break For Freedom From Japanese Zoo
Stop What You're Doing And Watch The Cutest Sloth Video Ever
costa rica stray dog heaven
All We Want To Do Is Watch This Adorable Guinea Pigs Eating Video
Micro Pig Twerking To Rihanna's Work Is Perfect Way To End The Week
Florida Dolphin 'Lover' Says Dolly The Dolphin Seduced Him—Yep Really
Kittens Puppies Koalas Sloths Bunnies! Cutest Animal Video Ever Alert!
costa rica stray dog heaven
Cute Young Tiger Found In Texas Wandering Along The Street!
Watching Sleeping Pig Wake Up To A Cookie May Make You Rethink Bacon
Diane Von Furstenberg Paid $100k To Have Her Dog Cloned
Puppy Shoots Florida Man Who Was Trying To Kill Him And Six Other Dogs
costa rica stray dog heaven
Suzanne Somers—Bubbles The Chimp Tried To Cop A Feel During Liberian Girl Video!
The Very Best Of The Very Worst Utterly Tragic Taxidermy Attempts
Filthy, Abandoned Puppy Gets An Extreme Makeover, Hollywood Style