TV
'Watchmen' and 'Schitt's Creek' won big, but some snubs left fans feeling burned.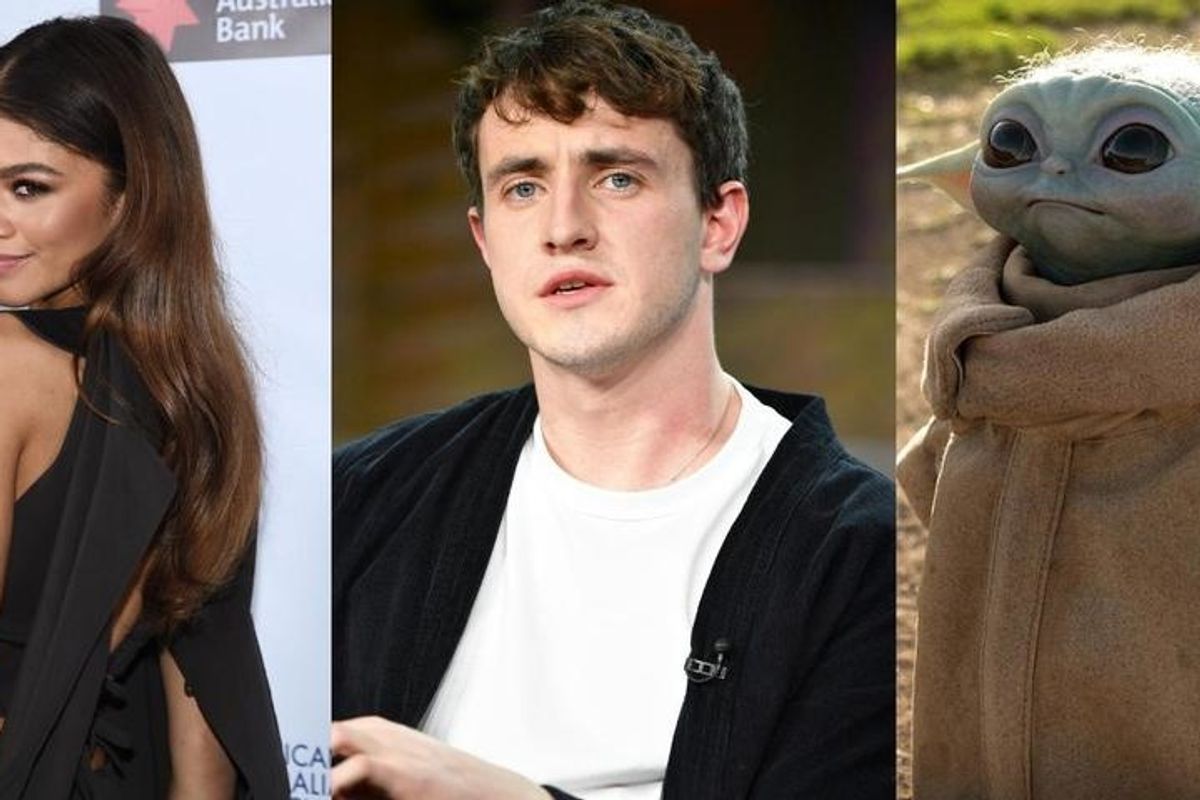 Last year, the Emmys logged its lowest viewer count ever.

Flash forward a year and the world has completely changed. A pandemic has shut down lingering dreams of a red carpet spectacle, and months of protests have re-terraformed the public dialogue about racial justice.
For many people, television has been a balm and a source of life during lockdown. Because of that, this year's Emmys could potentially be a turning point for the awards show, which—like many other awards shows—has felt increasingly out of touch over the past few years.
---
YouTubers and TikTokers are surpassing live TV in terms of cultural resonance and influence. Storytelling is migrating to more interactive forms. Out-of-touch Hollywood elites are growing more and more archaic in the eyes of increasingly disaffected Americans. Traditional beauty standards and poor racial representation at awards shows are becoming less and less tolerable to the masses. All of these factors make it clear that the Emmys and its cohort desperately need to change to fit in with the times.
An at-home Emmys show might be just what we need. A chance to see our favorite characters from the shows that helped us through so many long nights accept awards and offer words of comfort and revolution might actually be a net positive for our culture. But did the Emmys set itself up for success or failure?
Who Was Nominated?
The Emmys nominees were announced by SNL alum Leslie Jones, who made the announcement along with Josh Gad, Laverne Cox, and Tatiana Maslany. Jones' own TV performance received rave reviews online (maybe she should've been picked as the host instead of this year's chosen lead, Jimmy Kimmel).
Leslie Jones reading the Emmy nominees for Best Comedy Series deserves its own goddamn Emmy https://t.co/rmJGVXCp8T

— Anna G (@Anna G) 1595952477.0
In terms of streaming giants, Netflix won big, scoring 160 nominations (breaking HBO's 2019 record of 137). HBO won the largest number of nominations for a single show with Watchmen, the tricky and confounding show based on a comic book which entertains the notion of an alternate American future. With its themes of police brutality, civic unrest, fringe white nationalist groups, and bizarre environmental twists, Watchmen feels especially resonant in our current moment, which perhaps helped it garner 26 nominations.

The Marvelous Mrs. Maisel followed with 20 nominations, flanked by Ozark with 18, Succession with 18, The Mandalorian with 15, and Schitt's Creek and Saturday Night Live with 15. It turns out that Baby Yoda and Brad Pitt as Dr. Anthony Fauci might just be the biggest stars of the season, which makes complete sense given the bizarre cultural moment we're in.
Dr. Anthony Fauci Cold Open - SNLwww.youtube.com
While many of the shows and actors nominated were old favorites, some newcomers made it into the scene. In the category of outstanding lead actor in a limited series or TV movie, Jeremy Irons was nominated for Watchmen, along with Normal People's Irish dreamboat Paul Mescal, Hollywood's Jeremy Pope, Hugh Jackman in Bad Education, and Mark Ruffalo in I Know This Much Is True.

The outstanding lead actress category includes the wonderfully angry Christina Applegate (Dead to Me) and her equally wonderfully emotional co-star Linda Cardellini, the somewhat controversially not-Jewish Rachel Brosnahan for The Marvelous Mrs. Maisel, the glamorous trainwreck Catherine O'Hara in Schitt's Creek, creative powerhouse Issa Rae in Insecure, and the magnificent Tracee Ellis Ross in Black-ish.
Outstanding lead actors in dramas included Jason Bateman in Ozark, the ever-iconic Billy Porter in Pose, Jeremy Strong and Brian Cox in Succession, Sterling K. Brown in This Is Us, and—oddly—Steve Carell in The Morning Show, which received a surprising number of nominations for a show no one seemed to like.
Lead actresses in dramas included yet another Morning Show nom for the ageless Jennifer Aniston, the grand Olivia Colman in The Crown, and the glamorously homicidal Jodie Comer in Killing Eve. Laura Linney in Ozark was also nominated, somewhat to her own dismay. "Is it the main thing people should be focusing on? No. Is it nice that it happened for my insulated little group of people? Yes," she said to The New York Times, adding that she "can't imagine [the Emmys will] be anything other than virtual, but we can sit on the couches and celebrate. Maybe I'll wear my Snoopy pajamas."
Zendaya received a nomination for Euphoria, sparking celebration among fans.
Yesterday when I went to sleep Z's name was just Zendaya. Can't believe I'm going to sleep now and her name is lega… https://t.co/P4MbncTtuF

— Kelly 🕷📚 (@Kelly 🕷📚) 1596023829.0
Nominees for outstanding reality series included The Masked Singer, Nailed It, Top Chef, The Voice, and RuPaul's Drag Race.

Little Fires Everywhere, Unorthodox, Watchmen, Unbelievable, and Mrs. America were nominated for outstanding limited series.
Nominated talk shows included The Daily Show with Trevor Noah, Late Show with Stephen Colbert, Jimmy Kimmel Live, Last Week Tonight with John Oliver, and Full Frontal with Samantha Bee.
Comedy series nominees included Dead to Me, The Good Place, Insecure, The Kominsky Method, The Marvelous Mrs. Maisel, Schitt's Creek, Curb Your Enthusiasm, and—surprisingly—the punchy Staten Island vampire comedy What We Do In the Shadows.
The nominees for outstanding drama series were Better Call Saul, The Handmaid's Tale, Succession, Stranger Things, Ozark, The Mandalorian, Killing Eve, and The Crown.
Who Was Snubbed?
Micaela Coel's I May Destroy You debuted too late for consideration for this year's Emmys. Other shows that could've been contenders were stymied by COVID-19.
Among the snubbed: Reese Witherspoon received no nominations despite starring in three shows, sparking some entertaining fan reactions, but she's probably fine.
Reese Witherspoon wasn't nominated for an #Emmy. The internet is not happy. https://t.co/W81koAxazp

— Los Angeles Times (@Los Angeles Times) 1595965805.0
Hulu's Ramy was snubbed to some dismay from fans, though its star Ramy Youssef was nominated. The much-maligned streaming platform Quibi also received 10 nominations, which also somehow feels like a snub to quality programming

Westworld also failed to garner a nomination, as did The Late Late Show With James Corden and At Home With Amy Sedaris. Nicole Kidman did not receive a nomination for Big Little Lies, and neither did Elizabeth Moss for The Handmaid's Tale (a series that has been steadily declining in quality anyway). Awkwafina failed to receive a nomination (perhaps thanks to how annoyed people were due to her 7 train subway ads, back when we were still commuting on subways).

Four stars of Pose—Indya Moore, Angelica Ross, Mj Rodriguez, and Dominique Jackson—and the show's director, Janet Mock, were also snubbed, sparking some outrage as all these stars are trans women playing trans women, an unfortunate rarity in Hollywood (Mock is also trans). Moore tweeted in response, "I didn't invent the academy or any of the award shows. If they think my work is unworthy Chile that's just that. ... Imagine if we depended on cis ppl to validate anything about us."
Imagine if we depended on cis ppl to validate anything about us.

— 🌄 (@🌄) 1595955792.0
Ross responded with an IGTV video in which she said, "Ultimately, I need you to understand that I am so tired. Because those of you that know me know that I'm not just working in front of the screen or behind the lens or whatever. I'm working around the clock to get our society to value trans lives and Black trans lives. And listen, I feel what I feel because I feel like there is nothing we can do."
Ross continued, "This is about the Emmys. This is about the BET Awards. This is about the NAACP. This is about the Golden Globes. This is about the police force. This is about our healthcare system. This is about housing. This is about a legal system. This is about America, who refuses to acknowledge trans people and our humanity."

Ross's comments emphasize the fact that this is about a lot more than one show: It's about the fact that TV cannot delude itself into thinking it exists in silos, separate from politics—and neither can any of us. Emmys nominations are as political as everything else, and though a diverse slate of nominations won't heal everything, it's at least a bare minimum standard we can hold our entertainment industry to.
Of course, at a time when our president is sending federal forces into cities against their governors' wills, the Emmys celebration should at least be cognizant of the wider moment. This really doesn't seem like the time to be dressing up in gowns that cost tens of thousands of dollars (unless you're Billy Porter—then, please), so perhaps watching our favorite stars accept awards and critique the government while in their pajamas is the best we can hope for from this year's awards season.