Couple Arrested Having Sex On Ferris Wheel 
A horny couple are facing felony charges after they were busted having sex on a ferris wheel 550 feet above the Las Vegas Strip.
The couple, a Houston man and a New York woman were enjoying a 30 minute ride in a glass enclosed cabin on the High Roller ferris wheel when they couldn't resist getting down and dirty.
Two Men Arrested For Filming Each Other Covered In Jell-O Having Sex With A Cow
The only trouble, their ride was being captured by surveillance cameras as well as people in another car shooting cellphone video. Philip Frank Panzica III, 27 and Chloe Scordianos, 21 were warned to quit their sexy time by an intercom system but they ignored the caution and carried on stripping off, getting down to it on the floor of the pod and horror of horrors—smoking.
When the urge strikes...
Security officers were waiting for them when the ride ended and arrested them.  The police report said noted;
"Panzica was on his knees over Scordianos and removed her dress.  He also removed his clothes while standing up, exposing his penis and bare buttocks, allowing anyone in public to see.

They both said they were just having a good time and didn't think anyone would notice."
The couple were charged with committing sex acts in public and a Las Vegas judge set a court date of March 9 to see if the charges can be resolved without trial.  Miss Scordianos' lawyer said that his client believed the couple has "an expectation of privacy".
Woman Accused Of Kidnapping And Forcing Muscle Man To Perform Oral Sex
They're not the only ones to get overcome by the urge, The High Roller, which is part of the Linq Hotel has had to step up security in recent months following a spate of public indecency incidents.
Couple Arrested Having Sex On Ferris Wheel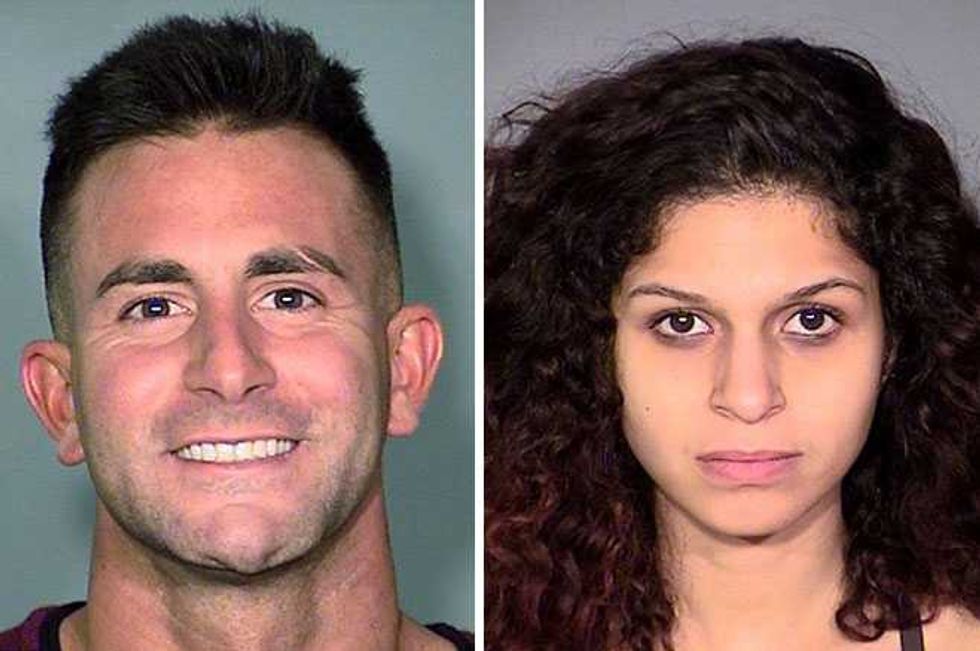 He got his!
Couple Arrested Having Sex On Ferris Wheel 
Couple Arrested Having Sex On Ferris Wheel