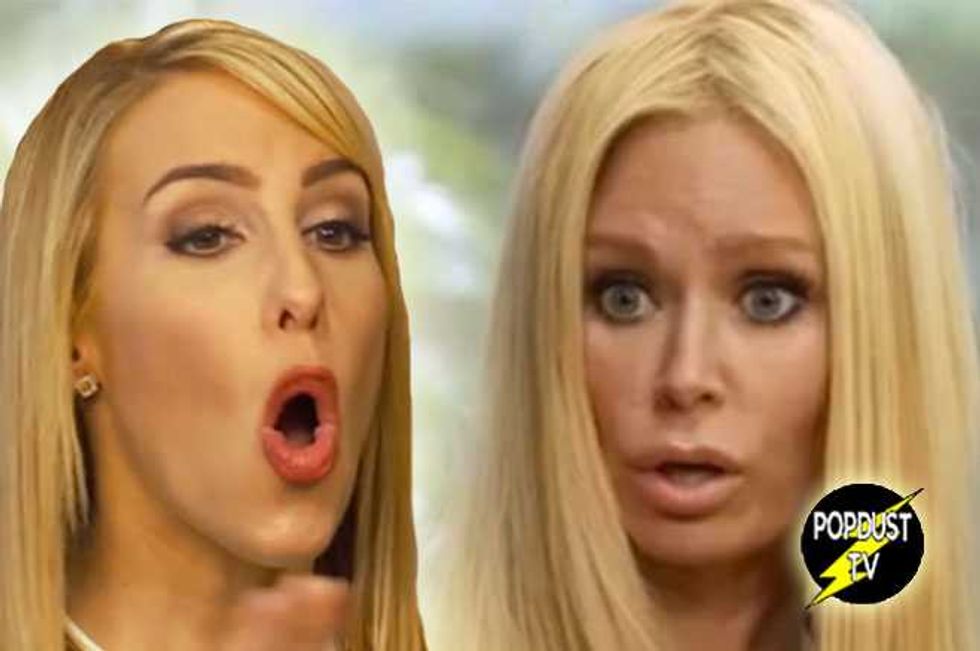 Trashy reality TV is back with a vengeance, thanks to the new season of Couples Therapy—which, three episodes in, already promises to be one of the best/worst/same same no difference.
This week, Dr. Jenn Berman, got all up in Jenna Jameson's grill after she advised Nikki Ferrell (The Bachelor star, Juan Pablo Galavis' "fiancee") to tell show producers to "suck a cock"—thereby setting herself up for an ironic boomerang. Right in the facial…. I mean face.
How anyone could be shocked by the veteran adult actress doling out such advice is mind-boggling, but the esteemed doctor put on her very best show of righteous indignation and anger.
"You Jenna, I think you are sabotaging Juan Pablo and Nikki," Berman railed, pointing a manicured nail in the direction of Jameson, before continuing, "When you sit there and you tell her to tell the producers to suck a cock, when you tell the producers, when you tell her to tell a producer to suck a cock, it's the same as telling ME to suck a cock, and it's the same as telling the therapeutic process to suck a cock."
The therapeutic process? Hahahahaha!! "Sabotaging Juan Pablo and Nikki"? Hahahahaha!!
OK, here's the back story to Cock-sucking-gate:
The episode had kicked off with Ferrell getting all agro with camera operators for like, trying to film her while she was on set. HOW DARE THEY! SHE'S NOT ON A REALITY TV SHOW TO BE FILMED!!
The acrimony escalated further after Nikki complained about Juan Pablo filming an interview for the show in their bedroom, for, like two hours.
Dr. Jenn, in a Machiavellian moment of PR wizardry, explained that the cameras are necessary to the therapy process, as they force the couples to stay "accountable" for their actions. Right, because the goal here is to help people. Not to score ratings and….oh, maybe make some money.
Dr. Jenn eventually wrangled all the couples together for a sit-down, during which she scolded Nikki for hurling a number of profanity-laced tirades at producers.
Nikki seemed suitably contrite, so Dr. Jenn attempted to re-focus Nikki's attention off of the production crew and onto her relationship woes.
However, sister-supporting team player that she is, Jenna—who appears to have thrown an arm around all the ladies in the house—quickly butted in, rallying to Nikki's defense, and insisting that she was within her rights to be pissed off at show producers if they intruded on her privacy.
That's when the aforementioned cock-sucking boomerang flew right back into the porn star's face—and a fistfight broke out, which culminated in a three-way lesbian kiss. Sadly, that footage has been lost. Or never existed cuz I just made it up.
Tune into VH1 Wednesday nights at 9/8c for all new episodes of Couples Therapy.