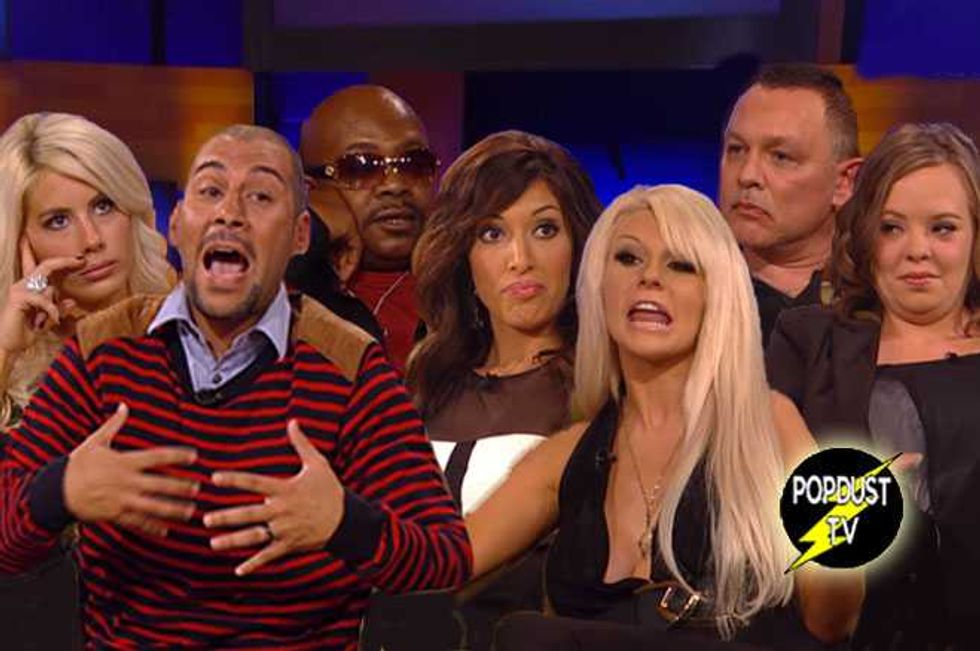 The cries of the masses have been heard! There's a Part 2 of Couple's Therapy Reunion in case you didn't get enough of last week's trash entertainment.
Things start off this week talking about Doug Hutchison's rocky relationship with his teenage bride Courtney Stodden, who by the way, needs to grow back her damn eyebrows.
After the esteemed Dr. Jenn Berman recaps their time in the therapy house, Nik Richie and Doug immediately start going at it again. Basically, Nik and Shayne Lamas are grossed out that Courtney was such a slutty slut coming on to Nik in the house…IN FRONT OF DOUG. Or to quote Shayne, "Do you think I want my man looking at that while he's eating his potatoes?" Umm, we're gonna vote no. Doug blames their portrayal on editing and everyone at the reunion simultaneously loses their shit. Courtney actually ends up apologizing and admitting that she was immature and out of line.
Shayne literally can't believe what she's hearing come out of Courtney's mouth. She's so happy that Courtney is owning up to her shenanigans that she apparently wants to hang out. "I gave you my number but you never called me," she says in her most Clueless voice. Gag. Anyway, rest assured that according to Doug, Dourtney will be together FOR. EV. ER.
Meanwhile, Catelynn Lowell and Tyler Baltierra from Teen Mom fame, announced that they've set a wedding date for next year and SURPRISE they're expecting a baby. Everything else they said was boring as hell until they started talking about Farrah Abraham's alleged remarks that they're making poor choices by having another baby. DING, here goes round one!
Tyler wants to know why Farrah went on the show in the first place, because he thinks her "relationship" was staged and it was all a set up for money. Farrah denies, denies, denies and says she didn't need the money. To which Catelynn replied, "Yeah, because you sold your vagina!" And she literally HAS sold her vagina…or at least a rubber mold of it. As Popdust previously reported, the "entrepreneur" has a line of sex toys, an erotic novel trilogy, and let's not forget her Christian parenting book. What the actual f*ck? Is this real life?
Shayne makes the mistake of raising the subject of Abraham's porn tape, and is quickly corrected by Farrah. It was a sex tape, not porn, OK? "I don't do porn!" Whoa, calm down Backdoor Teen Mom, but we think thousands of satisfied men would say otherwise.
Even with all of Farrah's questionable choices, Catelynn and Tyler are very insistent that she's an amazing mother who would do anything (and we do mean anything) to provide for her daughter. In the end Farrah and Catelynn hug it out, and all the couples live happily ever after in D-Lister paradise.
What did you think of Couple's Therapy Reunion Part 2? Sound off in the comments below!