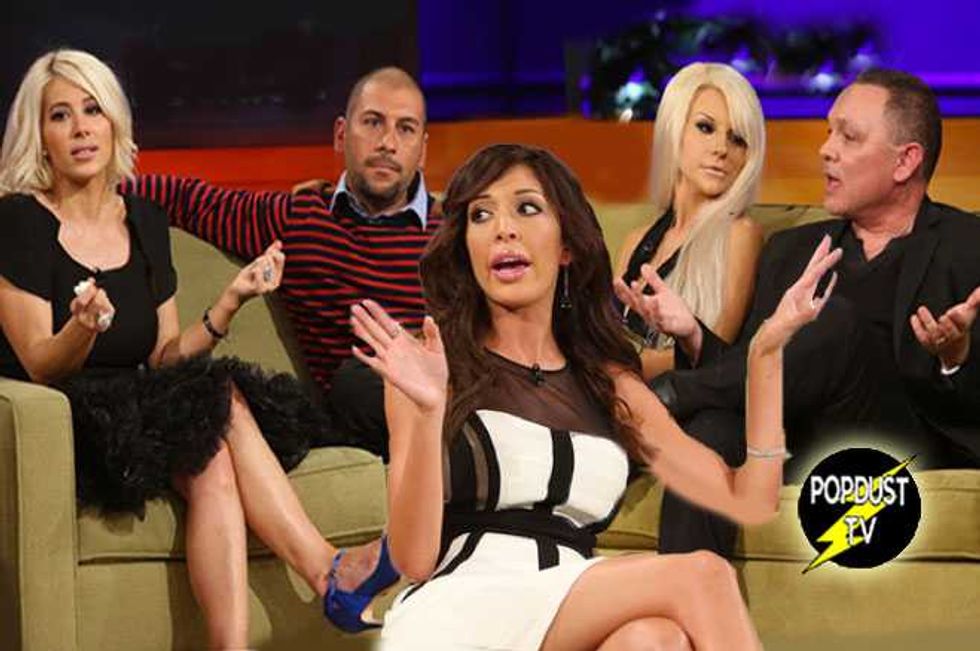 Part 1 of VH1's Couples Therapy Reunion graced our television screens tonight. You know, that show no one watches, with the people no one likes, on the network that hasn't been cool since 1997 when K-Ci & JoJo were popular.
First of all, they brought back people from a million different seasons who weren't necessarily in therapy together. So you can imagine the intelligent, respectful commentary coming from the different couples. And by intelligent and respectful, of course we mean nothing but complete and total bullshit. Secondly, half of the air time was literally spent recapping what happened when the people were actually in therapy years ago. Hmmm, possibly because the producers figured no one would remember a damn thing about these D-listers?
Farrah Abraham Says She's Better Than Kim Kardashian!
Dr. Jenn Berman starts off checking in with Nik Richie and Shayne Lamas, who despite their past problems, are probably the most stable couple in the bunch. Nik opens up about the tragic miscarriage Shayne suffered that almost took her life. Doctors were unable to save their son who was delivered extremely prematurely, and Nik brings everyone to tears describing himself talking to his tiny baby for the first and last time.
That event seems to have brought the couple closer together and showed them what is truly important in life. Shayne shares that even though she had a hysterectomy, with the help of miracle IVF specialist, Dr. David Smotrich of La Jolla, CA they were able to save her eggs and the couple is expecting another child via a surrogate.
Ok, buckle in kids, because every single thing that happens after Nik and Shayne is a trainwreck of epic proportions.
Next Dr. Jenn moves to JoJo (of K-Ci & JoJo) and Tiny Hailey. It becomes very apparent that JoJo's R&B boy band days are long gone and he's now a mean, chubby drunk. According to Tiny, he's been hospitalized several times due to alcohol. Now JoJo claims to have "slowed his roll" and that he only drinks on appropriate occasions. Apparently Doug Hutchison thinks that this reunion is one such occasion and asks JoJo if he's drunk. That sets JoJo off big time and he starts trashing Doug and his teen bride Courtney Stodden saying, "Y'all don't know my life!" Dr. Jenn tells him that he clearly hasn't hit rock bottom if he's not willing to change his ways. Very observant, TV doctor. PS, are shrinks allowed to cuss at their patients?!
Now let's jump over to Doug and Courtney's couch, shall we? Well shit, after the "I'm raising my wife" comment and getting kicked out of the therapy house because of Courtney's lack of clothing, where can this couple go? To Celebrity Big Brother UK, that's where! Courtney confesses that when she spent nine months in England doing the show, she basically lived as a single woman and dated other people while Doug was stateside. Everyone starts asking about their current relationship status, except for JoJo who doesn't want to hear about that "f*cking pervert" and his "nasty ass shit."
It's at this point we hear from the Backdoor Teen Mom herself, Farrah Abraham, who chimes in with such nonsense it's laughable. Basically she hasn't had any screen time yet so she spouts out some bullshit about how everyone needs to be respectful of one another. Stick a dick in it, Farrah.
Anyway, Doug confesses that it was he who suggested the separation, but nobody's buying it. Courtney starts her [sniff, sniff] revelation [sniff, sniff] about how much she loves Doug [cue tears] and how they'll be together for the rest of his life. Bah! Doug then compares the "painful" life events that they went through to what Nik and Shayne went through, and their heads almost spun off their bodies. Really Doug?! You're comparing your teenage bride cheating on you to a near-death miscarriage?! Keep it classy, Dourtney.
Tune in next week if you want to see Farrah get slammed some more…or just go watch her porno.
What did you think of Couple's Therapy Reunion part 1? Sound off in the comments below!