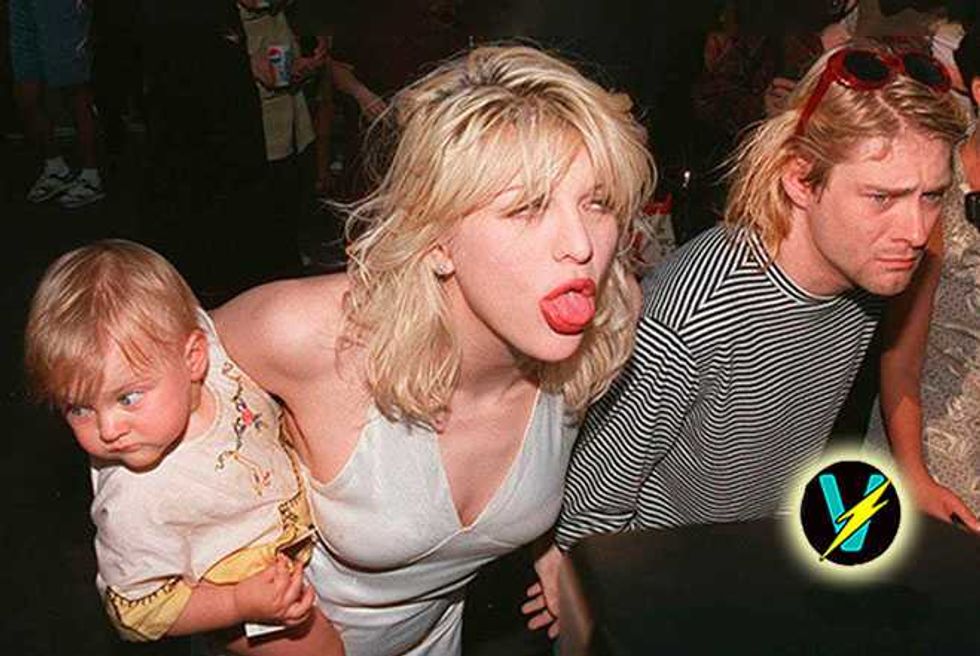 It was inevitable we were going to hear from Courtney Love sometime before the documentary about her late husband, Kurt Cobain, premiered on May 4.
As Popdust previously reported, the couple's daughter, Frances Bean Cobain, executive produced Montage of Heck, which documents the Nirvana frontman's childhood, music career, and untimely death, by suicide, in 1994, when he was just 27-years old.
Love sat down for an interview with filmmaker, Brett Morgan, who directed Montage of Heck, and talked in depth about all the personal memories that were triggered by the documentary, why she agreed to cooperate and provide access to Cobain's personal archives—and, why she chose to stay out of the  film (for the most part).
The 50-year-old sets the record straight about how she and Cobain met—he wrestled her to the floor backstage at the Satyricon in Portland, Oregon, in 1989, after she insulted his girlfriend and was mean to him, then pretty much stalked him (figuratively) until she got her man—and, about how she was "vilified" after marrying him.
Just marrying the guy created a mythology around me that I didn't expect for myself, because I had a very controlled, five-year plan about how I was going to be successful in the rock industry. Marrying Kurt, it all kind of went sideways in a way that I could not control and I became seen in a certain light—a vilified light that made Yoko Ono look like Pollyanna—and I couldn't stop it.
Love claims she initially had no intention of actually seeing the documentary, but was ordered to do so by her agent, something she's ultimately grateful for, as it brought her closer to her daughter (whom she's had a very fractious relationship with over the years, culminating in Frances taking a restraining order out against her mom back in 2009 )


I asked Frances to come [see the documentary] with me and she didn't want to see it a second time because it had been, for her own reasons, harsh on her. He died when she was a year-and-a-half old, so she doesn't know him except for the way the public knows him. It was such a public death, and for that generation it was the JFK moment, if you will. Everyone knows where they were.

So, to see it in that room with my daughter was very cathartic and I was very happy to spend a little time with him and to find out, to see things and hear audio, and see into his heart. It was an important moment of bonding between Frances and me, and I think it's very healing for our family and for our relationship.
However, not surprisingly, it wasn't all joy and happiness, as Love reveals she was "really fucked up" by all the memories the documentary inevitably threw up—including her and Kurt's amazing sex life.


I remembered the sexual relationship, which, as you know, is the core of any good marriage. It almost rendered other intimacies meaningless. I remembered how much I love him, and it made me really think about a few other people I don't want to name, but a few other people I've been in love with. And should I have married them? The answer is actually no.

Nobody else was as funny. Nobody was as compatible and got my jokes. And you can see it in the film. Neither of us really liked the whole "Courtney is the bad guy" thing. He fucking hated it as much as I did because it shamed him, it emasculated him, and it made him look weak.

He is considered to be the rock star who didn't want fame, the weak pathetic guy who was taken over by this controlling female, and yadda yadda. It kind of fucked me up, and to be honest with you, I don't have a boyfriend right now, so I'm single.
But, according to Courtney, although she will always love Kurt, the documentary did help her evaluate what she wants in a relationship going forward.
 [The film] made me really evaluate what, at the age of 50, I want out of a relationship. He's a hard act to follow. I love him and I always will.
You can see Kurt Cobain: Montage of Heck May 4 on HBO GO—in the meantime, check out Popdust's gallery of photos from the documentary, and watch the poignant trailer below.