Courtney Stodden has put in an appearance at Comic-Con dressed as a superhero.
As always when talking about Courtney we use the term dressed very very loosely.  Ms Stodden was actually wearing more body paint than fabric, but hey, everyone's idea of a superhero is different.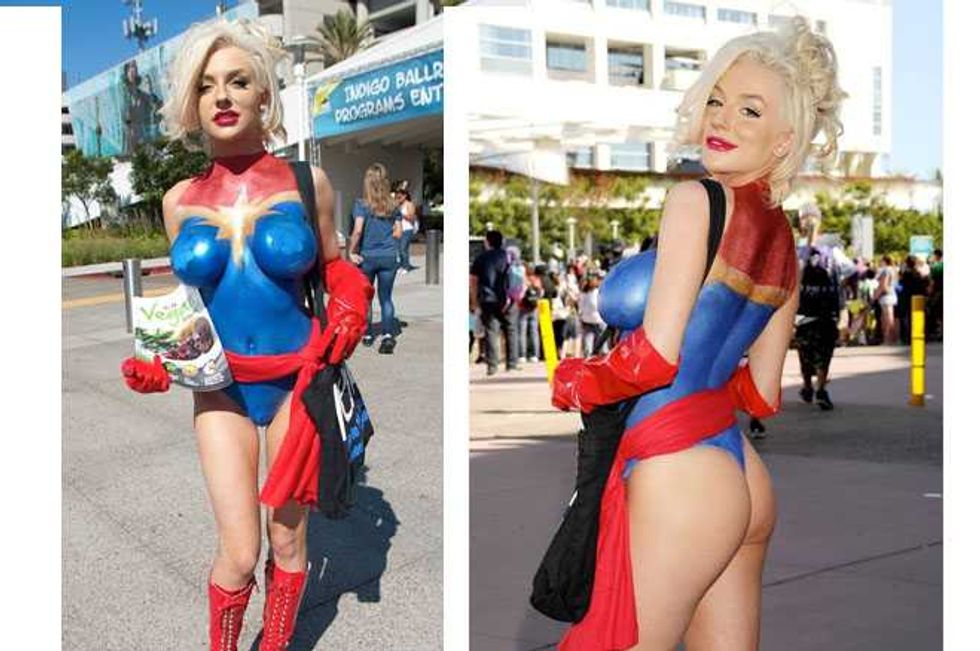 There is a thong in there somewhere...
Courtney Stodden Celebrates St Patricks Day The Only Way She Knows How
The 20 year old was trying to spread the message of PETA and did, for modesty's sake, wear a tiny little thong—but that took some working out, as it was covered in paint too, giving the impression she was completely naked. She based her costume on Captain Marvel, although her gravity defying tits must  surely have super powers of their own!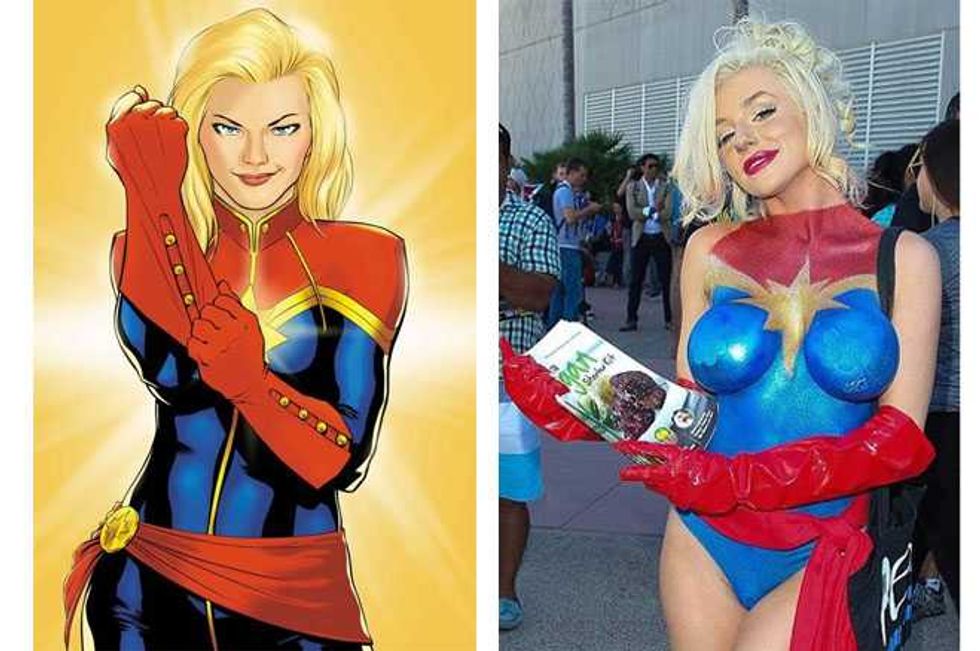 Spot the difference...
Suicide Squad Cast Revealed—How Do They Stack Up To Comic Book Counterparts?
The stars are flocking to the San Diego event, with Star Wars fans particularly pleased to see Harrison Ford on his first outing since his air crash in March.  Jennifer Lawrence has been having a ball with her Hunger Games co-stars, Josh Hutcherson and Liam Hemsworth and they have been joined by  the likes of Rob Lowe, Halle Berry, and Bill Murray (who rendered Jennifer Lawrence completely starstruck when she ran into him).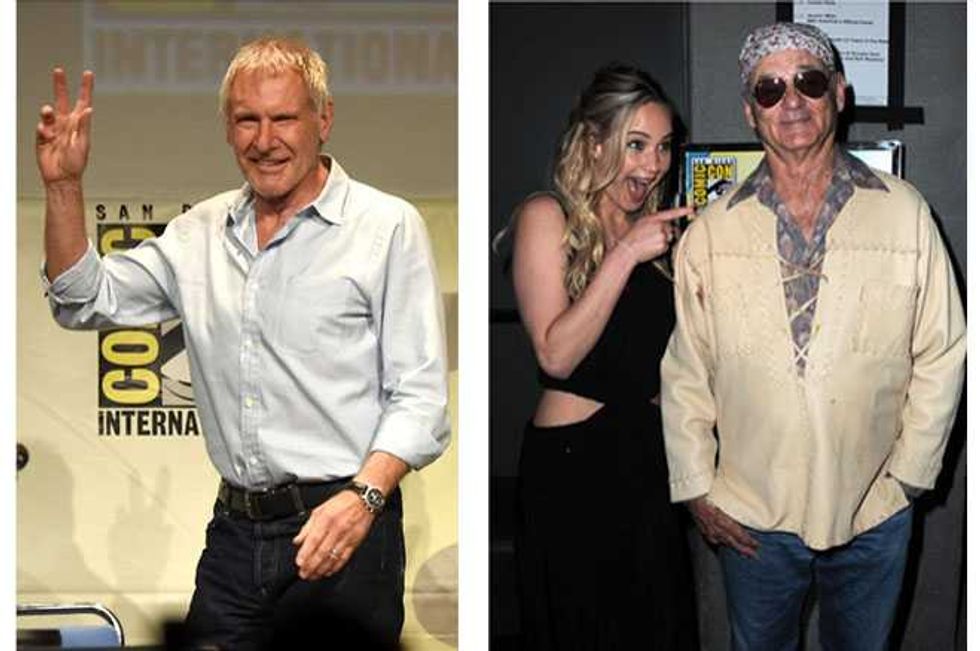 Nice to see Harrison Ford out and about, and J-Law showing us she's as goofy as the rest of us when she runs into her hero.
Watch! Bill Murray's Hilarious Drunken TV Appearance
Chloe Sevigny Slams Jennifer Lawrence—She's Annoying and Crass!
Courtney was certainly the one turning heads on Friday though, and once she got people's attention, (which let's face it wasn't hard dressed like that) she took the opportunity to hand out literature promoting veganism.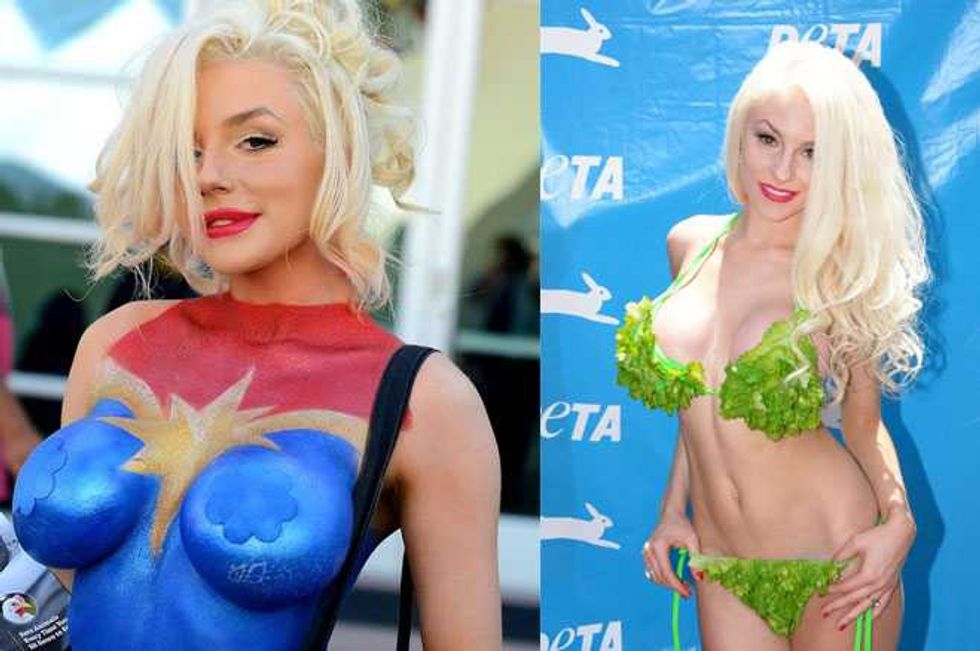 Courtney would rather go naked...than just about anything else.
Courtney was famously just 16 when she married 55 year old actor Doug Hutchison and has been an ardent supporter of PETA for some time—memorably posing in nothing but a lettuce leaf bikini last year.
She takes the "I'd rather go naked....." message of PETA to a whole new level!