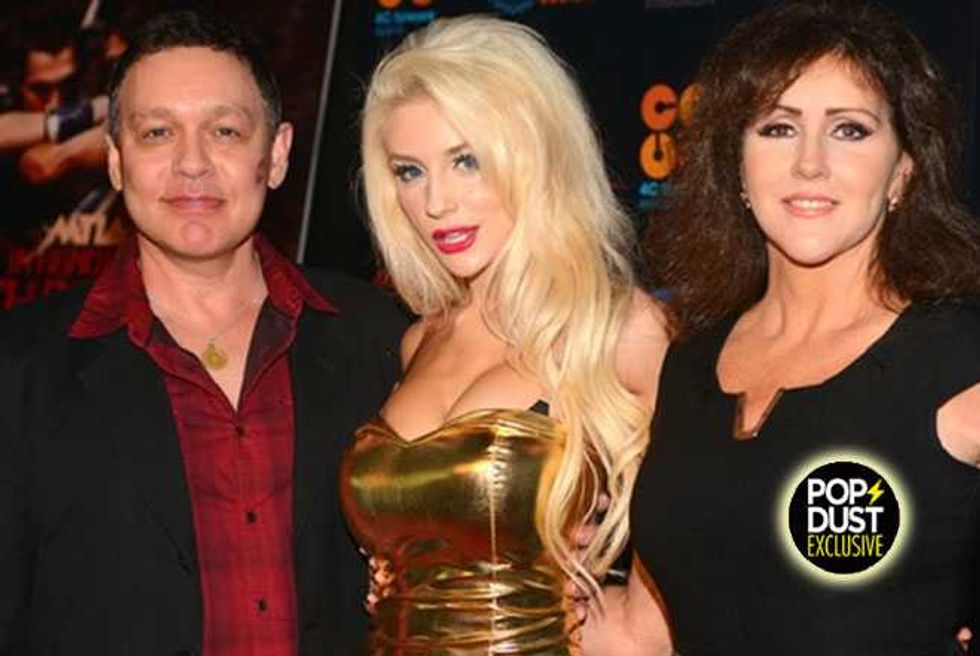 courtney stodden mom threesome Courtney Stodden Ex-Publicist Backs-Up Her Mom's Threesome Claims
Courtney Stodden's ex-publicist has come out in support of his former client's mom, following claims she made about her son-in-law Doug Hutchison.
As Popdust previously reported, Stodden, and mom, Krista Keller, are currently appearing on Lifetime's train wreck TV extravaganza, The Mother/Daughter experiment.
Permanently Naked Courtney Stodden Has Nose Job Because She's Self Conscious
She says, she says 
courtney stodden mom threesome
Last week's bombshell episode saw 21-year-old Stodden go head-to-head with her mom after accusing the 56-year-old of trying to steal her husband.
Keller denied Stodden's accusations—and, in an interview with Us Weekly, claimed Doug was the one chasing after her—even going on to claim Hutchison was angling for a threesome with the mom-daughter duo.
All Hail Courtney Stodden—Robert De Niro Of The Millennial Generation
Marital problems
courtney stodden mom threesome
Keller said she became close to Hutchison during the time he and Courtney were having marital problems, and things quickly progressed from there.
This was a hard time for Doug, so Doug was reaching out to me because I was right next door, and I was there for him emotionally.

You know, it looked like every time [there were issues with Courtney], Doug wanted to talk with me — I don't know if Courtney much liked it, but I was there for him when she wasn't.

He was asking me to stay there with him and saying that he's had fantasies of having both Courtney and me. And so when he started talking like that, I thought, 'Oh, my God — this is headed in not a good direction.'

So I'm the one that actually decided to step away and encourage Doug to find help somewhere else.
Courtney Stodden Releases Sex Tape To Help Children With Cancer
In support of Krista
courtney stodden mom threesome
Many have doubted Keller's version of events, but, Stodden's former-publicist, Jim Strzalkowski, who helped the "teen bride" achieve new heights with music, fashion and pop-culture fame, is coming forward to support the starlet's mom.
In an exclusive statement to Popdust, Strzalkowski writes:
As much as I respect my previous working relationship with Courtney Stodden and Doug Hutchison, I do feel obligated to support Krista Keller, whom I worked and socialized with very closely during our time together—over the course of approximately 18 months.

It was a real roller-coaster ride with lots of highs and lows and drama in between. Krista did divulge to me the truth about Doug's lust for her and his taboo fantasies. It was a hard pill to swallow. I can substantiate all of Krista Keller's current claims and stand in her defense.

Courtney really was a very sweet, fun and outgoing girl, but she took her personality into a new direction and Krista and I became moving targets. Doug wanted complete control and they worked to prevent Krista from stepping on any red carpets or even being quoted in articles. I was always torn because Krista did compensate me, as did Courtney and Doug for my service.

We experienced notable success but it all came to a halt over jealousy and control issues.

I can say that Krista Keller is a wonderful person and was only ever trying to make her daughter happy.

Believe me, Courtney and Doug do not want the real skeletons in the closet to be revealed publicly.  Krista is a class act all the way and was not interested in any husband-stealing or outrageous shenanigans.

I can't believe she is being thrown under the bus, but then again, I've been there. Thank God I survived.
And, survive he did.
Life after Stodden
courtney stodden mom threesome
After the Courtney and Doug experience, Strzalkowski left Hollywood to return to his hometown on an extended break when his father passed away in late 2014.
Courtney Stodden—From Jail Bait Teen Bride To Innovative Design Genius!
He is now deprogrammed and rehabilitated from the Courtney Stodden brainwashing régime and working to help his hometown of Buffalo, NY with their resurgence and renaissance by producing a Buffalo-inspired dance single called "Queen City."
Check out what the former flack is up to now and listen to his demo by visiting his GoFundMe.com/BuffaloBliss page.
Strzalkowski is calling for generous donations to help support his new project. Are you with him?
For more entertainment, world, music and pop culture updates and news, follow Max Page on Twitter