Courtney Stodden Nose Job
It's safe to say that Courtney Stodden is no stranger to the operating table.
The 21 year old teen bride, has had her boobs done, lip fillers and veneers but she's still not happy with her look.
Courtney Stodden 'Dresses' As Naked Superhero At Comic-Con
Young Courtney says she's never been happy with her nose;
"I'm not wild about my bump on the side of my nose. In pictures or on red carpets I just feel really self-conscious about this bump."
Accompanied by her husband, 55 year old actor Doug Hutchison and an Entertainment Tonight film crew, Stodden recently underwent a nose job to remove the (barely visible) bump as well as deal with some breathing issues. She is very pleased with the resulting cute little nose, and hasn't ruled out future surgery when her body starts to droop.
All Hail Courtney Stodden—Robert De Niro Of The Millennial Generation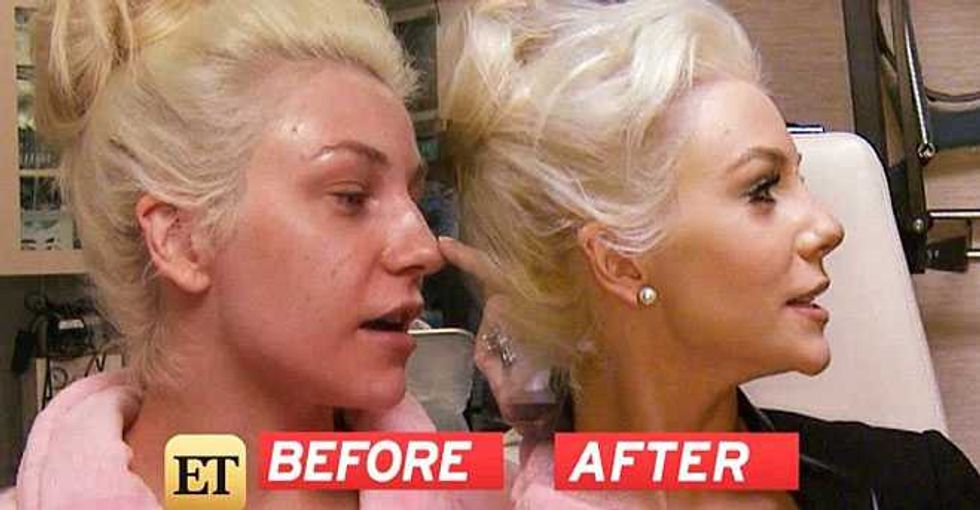 We love the fact that she was self conscious of her nose. Bless her. In practically every photo ever taken of her she is wearing very little. Hell she's even appeared at Comic-Con walking around naked except for body paint—yet she's self conscious about a bump on her nose?
Believe me honey, no-one is looking at your nose.
Courtney Stodden Nose Job
Courtney Stodden Nose Job