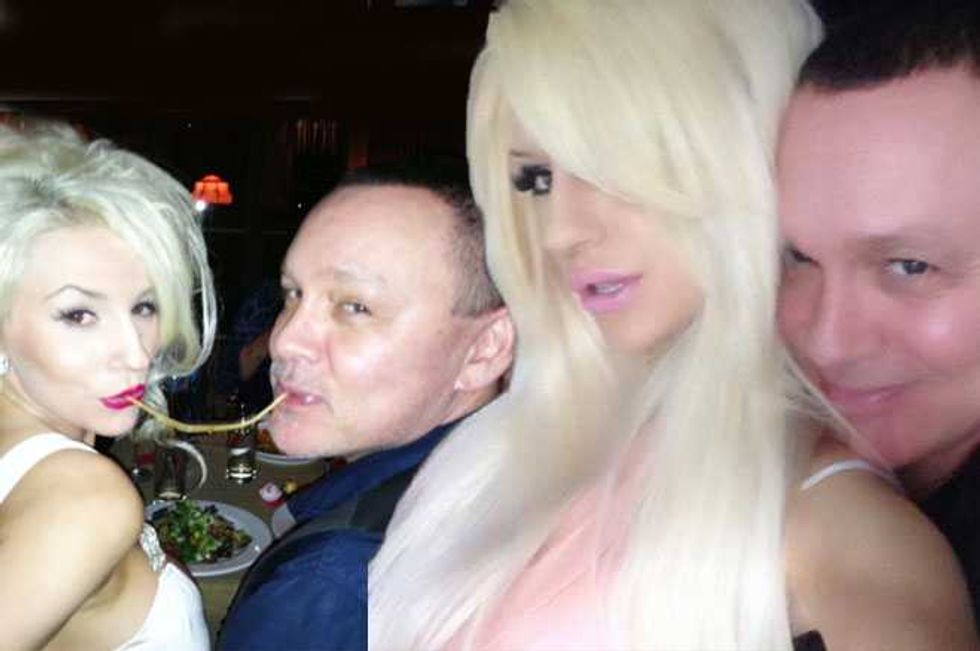 Courtney Stodden has spoken, and you better be listening.
The Teen Bride is opening up about cheating; the reckless, promiscuous, wild oat sowing days following her split from Doug Hutchison; and how ultimately, God saved their marriage.
Stodden—who shot to fame after marrying then 51-year-old Hutchison when she was just 16—spilled all in her blog for British newspaper, The Daily Star.
In the post, titled, "'I wanted to be reckless and promiscuous' Courtney Stodden on wild single life" the now 20-year-old sets the record straight on all those rumors she cheated on Doug, the authenticity of their marriage, and how she is NOT a gold digger.
"Ever since I appeared on the Couples Therapy Reunion Show on VH1 last week, there has been a lot of speculation about the authenticity of my marriage as well as accusations that I cheated," she writes. "I'm here to set the record straight.
"I'm very much in love with Doug. Our marriage is stronger than ever and I look forward to renewing our vows together. And, though I had relations with other men after our break-up, I never snuck around and cheated."
Stodden goes on to explain how she suffered a crisis of marriage faith while appearing on the British show, Celebrity Big Brother, after the epiphany that while she was getting her marriage license, other young teens were out there exploring the big, bad world and having fun.
"I married young and never slept around before saying 'I do' [I was a virgin on our honeymoon]," she continues.
"So, once I was in that CBB house – away from my home, away from Doug, away from my family for the first time ever – I felt as if I was thrown into a whole other world of partying, drinking, flirting, no rules or morals, as if I was thrust into an alternative universe experiencing the 'typical' teen years that got cut short."
She then confesses to feeling the need to, "'sow my wild oats', so to speak, and experience what it would be like to be young, reckless and promiscuous."
Explaining she was upfront and open about all of this to Hutchison, who, although "crushed", allowed her the freedom to get it all out of her system, all while continuing to demonstrate "true selfless love".
Luckily for poor old Doug, it appears his teen bride quickly tired of the single life after just a short six months of partying, drinking and hooking up with dudes—none of whom, she says, matched up to experienced, actor hubby.
"I learned very quickly that the dating world, especially in Hollywood, isn't all it's cracked up to be. And that promiscuity, in the end, is meaningless and unsatisfactory despite being exciting at first," she writes.
And, when her experimental phase was over, good old Doug was there waiting for Courtney with open arms and they both lived happily ever after in wedded bliss (with a little help along the way from the big guy up there in the clouds)
"It took some time, a lot of healing, heart-to-hearts and getting back to God, but eventually Doug and I returned into each other's arms and we've never been happier," Stodden shares, before concluding by setting the gold digger rumors to rest.
"Before Doug, and during our separation, I was wooed by producers, athletes, musicians/actors, doctors, lawyers, politicians, you name it. I was even pursued by an extremely wealthy Saudi prince," Courtney explains. "None of them intrigued me in the least. None of them captured my heart.
"So trust me. If I were a true gold-digger, the gold mines out there are plentiful and I know how to wield a shovel. But me? I'd rather dig for a good man regardless of stature, regardless of bank account. I'd rather dig for things like character, kindness, honesty, faithfulness and strength.
"And I did. I just can't help but dig Doug!"
The Love Story of our generation is about to start a new chapter...