Trueself
Black Is King made us realize we need a cow print dress, stat.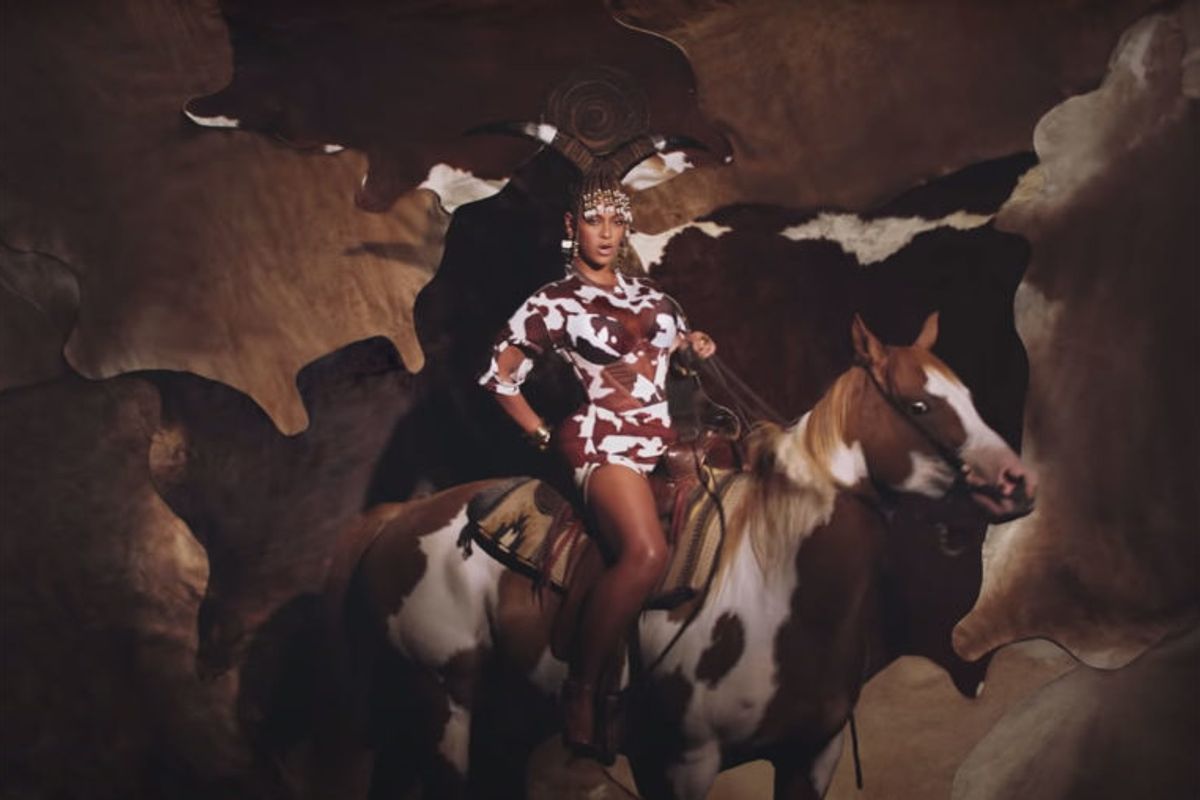 If there's anything more visually stunning than Beyoncé herself in her new visual Black Is King, then it's the fashion donned by Queen Bey and her plethora of co-stars.
Set to the music from Beyoncé's 2019 album The Lion King: The Gift, Black Is King is an artistic spectacle. From elaborate sets to costumes that belong in a museum, the film is chock-full of memorable moments—namely that fantastic cow print outfit.
Animal print has been having a moment for quite a while. Last summer saw the reign of the leopard midi skirt, while winter welcomed an abundance of zebra print. Those prints surely aren't going anywhere anytime soon, but lately, they've faced competition with the latest arrival from the animal kingdom: cows.
---
Despite her ties to The Lion King, it's no wonder that Beyoncé chose to don a custom Burberry bodysuit for Black Is King. It gives off an unexpected Wild West aura, rather than a more typical jungle look. Now, suddenly, we need to fill our entire wardrobes with cow print.
Below, we've rounded up our favorite cow print pieces to incorporate into your wardrobe.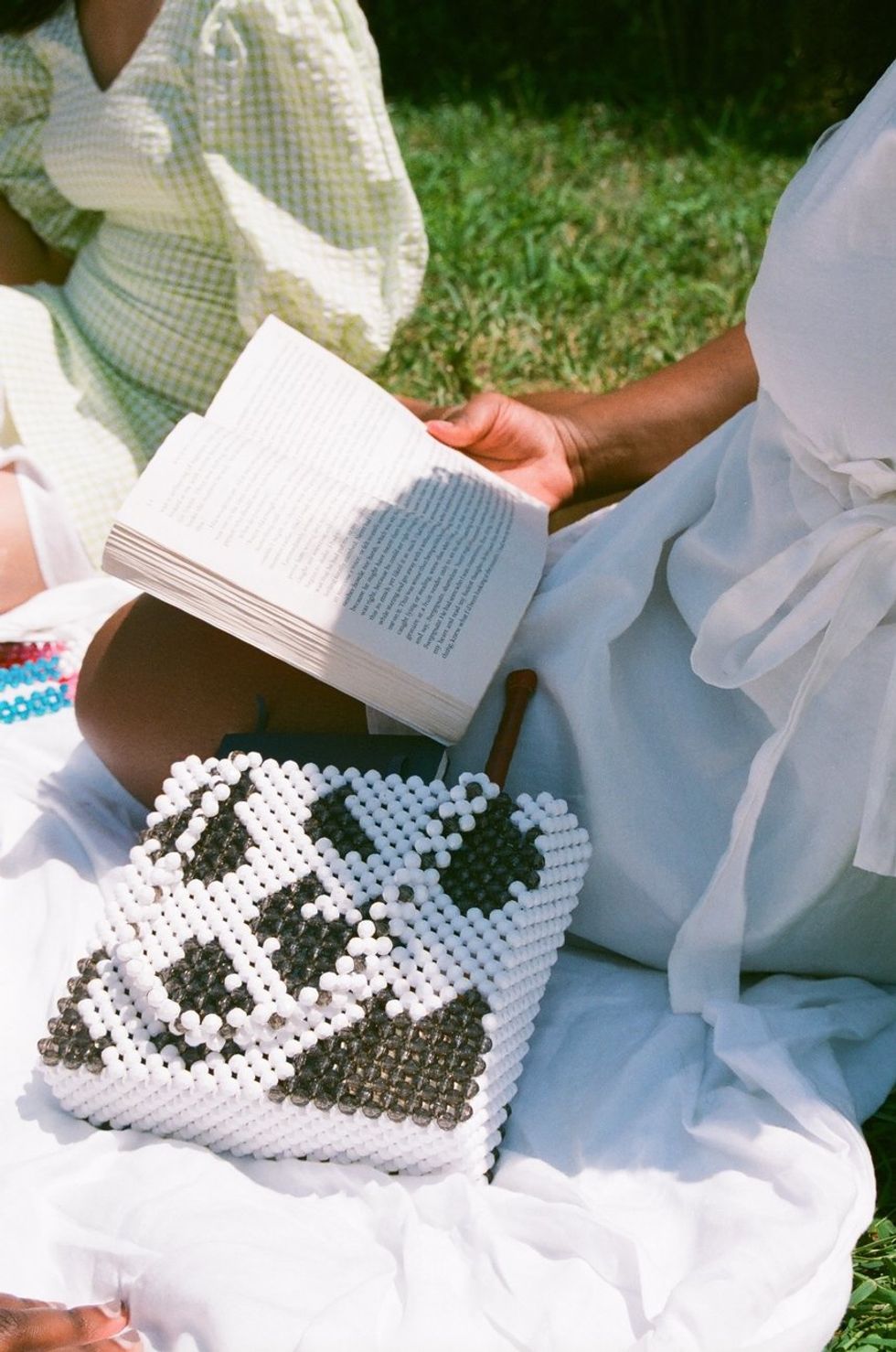 New York designer Susan Alexandra is already a go-to for accessory junkies looking to break the mold of typical upscale purses, creating playful, hand-beaded bags and jewelry in bold colors and prints. While most of Alexandra's pieces are intended to make a statement, this cow-spotted one is neutral enough to tote around with you every day.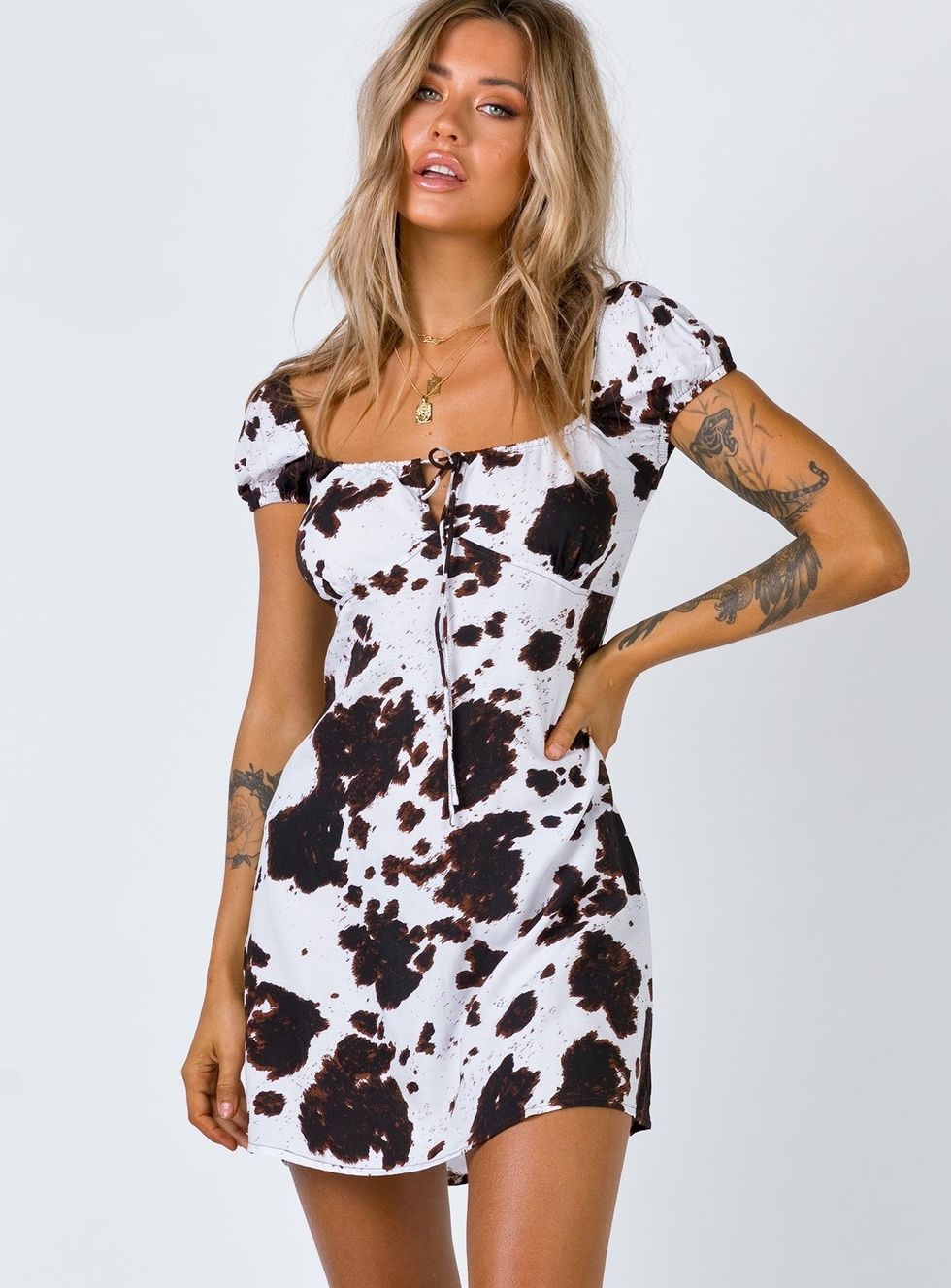 If outdoor dining and drinks are finally becoming a reality in your area, then there's no better excuse to put on an ultra-girly dress. This one from Motel looks just as fun with cowgirl boots as it does with dainty sandals or your favorite white sneakers.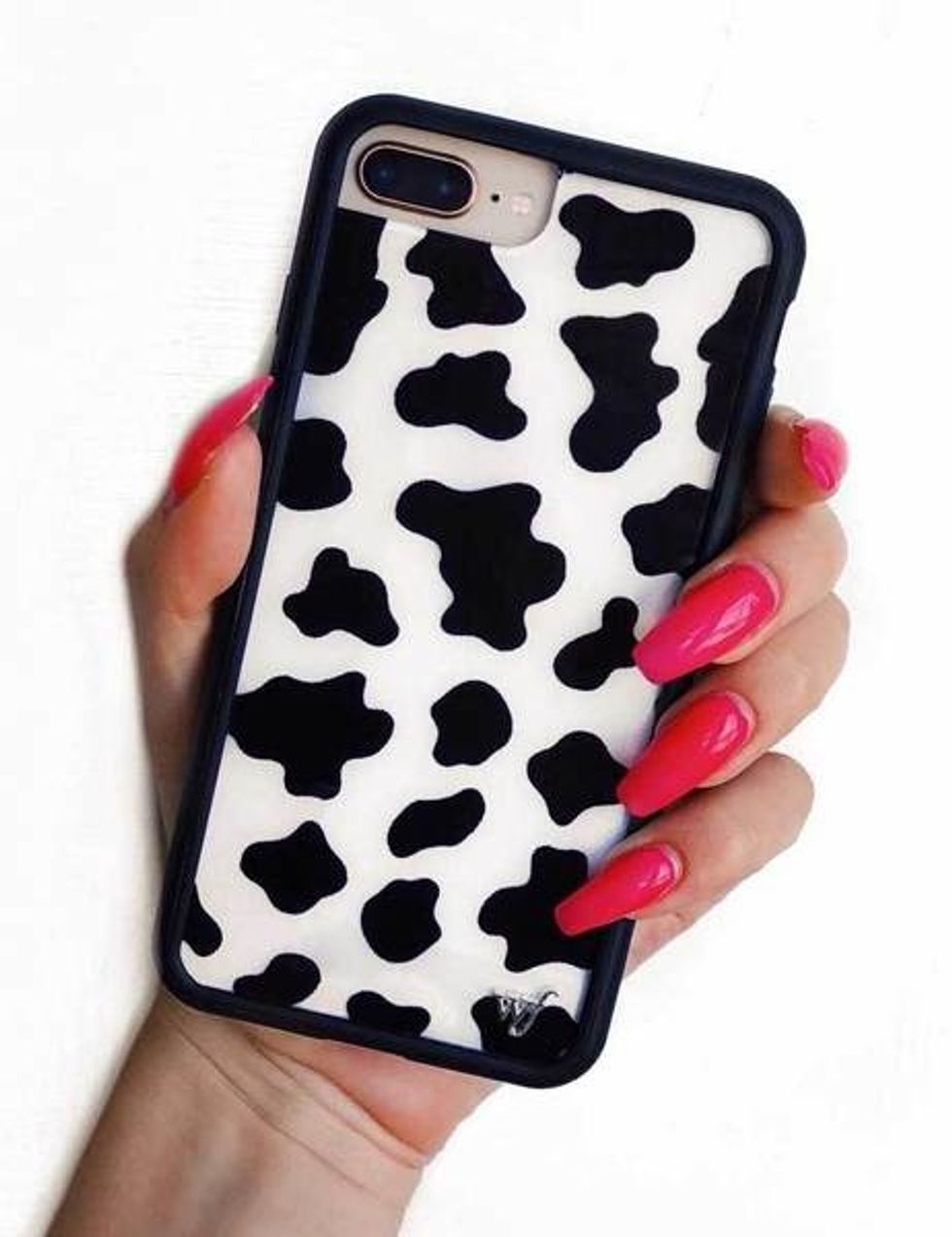 With their constant rotation of prints, Wildflower offers sturdy, collectible cases to match any outfit. Their recent cow-print case is a great way to incorporate some farmhouse flair into your life each time you check Twitter for the latest political disaster.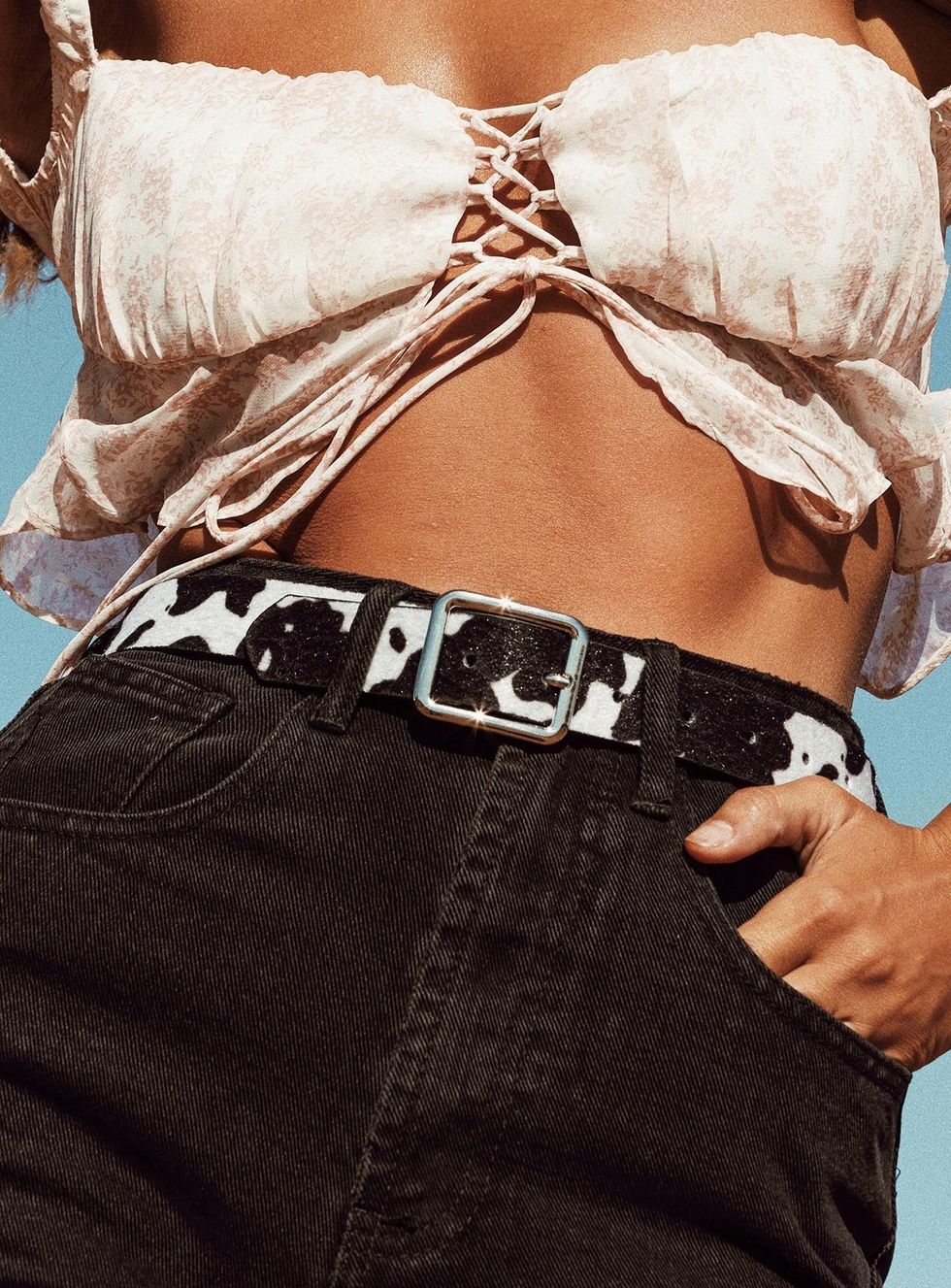 If you ask us, belts are one of the most overlooked accessories in the fashion world. If you just want to try dipping your toe into the cow print trend, this belt is an easy way to spice up a simple outfit.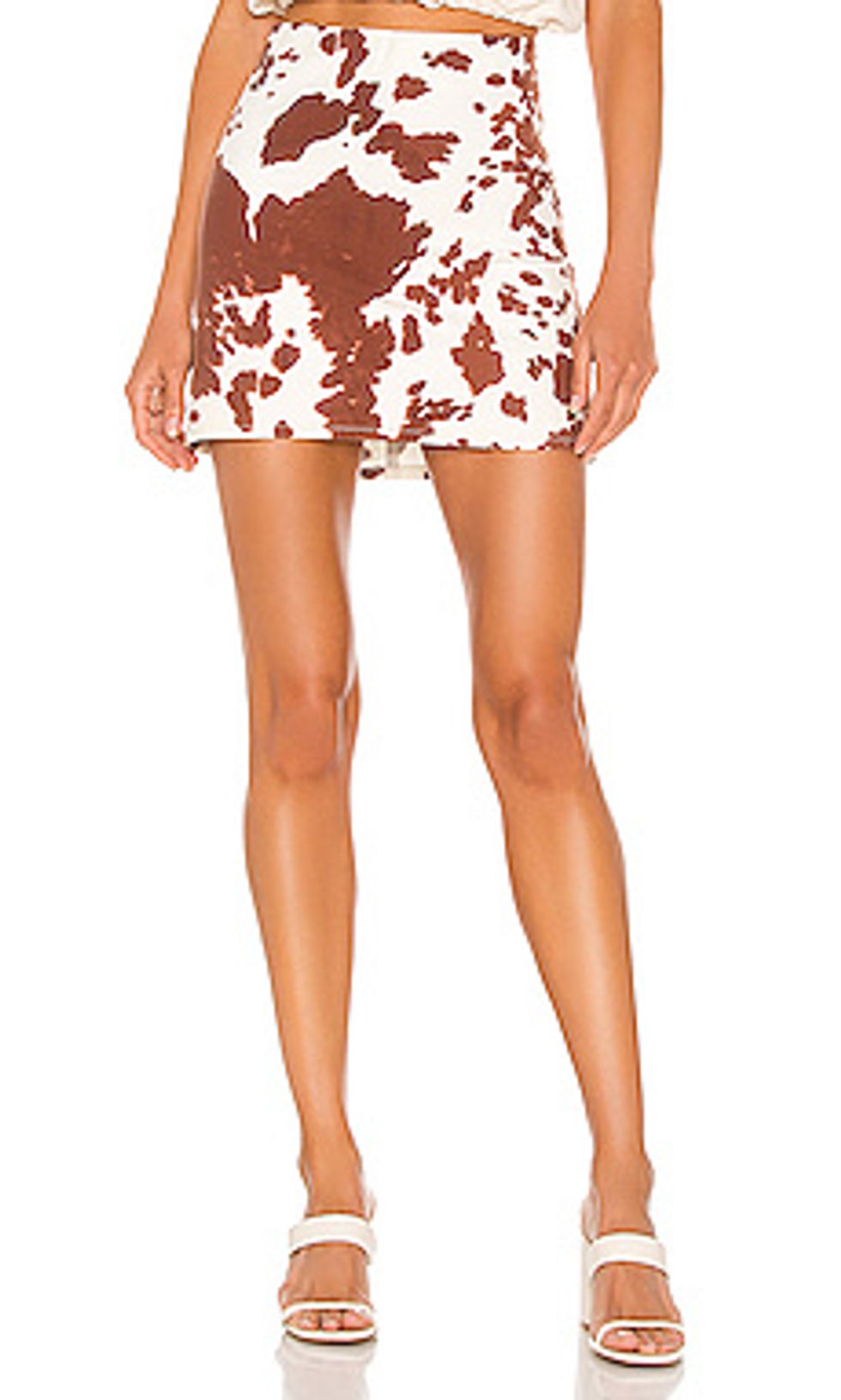 What article of clothing screams "summer" more than a printed mini skirt? This one is destined to be the new version of the leopard print midi skirt sported by nearly every woman in New York. Dress it up with a white blouse or dress it down with a worn-in vintage t-shirt.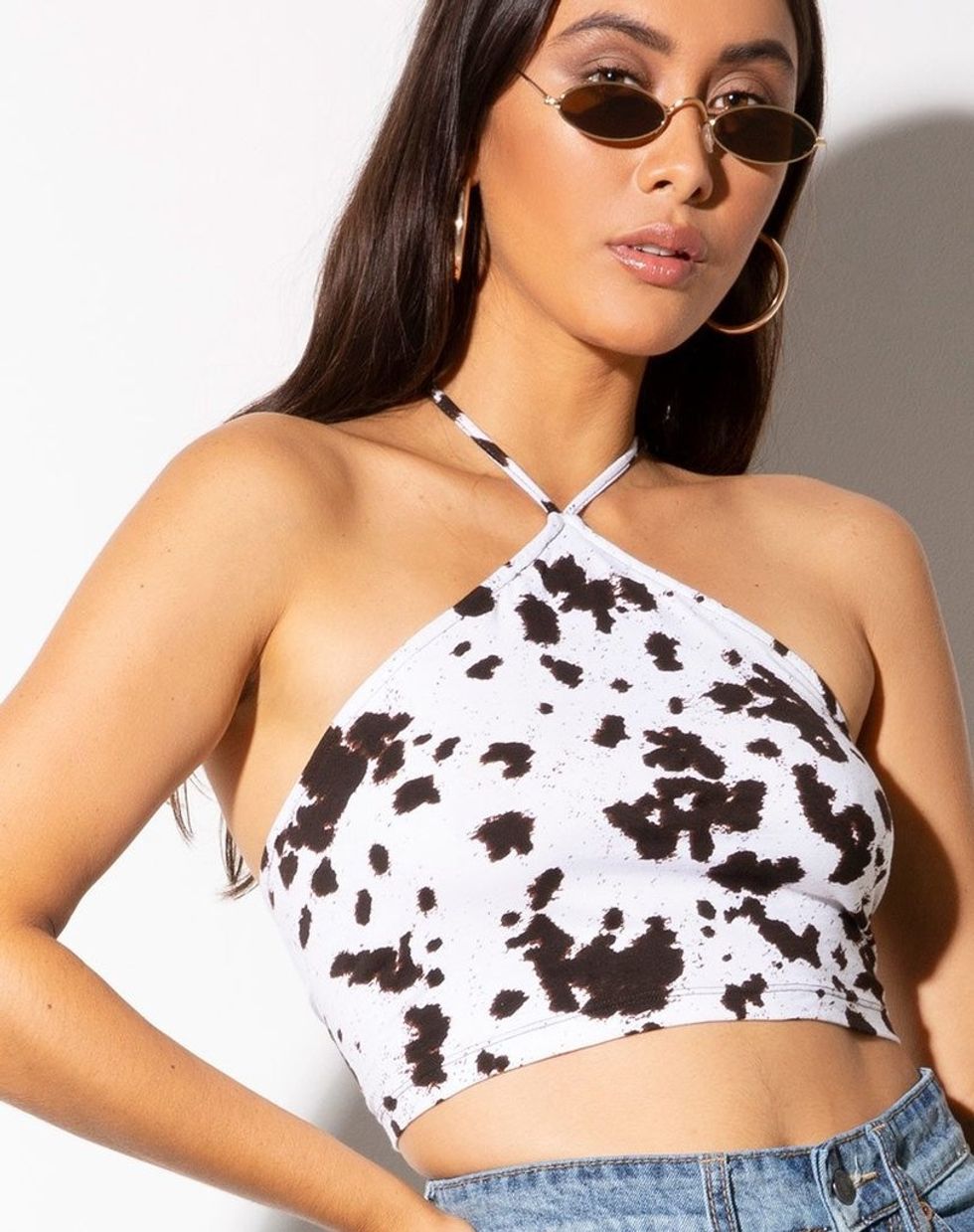 School might be starting up again soon (or is it?), but it's still hot out there. Keep cool with this teeny crop top also from Motel, that just begs to be worn with your favorite jean shorts.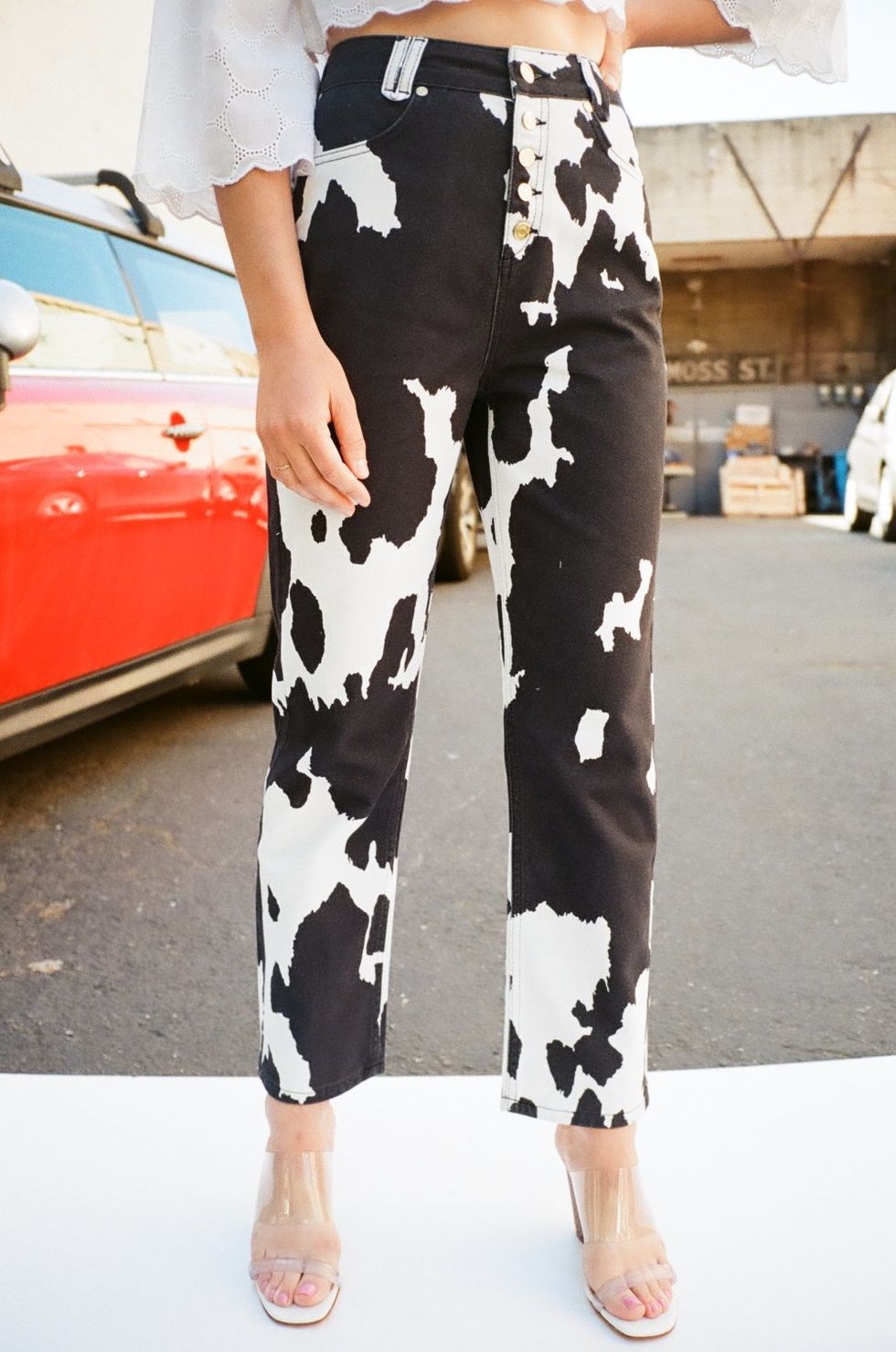 House of Sunny is an up-and-coming sustainable label focused on small collections. Their pieces go fast—like these incredible printed jeans—but once you get your hands on it, it's worth the chase.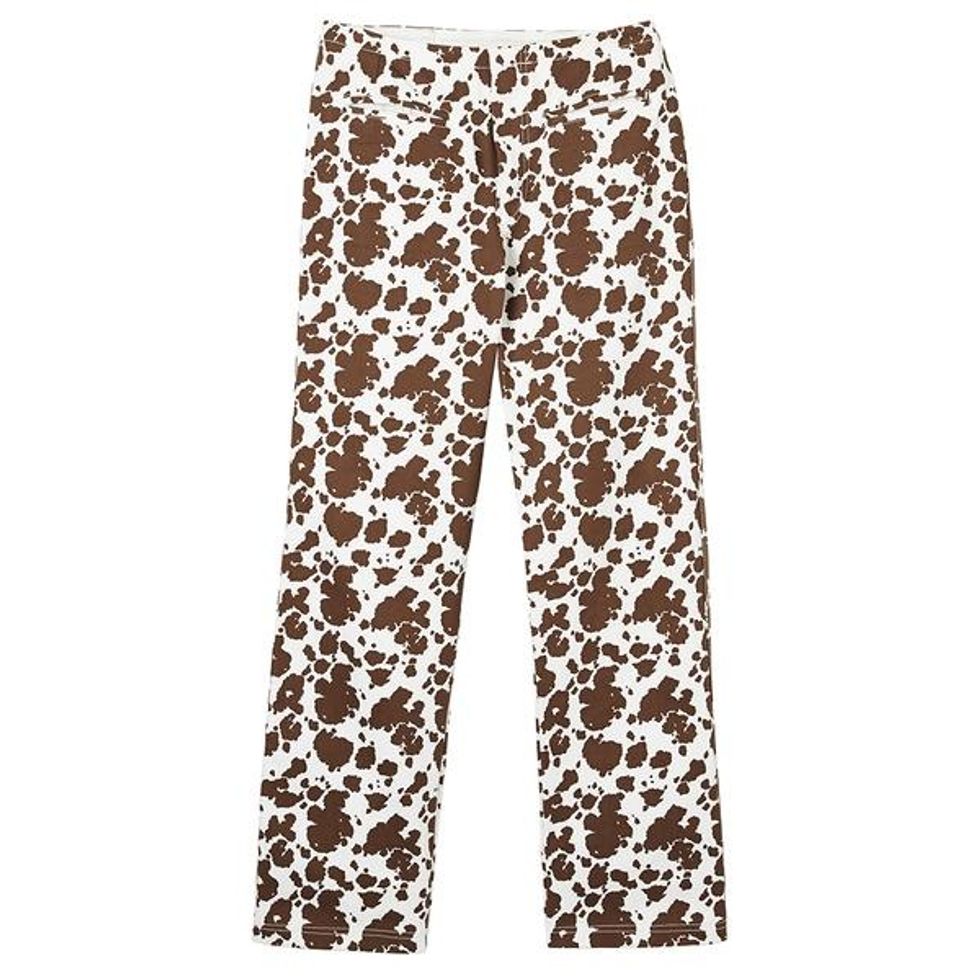 Holiday the Label is another up-and-coming sustainable brand. Based out of Australia, their Kokomo pants have become the latest obsession of It Girls everywhere, available in a rotating batch of eye-catching prints. In cow print, it's a match made in heaven.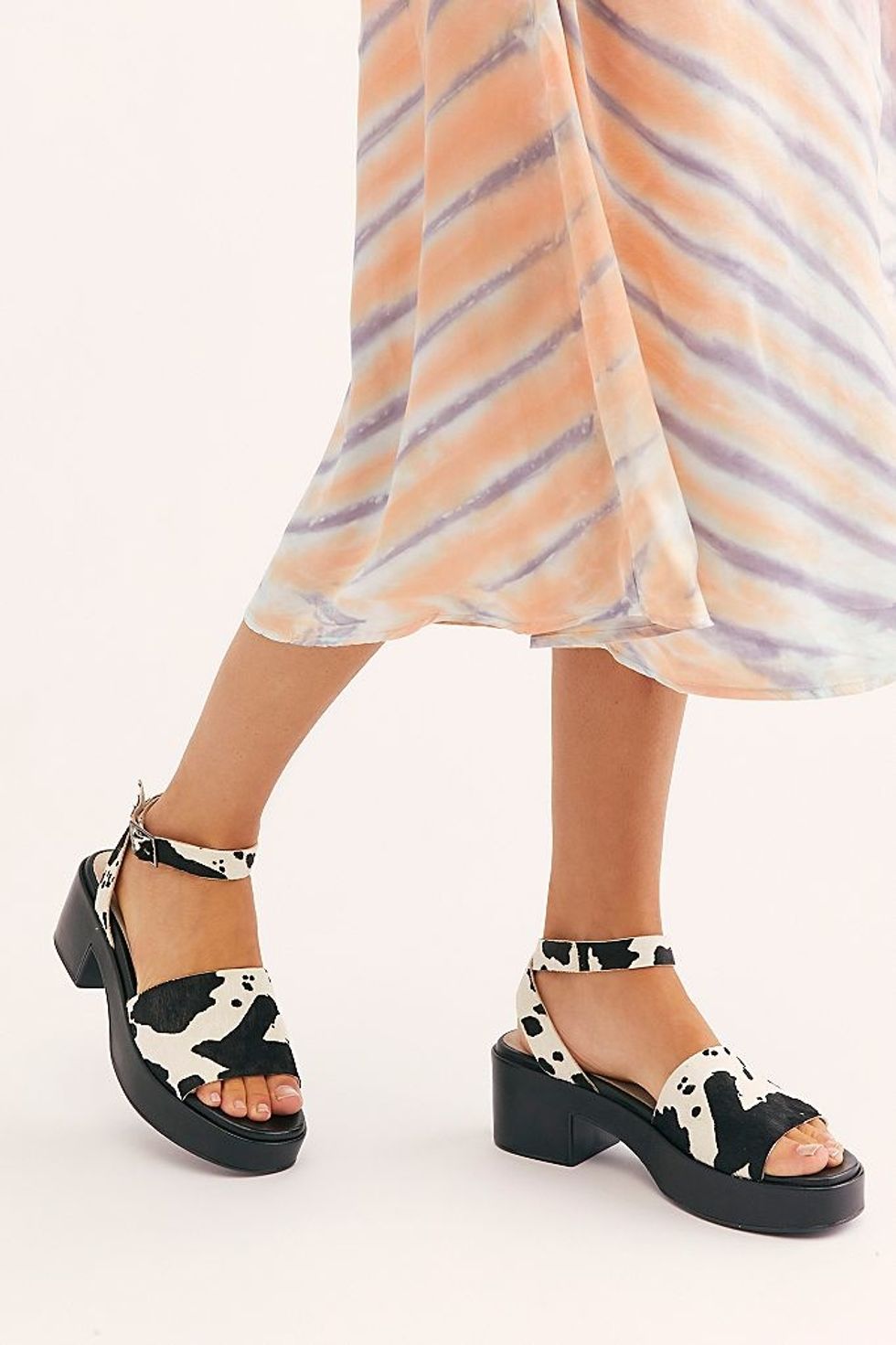 Nobody has the time or ankle stability to wear heels—especially if your usual footwear lately has been house slippers. Platforms are the best way to literally elevate your look; this Free People pair features a cow print strap that's still subtle enough to go with just about anything in your wardrobe.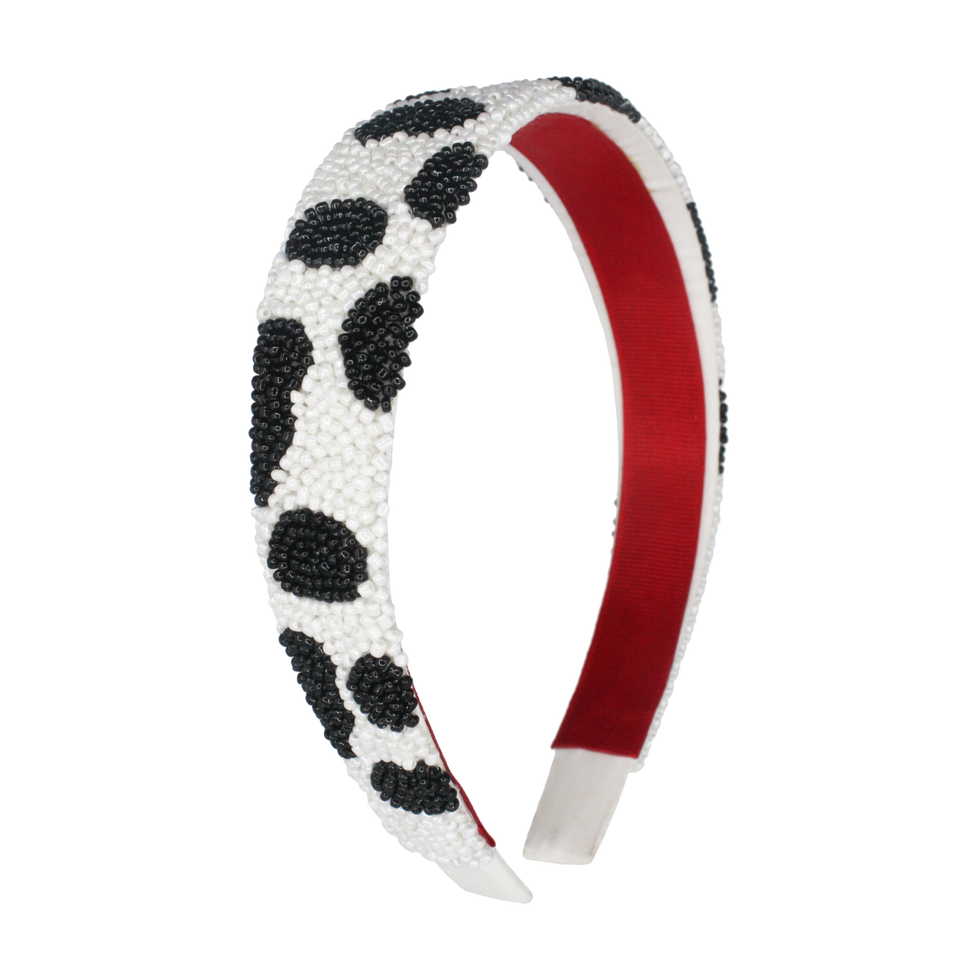 So, you cut your own bangs in quarantine and it was a mistake. We get it. Keep them at bay with another Susan Alexandra staple, her beaded headbands. In cow print, this luxurious hair accessory becomes just as chic as it is functional for those at-home hair mishaps.