TV News
You're all invited to my mid-2000s sleepover watch party.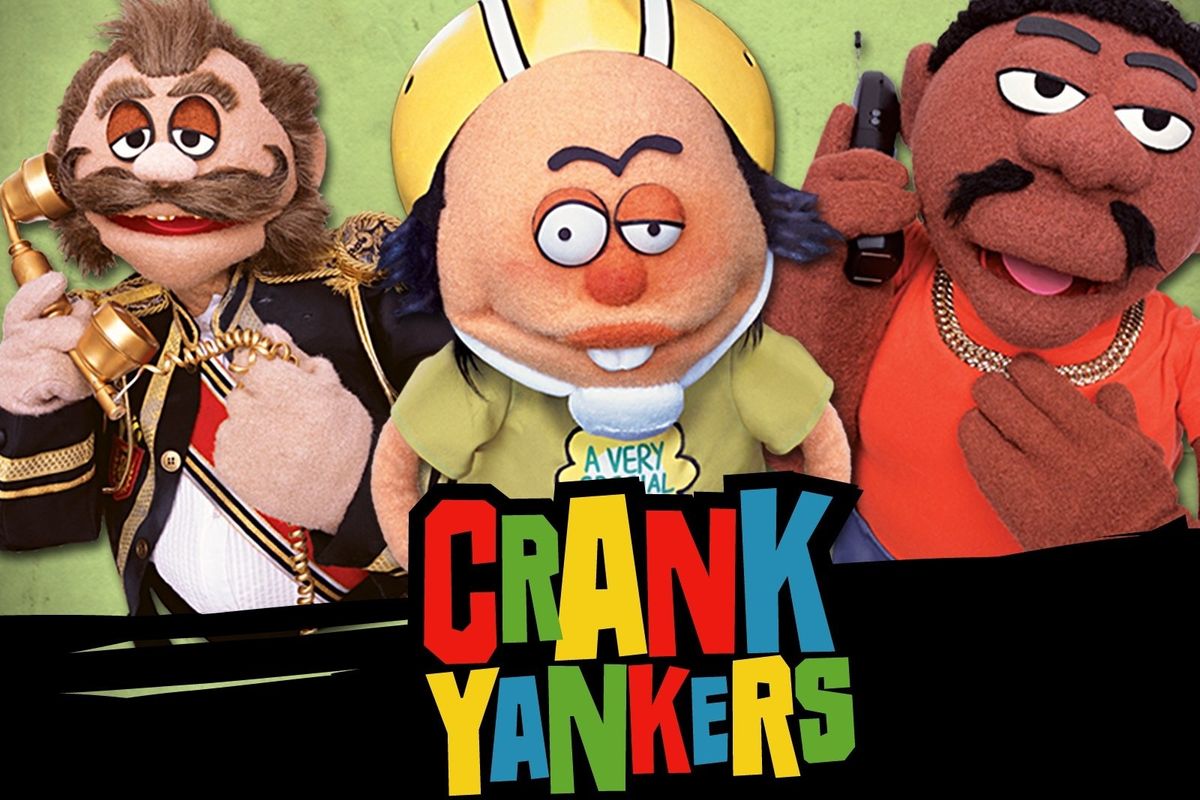 Amazon.com
In the mid-2000s, Comedy Central had a golden age of adolescent humor and political incorrectness.
From Chappelle's Show and Reno 911! to some of South Park's tightest seasons, the network welcomed unabashed irreverence. This week Comedy Central renewed our middle school urge to rile strangers with a 20-episode revival of Crank Yankers. The original series ran from 2002-2007, treating prank calls as an art form by featuring celebrity guests making actual prank calls to unsuspecting strangers and businesses. Onscreen, puppets in imaginative sets acted out the ridiculous and elaborate scenarios laid out to the strangers.
The original masterminds behind the series, Jimmy Kimmel, Adam Carolla, and Daniel Kellison, will all serve as executive producers, with younger brother Jonathan Kimmel serving as showrunner. Each half hour episode will follow the original format, but the network promises that this time "the world's favorite profane puppets will be pranking on phones, social media, e-sport platforms and any venue where trouble can be made."
Jimmy Kimmel said, "Crank Yankers has always been my favorite show to make. Nothing is more fun or makes me laugh harder than a great crank call and I am thrilled that Comedy Central asked us to do it again. At this time, I would like to ask all Americans to disable their caller ID. Thank you."
Whether or not Crank Yankers 2.0 will try to match the same level of high-octane profanity that brought us recurring characters named "Special Ed" and "Spoonie Luv" remains to be seen. Until then, here are three clips that perfected the art of prepubescent sleepover pranks:
1. "Gladys Reports a Turd"
Wanda Sykes voices an irate women picking up her car from a parking service and reporting a "human turd in the back seat."
Crank Yankers - Gladys Reports a Turd youtu.be
2. "Want a Taste of Helen's Cookies?"
An elderly woman calls in an order to her local grocery store and attempts to solicit the young clerk to delivery her cookies personally (he goes for it).
Crank Yankers - Want a Taste of Helen's Cookies? youtu.be
3. "Spoonie Places a Personal Ad"
Recurring character Spoonie Luv attempts to place a personal ad in the Village Voice, but the operator is forced to tell him that it's "too raunchy" to print.
Crank Yankers - Spoonie Places a Personal Ad youtu.be
---
Meg Hanson is a Brooklyn-based writer, teacher and jaywalker. Find Meg at her website and on Twitter @megsoyung.
---
POP⚡DUST | Read More...

"Aladdin" Trailer Is A Frustrating Reminder That Will Smith Isn't Truly Blue
The Best 2019 Grammys Moments... JK Here's the Worst