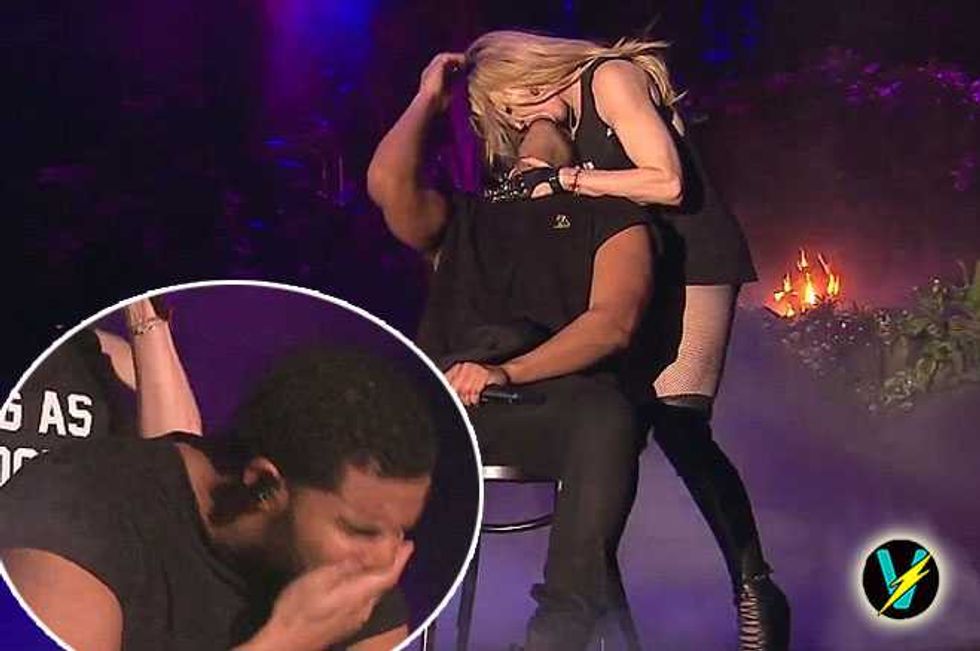 Madonna gave Drake not so much a cheeky snog on stage at Coachella on Sunday night as an out and out devouring!
We all know Madonna will do anything to try and stay relevant, kissing girls on stage, the excruciatingly inappropriate photo shoots and red carpet appearances, however this one raised the 'ick' factor a fair few notches.
While she was performing Express Yourself and giving a lap dance to Drake, the 56-year-old mother of four decided to full on express herself by planting a smacker on the 28-year-old rapper's lips.
She looked like she was literally eating him alive and what she didn't see when she had chewed him up and spat him out, was the look of horror on Drake's face and him wiping his mouth!
He seriously looked like he was going to throw up!
Poor old Madge isn't having a good time of it on stage this year. She took a tumble at the Brit Awards when one of her dancers yanked her cape before she could untie it, sending her crashing to the floor (maybe he was worried she was going to come kiss him and needed to take her out!)
Now this!
Maybe it would be more shocking if Madge just (I never thought I'd say this phrase) acted her age and stopped embarrassing herself.  It's just not fair on the public! Give it a break grandma!
Coachella continues next this weekend for its second and final three days of revelry.  Tickets are still available at TiqIQ.com and potential ticket-buyers who don't have any camping passes can find cheap hotels in Palm Springs for as little as $43.