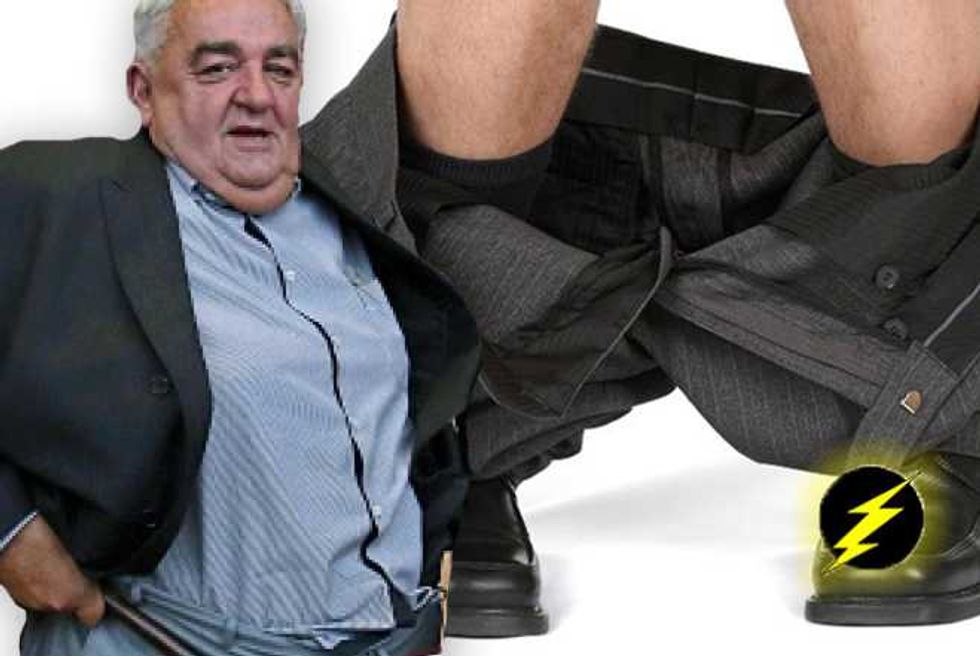 croatian human rights pants president
Ever had that dream where you're semi-naked and exposed in front of a bunch of strangers? Like, you're standing on a stage surrounded by thousands of people, and you suddenly realize you're only wearing a vest?
Well, that was pretty much a real life nightmare for this poor Croatian Human Rights dude, when his pants fell down around his ankles as he accepted an award from the President, in front of the world's media.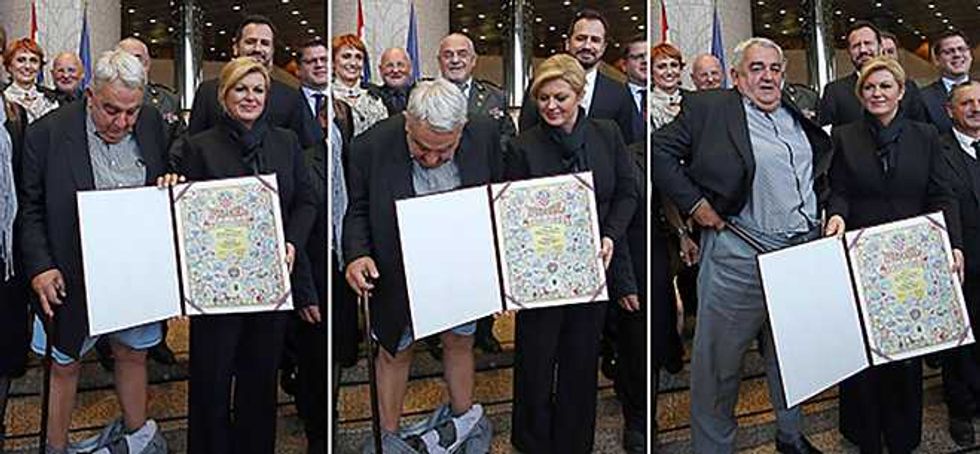 Yeah, that's not embarrassing AT ALL.....
Croatian Helsinki Committee president Ivan Zvonimir Cicak was standing front and center, posing for a group photo in Zagreb on Tuesday, next to President Kolinda Grabar-Kitarovic, at an event marking tomorrow's international human rights day, when he unwittingly dropped trou.
Yeah, that's not embarrassing…..AT ALL…..
Horror Of Brazil's Jails—Inside The Dangerous, Squalid Human Rights Disaster
Holding on to his award with one hand, a walking stick propping him up in the other, poor Ivan looked down at his blue boxer shorts and exposed legs in bewilderment for a moment, before grasping the situation, and composing himself enough to be able to reach down and pull the traitorous trousers firmly back up again around his waist.
Luckily, Grabar-Kitarovic, who is Croatia's first ever female president, acted like a true pro—managing somehow to keep a straight face during the impromptu wardrobe malfunction, allowing just the slightest of a smile to register on her face.
Two Iranian Poets Sentenced To 99 Lashes For Shaking Hands With Opposite Sex
Thankfully, the world will be able to remember Cicak as more than just the poor dude whose pants fell down—the 68-year-old has dedicated much of his life to championing human rights, and established the first non-governmental Human Rights Committee in his homeland.
He went on to establish the Croatian Helsinki Committee in 1993—alongside 29 similarly committed intellectuals, artists, lawyers, journalists—with the aim to protect and promote human rights within the post-Yugoslav country, during a time of brutal civil war.
Mariah Carey Slammed By Human Rights Group Over Performance For Angolan Dictator
Each year, the CHC provides assistance to an average of 5000 victims of human rights abuse—and continually strives to promote democracy and freedom of speech, in addition to fighting systematic injustice, prejudice, and racism.
Cicak's dedication to the cause was recognized in 1997, when he was presented with the Bruno Kreisky—an award that's bestowed on only the most tireless human rights champions, and was previously awarded to the late great Nelson Mandela in 1981.
Saudi Arabia To Crucify Teen Protester Because Beheading Just Isn't Enough Sometimes
Dude's a veritable, bonafide hero! Let's all rally round and buy him a new belt.
For more entertainment, world, music and pop culture updates and news, follow Max Page on Twitter