Music Features
Review: Can "Culture III" Change the Culture Once Again?
Can the tide shift with the Migos sway as it did in 2017? It doesn't seem likely. Even flash-in-the-pan moments of excitement are drowned out by long stretches of monotony.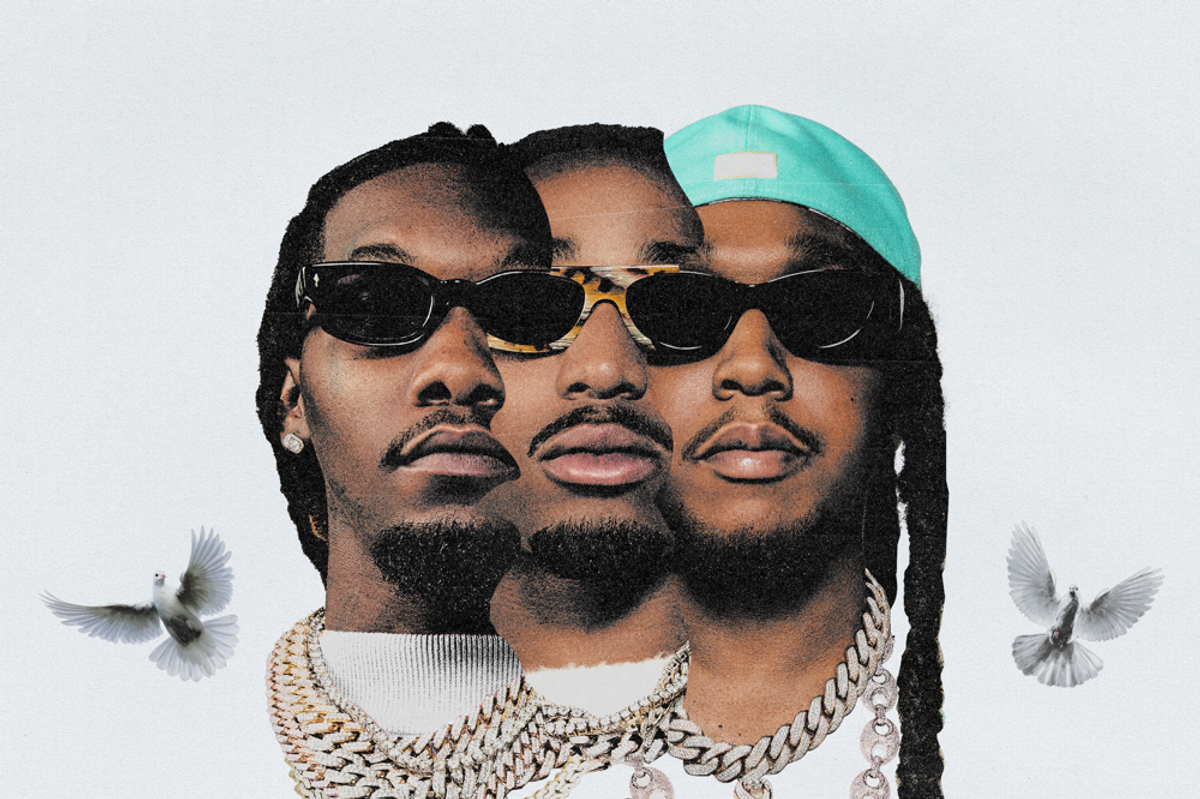 When the original Culture was released back in 2017, the Atlanta area was already a bustling rap mecca, filled with so many rap migrants that Coach K, the head of the now unstoppable Quality Control Music, told The New York Times with all sincerity that there were "more transplants in the city of Atlanta than people from Atlanta."
But Atlanta's cultural staying power was solidified by Culture, and the city became publicly recognized as a "center of gravity" in hip-hop. The city's ominous musical palette became the blueprint for trap music as a whole moving forward, and every rapper to emerge after Culture's release bit off the Migos triplet-laced flow. The mimicry got so bad that Snoop Dogg chimed in at one point to clown and condemn it.
---
To plainly name your album Culture was a flex so monumental that for it to succeed it needed to come armed with a life-changing movement behind it; and frankly, it did. The Dab by year's end had been performed by every infant in America. Donald Glover called the group "The Beatles of this generation" in his acceptance speech at The Golden Globes and in turn caused a 243% percent spike in streams of "Bad & Boujee." The trio were torchbearers for one of rap's biggest dynamic shifts.
Then came Culture II, a bloated 27-track data dump that just appeared in 2018 without much backing fanfare. The project was scattered with tracks that turned heads – Drakes giph-able afro in the '70s-tinted "Walk It Like I Talk It" music video was definitely a moment on its own– but when held up against a streamlined and magnetic predecessor that had redefined the trajectory of popular music, Culture II felt hollow and amorphous, and at worst like a blatant cash grab.
Then things were odd for a while. Offset's off-again, on-again marriage with Cardi B remained a non-stop source of gossip, Takeoff sorta-kinda revealed himself to be a homophobe, Quavo became embroiled in a toxic romance with Saweetie that almost ended in criminal charges, and all three dropped milquetoast solo records. When the Migos did reunite, they sounded bored and insipid. A handful of sleepy throw-away singles throughout the pandemic failed to chart or leave any sort of impression, all while Culture III got continually delayed over and over again. Chatter soon started as to whether the group's relevance had permanently cooled off.
Migos - Straightenin (Official Video)www.youtube.com
But the anticipation for Culture III started back up again when Quavo previewed "Straightenin" on his social media page back in March. He sounded hungry. His flow was airtight. His words aimed directly at those who had dismissed the Migos power. "N****s act like the gang went vacant, n****s act like something been taken, ain't nothing but a little bit of straightenin'" he quips.

The idea of a comeback is always a good accelerant for any artist, but for Migos that meant throwing some dirt onto their pristine chemistry. They had no doubt gotten comfortable atop the mountain. Their triplet flow was both unshakeable but unmalleable. Their dexterity as a group was what made them the best at what they did. Their cultural impact at this point was sealed in stone and they knew it ("We kicked the door down and we made some money / And we left it open for y'all to come in / Gave em the blueprint to shake the whole world," Quavo raps on "Mahomes"). If "Straightenin" was any indication, that sort of grit was what fans could expect from Culture's final act.
But the truth is that Culture III is more of the same. The project's 19-tracks are littered with moments of greatness. "Straightenin" is a definite highlight, and listening to Migos rap over "Avalanche's" galactic trumpets from the Temptations' "Papa Was a Rollin' Stone" is a delight. Hearing each Migo spar bar for bar with NBA Youngboy on "Need It" is enthralling as they strive to keep up with the new kid on the block.
But Culture III still often traps the Migos in their stagnant triplet divide. They sound asleep on "Handle My Business" and try to force a club hit on "Birthday" with a hook that sounds dated and contrived: "When that drink kick in, she feel sexy," Quavo raps. "Flexin' on the 'gram, made her @ me."
As for the features, Drake's verse on "Having Our Way" is just sorta there, and the posthumous contributions from Juice WRLD and Pop Smoke are far too short to elevate "Antisocial" and "Light It Up" into anything monumental (with that said, hearing Migos rap over a BK drill beat is refreshing at times.) Polo G is in his bag on "Malibu," and Bieber's crooning is a welcomed change of pace from Quavo's autotuned warblings, but the former merely evokes a desire to just listen to Hall of Fame, which was also released today, while the latter is again too brief to make any lasting impact.
So can Culture's final act change the world once again? Can the tide shift with the Migos sway as it did in 2017? It doesn't seem likely. Even flash-in-the-pan moments of excitement are drowned out by long stretches of monotony.
Can they still rap? Absolutely. Takeoff raps his ass off on most of the record ("Jane" is a particular highlight), and the trio sound right at home over the Murda Beatz produced "Vaccine." So with that said, they should stand tall; and even if Culture III doesn't reach the prestigious heights of what came before, it won't be because they've lost a step in terms of their abilities.
The Migos are established legends in a genre that has since catered almost exclusively to their sound, and it's hard to shift the culture twice, let alone three times. Hell, it was amazing that they were able to even do it at all.
Culture III
might be more of the same, but changing the world is a monumental undertaking, and
Culture
's closure feels more like the trio popping in one last time just to remind us that no one can touch them, and no one ever will.
Culture III