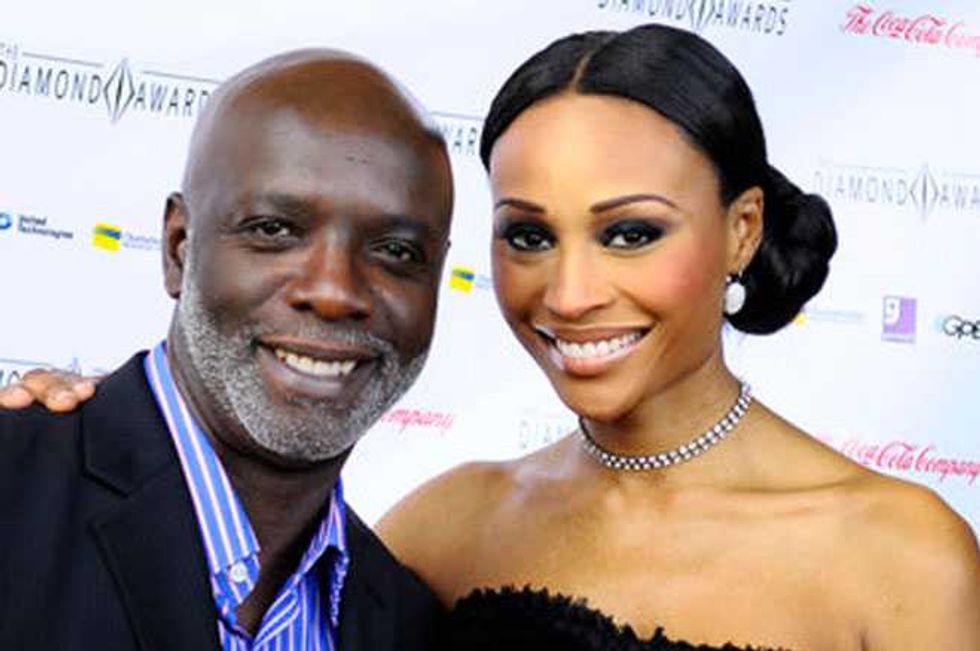 cynthia bailey divorce
Cynthia Bailey and Peter Thomas' marriage has always been rocky to say the least.
Even before they got married there was tension between them around his financial difficulties and business failures.  She recently explained that she has funded his various businesses since she's known him—despite him claiming for the last few seasons that he didn't need her income.
How Real Are The Housewives? RHOA Plastic Surgery Exegesis
Then there were the huge problems between him and her mother and sister.  The wedding episode where they hid the marriage license right before the ceremony, caused a huge rift, which Cynthia was constantly in the middle of. Cynthia's sister Malorie has always been there to offer her support but has never hidden her dislike of her brother-in-law.
Peter, 56, meanwhile, has always inserted himself fully in the housewives' business—something which the other ladies did not take kindly to.  During one fight NeNe Leakes famously called Thomas "a little bitch", a comment which ultimately led to the downfall of the friendship between Cynthia and NeNe, something Peter was pretty happy about.
Money Monday—How Much is NeNe Leakes Really Worth?
Despite the formidable Ms Leakes being out of their lives (well, before they made up again at least), the Bailey/Thomas marriage crumbled during the last season of Real Housewives of Atlanta.  Peter now lives (and allegedly plays) in Charlotte, North Carolina, and at the end of March Cynthia confirmed they were living separate lives, telling UsWeekly;
"I am spending time with my daughter and taking some time for myself.  Whatever the future holds for my marriage, I have given over to God."
The marriage has been dogged by cheating rumors and many fans of the Bravo show can't believe that Cynthia would want to try to make things work with him when he seems to make every excuse to be away from her, doubt herself and her friendships as well as (allegedly) playing away. Hell there's even been rumors that he's slept with at least one of the other housewives from the show! (Could this possibly explain why Cynthia went postal on Porsha during season eight?)
House Tour Tuesday—Phaedra Parks Palatial Atlanta Home
The 48 year old model turned businesswoman went on Radio Andy in March and spoke of their difficulties;
"We're the only couple on The Real Housewives of Atlanta that was actually married on The Real Housewives of Atlanta. We've never been married outside of the show, and I don't think that has helped us a lot.

Maybe if we were married three years before we got on the show, that would've been better. I just have nothing to compare my marriage to outside of being on the show.

It's just been difficult. I mean, the wedding was difficult. Everything about our marriage has been difficult."
Well it seems it's about to get a whole lot more difficult.
A source close to Peter told MediaTakeOut.com that he was lawyering up for the fight that's to come and that he is going after half of Cynthia's Bravo earnings;
"Peter is no fool. He sacrificed a lot for Cynthia during their marriage. He was unpaid for many seasons on [Housewives] and he did it because he believed that all the money that was coming in was for him and Cynthia.

I'm not saying that the marriage is over. But if it is, Peter will be looking to divide up their assets, and get half of all Cynthia's Bravo checks going forward."
Thomas called BS on that quote, but went on radio station Power 98 in Charlotte, giving what can only be described as attempt at a face saving PR interview. He talked about his marriage and blamed being on the show as the main factor in it's demise.
Harry Hamlin Threatened To Divorce Lisa Rinna Over Real Housewives
He's now quit the show (or was he pushed?), claiming that he did it so that any marriage downfall wouldn't be played out on on TV (a bit late for that now).  Bearing in mind it's never bothered him before, he just loves the spotlight, that is a big sign that the situation is irretrievable. He also says he hasn't been paid for his appearances during the seasons he's appeared—which pretty much confirms the denied quote above.  On a side note, if that is the case, why would he feel obliged to 'work' the 18 hour days he's bitching that they have to put in during filming?
cynthia bailey divorce
Divorce papers haven't officially been filed yet, but it seems pretty clear that the writing is on the wall for this reality couple.  Cynthia recently told NBC's New York Live
"Peter is in Charlotte, and as you can see, I'm in New York. We're definitely not together. I have been taking some time for myself to just kind of figure out how I would like to move forward. We haven't officially done anything at this point, but we are definitely talking about taking steps to officially move forward in a different direction.

I can only do but so much...at some point, nothing has to be that hard."
Well get ready Cynthia, cos it's gonna get even harder—Peter will not be going quietly—check out his Instagram post and watch this space!
cynthia bailey divorce
cynthia bailey divorce
cynthia bailey divorce