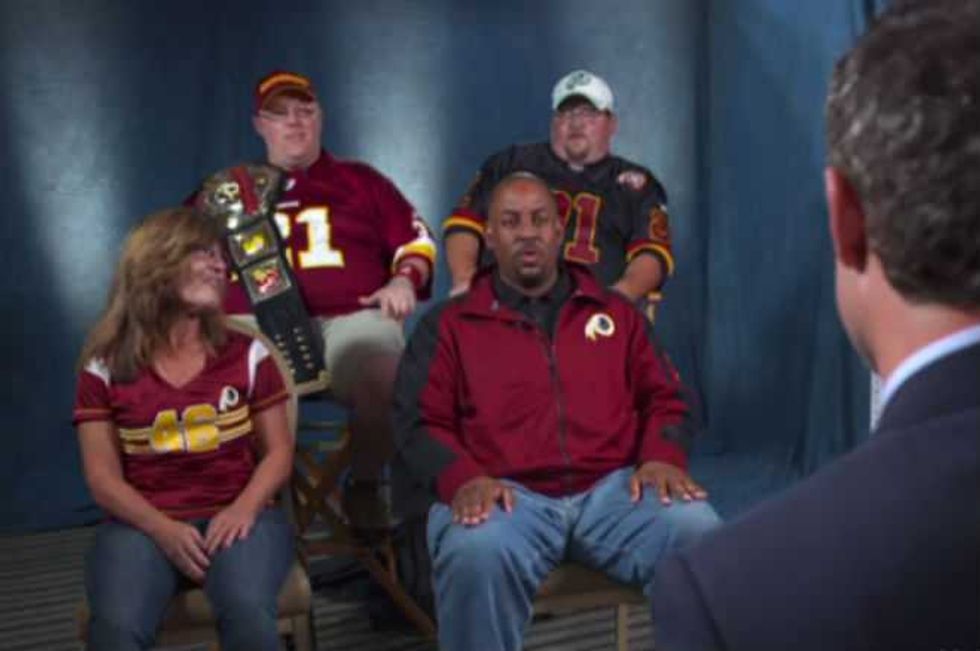 While the focus of furious attention has been on the NFL domestic violence crisis in recent weeks, don't think Jon Stewart has forgotten about that other scandal that has been plaguing the biggest sport in America.
The Daily Show host aired a controversial — and hilarious — skit on Thursday tackling the racist outrage over the Washington Redskins team name.
Stewart teased the spot by claiming that complaints from Redskins fans had caused the segment to be edited.
"We learned later that some of the individuals who participated in the piece, they didn't enjoy the experience. It's something that happens a lot less than you would think," said the Comedy Central host, preceding the segment with correspondent Jason Jones.
"But we take the complaint seriously. We generally don't want people who participate in the show to have a bad experience. We work very hard to find real people who have real beliefs and want to express those beliefs on television, and we work hard to make sure that the gist of those beliefs are represented accurately, albeit sometimes comedically on our program.
"If we find out that someone in a piece was intentionally misled or if their comments were intentionally misrepresented, we do not air that piece," he teased.
Cue the video, which showed Redskins fans airing their views in one room and Native Americans in another. The daring reporter even ventured into a tailgate party where he persuaded partying pre-gamers and Native Americans to shake hands.
Watch the clip below.
Earlier in the week, it was the turn of South Park to mock the racist determination of team owner Dan Snyder, NFL Commissioner Roger Goodell — who's battling a PR nightmare of a different nature thanks to Adrian Peterson and Ray Rice — and other NFL team owners.
The foulmouthed animated group call themselves "The Washington Redskins" and rake in funds on Kickstarter. When Snyder and coach Jay Gruden demanded they stop using the name, Cartman bluntly tells them, "From one Redskin to another: go fuck yourself."